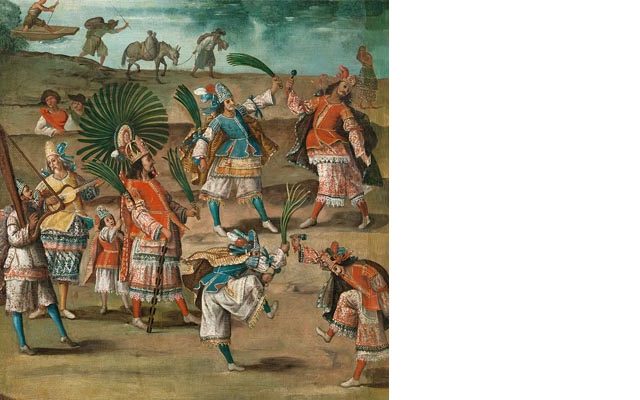 Date/Time
Saturday, October 1, 2022
9:00 am – 5:30 pm
Location
William Andrews Clark Memorial Library
2520 Cimarron Street
Bilingual Scholar's Day | Coloquio bilingüe
–conference organized by Ilona Katzew (Los Angeles County Museum of Art), Charlene Villaseñor-Black (University of California, Los Angeles), Susan Deans-Smith (University of Texas, Austin)
This conference will be held in person at the Clark Library and livestreamed on the Center's YouTube Channel. To attend the conference in person, you must register by submitting the booking form below. No registration is needed to watch the livestream.
In conjunction with LACMA's exhibition Archive of the World: Art and Imagination in Spanish America, 1500–1800, UCLA's Center for 17th– & 18th–Century Studies, the William Andrews Clark Memorial Library, and LACMA are co-organizing a major international scholar's day. The event will enable scholars to present new research in this rapidly growing and vibrant field. Echoing the overall premise of the exhibition, presenters will take a close or "slow" look at individual artworks and the stories they tell from an artistic, historic, and material perspective. The presentations will also address various frameworks for viewing this material as part of an evolving artistic canon, as well as the valorization and commercial effects of this rapidly growing field of research and collecting.
---
Con motivo de la exposición del LACMA Archivo del mundo: arte e imaginación en Hispanoamérica, 1500-1800, el Center for 17th– & 18th–Century Studies y la William Andrews Clark Memorial Library de UCLA, junto con el LACMA, coorganizan un importante coloquio académico internacional. El evento brindará la oportunidad a varios especialistas de presentar sus nuevas investigaciones sobre esta área de estudio cada vez más relevante. Haciéndose eco del concepto general de la exposición y el catálogo, los participantes ofrecerán una "mirada lenta" o detenida de objetos individuales y analizarán las historias que emanan desde un punto de vista artístico, histórico y material. Las presentaciones también abordarán varios marcos conceptuales para analizar este material como parte de un canon artístico en vías de transformación, así como la valoración y efectos comerciales que está teniendo este campo de investigación y coleccionismo cada vez más destacado.
Speakers
Pablo F. Amador Marrero, Instituto de Investigaciones Estéticas, Universidad Nacional Autónoma de México
Ananda Cohen-Aponte, Cornell University
Rebecca Earle, Warwick University
Erika Escutia, Universidad del Claustro de Sor Juana, Mexico City
Elena FitzPatrick Sifford, Muhlenberg College
Cécile Fromont, Yale University
Akemi Luisa Herráez Vossbrink, The Wallace Collection
Aaron M. Hyman, Johns Hopkins University
Samuel Luterbacher, Occidental College
Carlos Rodríguez Morales, Real Academia Canaria de Bellas Artes de San Miguel Arcángel, Tenerife
Gabriela Siracusano, Conicet-Centro Materia, Universidad Tres de Febrero, Buenos Aires
Susan Webster, College of William and Mary
---
All attendees must adhere to the UCLA COVID-19 Protocol for Organized Events. This protocol will be in effect until further notice and adjusted as needed to respond to evolving public health conditions.
Face masks: It is strongly recommended that all attendees at indoor campus events wear a highly protective mask (i.e. surgical, N95, KN95, or KP94).
Requirements for event entry: All  attendees must present  proof  of  COVID-19  vaccination  or proof  of  negative  COVID-19 test per Los Angeles County Department of Public Health guidelines.
---
Image: Unidentified artist, Folding Screen with Indian Wedding, Mitote, and Flying Pole (Biombo con desposorio indígena, mitote y palo volador) (detail), Mexico, c. 1660–90, Los Angeles County Museum of Art, Purchased with funds provided by the Bernard and Edith Lewin Collection of Mexican Art Deaccession Fund, photo © Museum Associates/ LACMA
---
This event is free of charge. To attend the in-person event at the Clark Library you must book in advance. (Registration is not necessary to view the livestream on our YouTube Channel.) Bookings are limited and available on a first-come, first-served basis.