Core Program, 2010–11
Cultures of Aestheticism—Before and after Oscar Wilde: The Decadent 1890s
—organized by Clark Professor Joseph Bristow, University of California, Los Angeles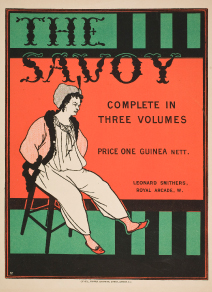 Cultures of Aestheticism features a series of conferences that cover a fairly broad historical span, starting with the emergence of British assimilations of ideas about "art for art's sake" (from French sources such as Théophile Gautier) in the 1850s and 1860s to the legacies of the Aesthetic Movement to interwar and post-war cultures around the world. The critical questions raised by aestheticism reverberate through many of the most decisive interventions into critiques of aesthetics (notably Theodor Adorno's Aesthetic Theory), and their reappearance is evident in recent postmodern debates about "the new aestheticism." The conference series addresses the growth of l'art pour l'art in ways that expand our understanding of this movement beyond its more familiar cultural, disciplinary, and geo-political contexts.
Conference 1: The Decadent 1890s
November 19–20, 2010
The conference focuses on the ways in which English literary culture of the 1890s became in many ways synonymous with the much-touted but relatively short-lived movement known as "Decadence." Papers concentrate on such topics as the links between the Decadent and the New Woman, journals linked with Decadence such as The Yellow Book and The Savoy, poets, novelists, and illustrators who were affiliated with Decadent publishers such as John Lane and Leonard Smithers, and the circle of artists and writers associated with Oscar Wilde.
Session 1: Decadence: Praise and Blame
Julie Townsend, University of Redlands
"The Decadent Novel as Criticism: Rachilde's La Jongleuse"
Marc DiPaolo, Oklahoma City University
"The Ascetic versus the Aesthetes: Tolstoy's Condemnation of Wilde and the Decadents"
Session 2: Dollie Radford, Decadent?
Emily Harrington, Penn State University
"The Perfect Song of Dollie Radford"
Julie M. Wise, University of South Carolina
"Dollie Radford and the Case of the Disappearing Babies"
Session 3: The Yellow Book, John Lane, and Women
Tracy J. R. Collins, Central Michigan University
"Decadence as Irony: Body and the Fin-de-Siècle Woman Writer"
Kate Krueger Henderson, Arkansas State University
"Decadent Disillusionment: Masculine Perspectives in Ella D'Arcy's Yellow Book Stories"
Diana Maltz, Southern Oregon University
"Mabel Dearmer, Children's Books, and the Decadent 1890s"
Session 4: Aesthetic Photographs, Decadent Cartoons
Sally Brooke Cameron, Concordia University, Montreal
"Impressionistic Photography and the Flâneuse in Amy Levy's The Romance of a Shop"
Megan Becker-Leckrone, University of Nevada, Las Vegas
"Cosmesis: Max Beerbohm's Improved Intentions"
Session 5: Decadent Poetry I
Kasey Bass Baker, Texas A&M University-Kingsville
"'She hath no air': Mary Coleridge's Moon"
Lisa Hager, University of Wisconsin-Waukesha
"The Chemistry of Aestheticism: The Work of John Davidson"
Session 6: Decadent Poetry II
So Young Park, Gustavus Adolphus College
"Dora Sigerson Shorter, the Celtic Revival, and Fin-de-Siècle Literary Culture"
Beth Newman, Southern Methodist University
"Alice Meynell's Anti-Paterian Temporality"
Session 7: Decadent Legacies
Kristin Mahoney, Western Washington University
"The Boom in Yellow: The Afterlife of the 1890s"
Conference 2: Cultures of Aestheticism
January 28–29, 2011
The conference brings together scholars based in divergent disciplines that look at the development of the ideal of "art for art's sake" in literature, the history of art, craft, and design, philosophy, and critical theory. Papers address such areas as post-Kantian inquiries into aesthetic judgment; the emergence of the Arts and Crafts Movement; the influence of Symbolisme on aestheticism and Decadence in Britain and America; and the legacy of l'art pour l'art in the twentieth and twenty-first centuries in different geo-political contexts.
Session 1: Formations of Aestheticism
Houston A. Baker, Jr., Vanderbilt University
"Black Bourgeois Sonata: Rediscovering Aestheticism"
Elisa Glick, University of Missouri
"Queer Commodity Aesthetics"
Dennis Denisoff, Ryerson University, Toronto
"The Decadent Roots of Contemporary Eco-Paganism"
Session 2: Oscar Wilde's Versions of Aestheticism
Susan P. Casteras, University of Washington
"'Wilde Things': Visual Constructions of Male & Female Aesthetes"
Stefano-Maria Evangelista, Trinity College, University of Oxford
"Oscar Wilde's Salomé and the Cosmopolitan Language of Symbolism"
Diana Maltz, Southern Oregon University
"Gertrude Dix in California: Aestheticism and the New Life"
Session 6: Aesthetics, Socialists, and Jingoes
Michael Hatt, Warwick University, UK
"'England Arise!': Carpenter, Ashbee, and the Visual Culture of Song"
Neil Hultgren, UCLA, Ahmanson-Getty Fellow
"W. E. Henley: Aesthete, Editor, and Jingo"
Morna O'Neill, Wake Forest University
"Anarchy and Aestheticism: The Case of Walter Crane"
Conference 3: Irish Aestheticism
June 10–11, 2011
The conference brings together scholars whose research explores the figure of the Irish aesthete before and after Oscar Wilde. Papers examine such writers as Jane Francesca Wilde, George Moore, W. B. Yeats, Lady Gregory, J. M. Synge, Elizabeth Bowen, and Austin Clark, as well as performers such as Hilton Edwards and Micheál MacLiammóir. "Irish Aestheticism" takes place immediately before the XXII North American James Joyce Conference, Joyce in Science and Art, which is being held at the Huntington Library, San Marino, CA, June 12–16, 2011.
Session I: Wilde, Aestheticism, Ireland
Gregory Dobbins, University of California, Davis
"Wilde, Yeats, Joyce, and the Right to Laziness"
Renée Fox, UCLA Ahmanson-Getty Fellow
"The Revivalist Museum: W. B. Yeats and the Aestheticizing of History"
Session II: Aestheticism and the Irish Revival
Brian Ó Conchubhair, University of Notre Dame
"Understanding the Aesthetic of the Irish Revival"
Joseph Valente, University at Buffalo, State University of New York
"Nation for Art's Sake: Aestheticism in the Irish Literary Revival"
Session 3: Women, Aestheticism, and Ireland
Alison Harvey, University of Nevada-Reno
"'Aestheticism, Flipped Inside Out': Aesthetics and Politics in Fin-de-Siècle Irish Women's Writing"
Tina O'Toole, University of Limerick, Ireland
"The Irish Aspect of the New Woman Question"
Session 4: Irish Decadence
Simon Joyce, College of William and Mary
"Impressionism, Naturalism, Symbolism: Trajectories of Anglo-Irish Decadence"