Date/Time
Friday, April 30, 2021
2:00 pm – 3:00 pm
-presented Alba Menéndez Pereda (UCLA)
Hosted by the Early Modern Research Group
Online event via Zoom
For Zoom registration details, please email the Early Modern Research Group.
The Graduate Certificate in Early Modern Studies, administered by the Center for 17th- & 18th-Century Studies, offers UCLA graduate students an avenue to explore the increasingly transnational and interdisciplinary nature of early modern studies through specially designated comparative courses and unique fellowship and mentoring opportunities.
Students in the certificate program are eligible to apply for competitive Summer Mentorships, which provide financial support to complete one of the certificate requirements: a 25-page paper on an early modern studies topic of interdisciplinary breadth. The Summer Mentorship affords the opportunity for students to work closely with a Center/Clark Core Faculty member to develop their paper for presentation at an academic conference or for potential publication.
The Early Modern Research Group, which meets under the auspices of the UCLA Center for 17th- & 18th-Century Studies and the William Andrews Clark Memorial Library, invites you to attend this work-in-progress session featuring presentations by two Summer Mentorship awardees. Following each presentation, the speakers and their faculty mentors welcome feedback from attendees during a collaborative discussion.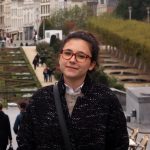 Alba Menéndez Peredawill present "Walking the Purucaya: Inca Landscape and Rituals of Memorialization." Her dissertation research examines Inca elite understandings of death and associated memorialization rituals. Given the fact that deceased Inca leaders were neither buried nor cremated but instead preserved and kept among the living, this project challenges traditional approaches to mortuary archaeology in an attempt to look for avenues in which to incorporate Inca funerary rituals. The author proposes a spatial perspective of Inca funerary traditions rather than approaching these as location-based practices. The singular nature of Inca funerary ceremonies presents before us a different understanding of death and thus forces us to imagine alternative approaches to its archaeological study. She is mentored by Stella Nair, Associate Professor, Indigenous Arts of the Americas, Department of Art History.

Alba Menéndez Pereda is a doctoral candidate at the Cotsen Institute of Archaeology at UCLA where her research focuses on elite funerary practices in the Inca heartland from a spatial perspective. Alba arrived at UCLA after having pursued her B.A. in archaeology at the University of Durham and having completed her master's specializing in archaeology of the Americas at the University of Cambridge. Alba has conducted fieldwork in England, Italy, Spain, and Peru as part of academic research as well as cultural resource management projects.