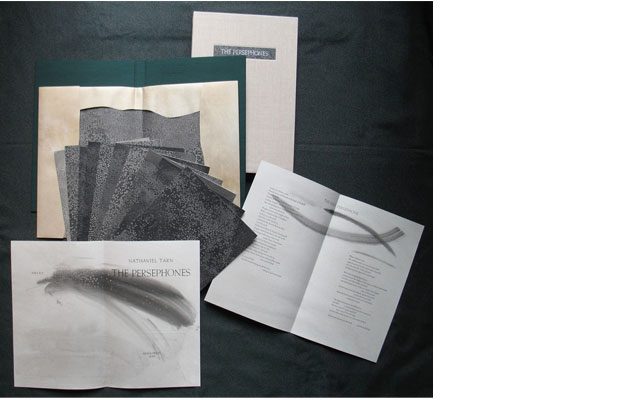 Date/Time
Wednesday, April 24, 2019
4:00 pm – 5:15 pm
Location
William Andrews Clark Memorial Library
2520 Cimarron Street
Stephen A. Kanter Lecture on California Fine Printing

–lecture by Carolee Campbell (Ninja Press)
In celebration of Ninja Press's 35th anniversary, sole proprietor Carolee Campbell will discuss her life leading up to the founding of the press, share her influences along the way, and explain how an actress, trained in and devoted to the theatre, fell into a long and successful Emmy Award-winning career on television, yet left acting behind at her peak.
Campbell will present details of her particular approach to book design along with aspects of her pre-Ninja Press life: some seemingly disparate pursuits, which, when braided together, create a solid foundation for the art and practice of bookwork. The talk will abound with pictures and Ninja Press books will be available for perusal at the close.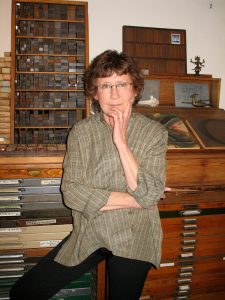 While there was no specific literary agenda governing the selection of works to be published by Ninja Press at the outset, the abiding interest has been, in the main, contemporary poetry. The decision to embark on the path of bookmaking came from Campbell's extensive experience as a photographer working in the darkroom in both nineteenth and twentieth-century photographic processes. Turning photographic sequences into bound books ushered the way into bookbinding training. Eventually Campbell expanded the work to include letterpress printing, thereby opening the way into contemporary poetry – confronting it for the first time with a directness and penetration she had seldom experienced as a reader.
All Ninja Press books, broadsides, and keepsakes are handset in metal type and printed letterpress on a Vandercook Universal I flatbed proof press by Carolee Campbell. She designs, prints, and binds each of the editions at the press, some of which she illustrates as well.
One of the primary goals set at the inception of Ninja Press was to achieve the highest standards of excellence in craftsmanship while exploring the union between word, image, and book structure. That aspiration continues to fuel the inspiration for future edition works.
The 2019 lecture is being dedicated in memory of Dr. Stephen A. Kanter, who passed away in September 2018.
The Stephen A. Kanter Lecture on California Fine Printing is dedicated to an exploration of the history and practice of the printing arts, especially as practiced in California. The biennial Kanter lectures, established through the generous support of Stephen A. Kanter, M.D., began in 1998 and have featured various printers and scholars. Visit https://www.1718.ucla.edu/about/kanter/ to view past lectures.
---
Booking Form
Bookings are currently closed for this event.