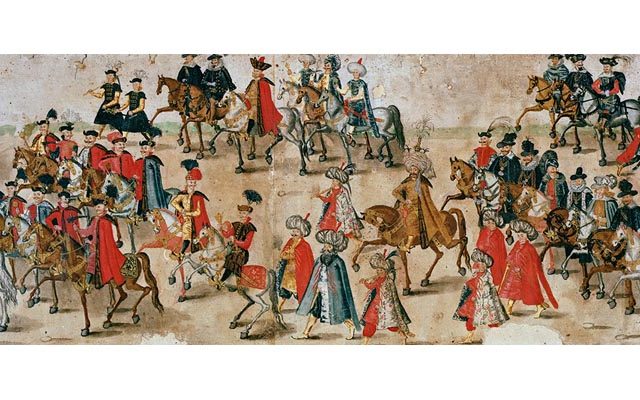 Date/Time
Friday, January 20, 2023–Saturday, January 21, 2023
9:00 am – 5:00 pm
Location
The Huntington Library, Ahmanson Classroom
1151 Oxford Road
–Co-sponsored by the Arts and Humanities Research Council (UK), University of Birmingham, USC-Huntington Early Modern Studies Institute, UCLA Center for 17th– & 18th-Century Studies, and UCLA William Andrews Clark Memorial Library  
Between 1598 and 1618, a series of interlocking treaties and truces brought peace to Europe. The Civil Wars in France, the Anglo-Spanish war, the Dutch rebellion, even the so-called "Long War" between the Habsburgs and the Ottomans, were temporarily, if not definitively, settled. Peace in Europe transformed the context of overseas commercial, religious, and imperial enterprises: Portuguese merchants found themselves facing Dutch competition in the Indian Ocean; the Spanish saw sustained attempts by other powers to establish colonies in the Americas; while Italian Jesuits and Castilian Franciscans clashed over missionary activities in Japan. This was not merely a geographic enlargement of existing competition: rather, relations between Europe and the wider world transformed both. Indeed, the 'Short Peace' in Europe was also an era of deepening global contacts between Europe and the rest of the world. While his predecessor celebrated his role as a European peacemaker, for Pope Paul V (1605–1621), the outstanding achievement of his pontificate (depicted in the Sala Regia of the Quirinale Palace) was the arrival of eight embassies from African and Asian polities. This conference examines the changing relations between Europe and the wider world during the era of the 'Short Peace'. It asks: how were existing forms of imperialism and global contact altered by the emergent peace? And how did the global connections help reinforce or undermine the peace itself?
---
Program
Friday, January 20, 2023
Smith Board Room, Huntington Library
9:00–9:30 a.m.
Coffee and Registration
9:30–10:00 a.m.
Welcome and Introduction
10:00–11:30 a.m.
Panel One
"The Short Peace, The Long War(s), and the Ottoman Time of Troubles,
c. 1595–1625"
Joshua White, Virginia
"The Long War's Shadow over the Short Peace"
Carina L. Johnson, Pitzer College
11:30 a.m.–1:00 p.m.
Lunch
Provided by USC-Huntington Early Modern Studies Institute
1:00–2:30 p.m.
Panel Two
"A Short Peace or a Volcano that changed the World?
A View from the Andes"
Stella Nair, UCLA
"Peacetime Slaving:
The Early 17th-Century Traffic from Allada to the Spanish Caribbean"
David Wheat, Michigan State
2:30–3:00 p.m.
Afternoon Coffee Break
3:00–4:30 p.m.
Panel Three
"Spanish-Dutch Rivalry in Southeast Asia in Times of the Truce
(1609–1621)"
Eberhard Crailsheim, IH-CSIC
"The Challenges of Alliance beyond Europe:
Anglo-Dutch Relations in the East Indies"
Alison Games, Georgetown
4:30–5:00 p.m.
End-of-day Discussion
Saturday, January 21, 2023
Ahmanson Classroom, Huntington Library
9:00–10:00 a.m.
Coffee
10:00 –11:30 a.m.
Panel Four
"Universal History at the Turn of the Seventeenth Century"
Frederic Clark, USC
"War, Truth, and the English Invasion of Havana"
Michiel van Groesen, Leiden University
11:30 a.m.–1:00 p.m.
Lunch
Provided by Clark Library
1:00–2:30 p.m.
Panel Five
"The Line between Peace and War
in European intrusion into the Iberian Atlantic"
Carla Pestana, UCLA
"Peace Abroad? Spanish-English Rivalry and Cooperation in Muslim Courts (1585–1625)"
Rubén González Cuerva, IH-CSIC
2:30–3:00 p.m.
Afternoon Coffee Break
3:00–4:30 p.m.
Closing Discussion
---
For questions about this conference, please contact the USC-Huntington Early Modern Studies Institute at emsi@dornsife.usc.edu.
This event is free of charge, but you must register to attend in advance. All attendees will receive instructions via email after registration.
---
Image: Balthasar Gebhardt, The Persian ambassador Mechti Kuli Beg in the wedding procession of Sigismund III Vasa into Cracow (detail), 1605 (https://commons.wikimedia.org/wiki/File:Polska_rullen_-_Livrustkammaren_-_72678.jpg)
---
Booking Form
Bookings are currently closed for this event.