Date/Time
Wednesday, March 28, 2018
4:00 pm – 6:00 pm
Location
William Andrews Clark Memorial Library
2520 Cimarron Street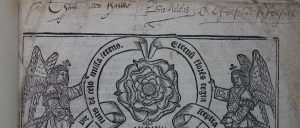 A workshop with Sarah Werner
What does it mean to teach with primary materials? With access to digital facsimiles of many of the works we teach, often in high resolution, what do students gain from going to a special collections library and working with original materials? This workshop will take an object-centered approach to pedagogy for both teachers and librarians that can be adapted to different courses, whether you hope to bring a class in for a single session or for ongoing research. We will use materials from the Clark to brainstorm how to examine rare books and how to incorporate such work into courses. We will also discuss how to create successful partnerships between teachers and librarians that will encourage students to see libraries as welcoming spaces and generate more collaborations for our own work.
Dr. Sarah Werner taught undergraduate seminars on early modern book history at the Folger Shakespeare Library for nearly a decade. Her book, Studying Early Printed Books, 1450-1800: A Practical Guide, will be published soon; for more information, see www.earlyprintedbooks.com.
Registration is free but space is limited to 30 participants.
Please RSVP to Philip Palmer (ppalmer@humnet.ucla.edu; 310-794-5136)
Light refreshments will be served
Free parking available on site