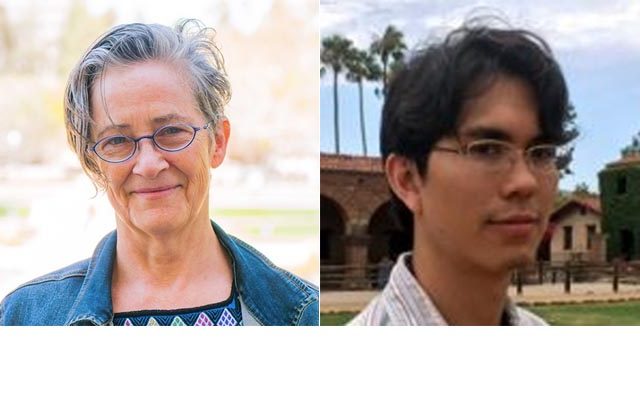 Date/Time
Wednesday, January 26, 2022
4:00 pm – 5:00 pm
by Elisabeth Le Guin, Professor of Musicology, University of California, Los Angeles, and Alejandro García Sudo, Ph.D. Candidate in Musicology, University of California, Los Angeles
Presented online via Zoom meeting. Please register to attend:
https://ucla.zoom.us/meeting/register/tJUodOitrj8uHNxgHT3wkh4bhUC09V2wauWL 
This session presents an overview of Le Guin's and Garcia Sudo's recent explorations of the tonadilla, a type of satirical musical comedy that enjoyed outstanding popularity in Madrid, Spain, and reached numerous North and South American stages between about 1760 and 1820 (Le Guin, 2014). The researchers welcome feedback on a book proposal and an article proposal; both documents will be circulated before their session.
Tonadillas Americanas will be a co-authored book with two parallel lines of argumentation. First, the authors will present historical case studies of musical performance in circum-Caribbean stages—Veracruz, La Habana, New Orléans—making the case that the tonadilla can be conceptualized as a performative complex with numerous embodiments across Hispanic-American domains. Additionally, the authors will interweave chapter-long historiographic meditations about the nature and scattered location of some of the sources relevant to this transnational research, arguing that musical genres and performing traditions that are often imagined as coherent prove to be fluid and unstable when examined from multiple positionalities and ideologies (colonial, nationalist, imperial, and postcolonial).
"The Transatlantic Tonadilla," a companion piece to Tonadillas Americanas, will dive into the prevailing theoretical underpinnings of transatlantic music studies, contending that music and the performing arts should hold a more visible place in world historical research, and that Hispanic-American early music histories might shed new light on Atlantic Studies as conceived by U.S.-American and English musicological circles (Roach, 1998; Madrid, 2011; Goodman, 2012; Madrid and Moore, 2013; Jones, 2014; Miller, 2015; Goodman, 2015). The authors would like help evaluating different ways of presenting and expanding the main ideas of this upcoming article.
Elisabeth Le Guin is a performer and musicologist whose dual allegiances manifest as a series of dialogues, in tones and words, between theory and practice. As a Baroque cellist, she was a founding member of Philharmonia Baroque Orchestra and the Artaria String Quartet. In recent years she became involved in the movimiento jaranero, a transnational grassroots musical activism in Mexico and Mexican immigrant communities in the USA.
As an academic, Professor Le Guin has published two books with the University of California Press: Boccherini's Body: an Essay in Carnal Musicology (2006) and The Tonadilla in Performance: Lyric Comedy in Enlightenment Spain (2014). She received the American Musicological Society's Alfred Einstein and Noah Greenberg Awards.
She has taught at UCLA since 1997, with a particular focus on undergraduate advising, the teaching of writing, international education, and the integration of performance with scholarship. She succeeded in re-starting UCLA´s Early Music Ensemble in 2009 after a 15-year hiatus, and has served two terms as Study Center Director for the UC Education Abroad Program in Mexico City.
Alejandro García Sudo is a Ph.D. Candidate in Musicology. He earned a B.A. (licenciatura) in International Relations from El Colegio de México (2010) and a M.A. in Musicology from The University of Western Ontario (2012). Later, he completed doctoral coursework at UCLA under Fulbright-García Robles sponsorship (2013–16). He is interested in theorizing the international and transnational dimensions of early modern and modern musical performance. His current dissertation assesses the weight of Pan-American discourses in musically inclined intellectual circles, and the salient role of Latin American music in government-sponsored cultural projects of the interwar period.