Published: November 3, 2022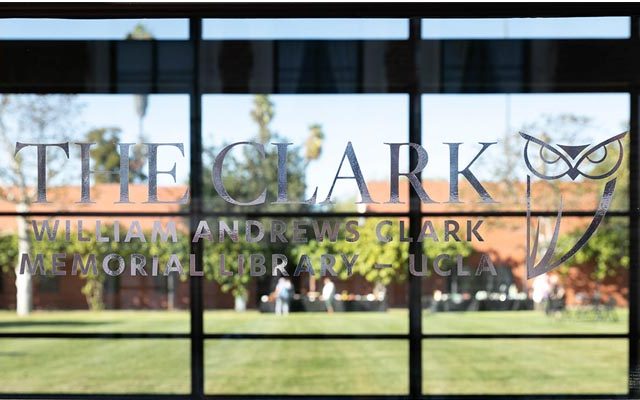 The Center and Clark thank the following for their generous support during 2022–2023:
Major Supporters
Dr. Paul Chrzanowski
Colburn Foundation
Dr. Patricia Bates Simun and Mr. Richard V. Simun Memorial Fund
Professor Emeritus Nathaniel Grossman
J. Paul Getty Trust
Penny and Ed Kanner*
Stephen A. Kanter, M.D.*
Kenneth Karmiole
Virginia F. and Dr. Lawrence Kruger
Linda L. and Leslie W. Koepplin Endowment
Pine Tree Foundation of New York
Loren and Frances Rothschild
Sidney Stern Memorial Trust
The Ahmanson Foundation
Catherine G. Benkaim and Barbara A. Timmer
Deborah and Lee Walcott
Wendell E. Jeffrey & Bernice Wenzel Jeffrey Trust
Zachs Family Foundation, Inc.
* In memoriam
Friends of the Clark Library
BENEFACTOR              $5,000+
Janet Minami
Bette I. Nagin and Jeffrey L. Nagin
Jackie and Charles* Schwartz
Mary Simun
Patricia Waldron. M.D. and Mr. Richard Waldron
Anonymous member
PATRON                      $2,500–$4,999
Martha Bardach
Dr. Rogers Brubaker
Patricia N. Chock
Dr. Johanna Drucker
Dr. Mari Edelman
Dr. Susan and Mark Harris
Judy L. Hellinger
Dr. Sheldon H. Kardener and Ms. Monika G. Olofsson-Kardener
Bernie and Elaine Mendes
Dr. Jeanne Robson
Elma O. Severson
Roberta and Robert Young
FRIEND                        $1,000–$2,499
Phyllis A. and John A. Conkle
Brenda Anderson and Reynold Dacon
Drs. Susan and Martin Mach
Herbert Morris
Carol E. Sandberg
ASSOCIATE                  $500–$999
Professors Helen Deutsch and Michael Meranze
Professors Mary Terrall and Ted Porter
SUPPORTER                 $250–$499
Marianne and Dr. Abdelmonem A. Afifi
Carol Browne
Dr. Judith C. Collas
Don Haisch and Hersin Magante
Tony Parr and Laura Stalker
Carli V. Rogers
Dorothy Wolpert
Anonymous member
The Division of Humanities and the College of Letters & Science at UCLA acknowledge the Gabrielino/Tongva peoples as the traditional land caretakers of Tovaangar (the Los Angeles basin and So. Channel Islands). As a land grant institution, we pay our respects to the Honuukvetam (Ancestors), 'Ahiihirom (Elders) and 'Eyoohiinkem (our relatives/relations) past, present and emerging.