Karmiole Fellowship & Fellows
Kenneth Karmiole Endowed Graduate Research Fellowship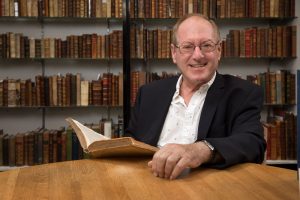 This one-month fellowship, established through the generosity of Kenneth Karmiole, is available to all graduate students for research at the Clark Library, using archival and printed book materials on any subject. Fellows are required to give an oral presentation of their research upon completion of their residency at the Clark Library.
Fellowship: $4,000 for one month of residency.
The award is funded by an endowment established by Kenneth Karmiole, an internationally renowned antiquarian bookseller who earned a Master of Library Science at UCLA in 1971. The benefactor also endowed the annual Kenneth Karmiole Lecture Series on the History of the Book Trade (held at the Clark Library), which focuses on the book trade in England and Europe during the 17th and 18th centuries, and highlights the Clark's rich collection of materials relating to the collecting, publishing, and dissemination of books in the Early Modern period. He has also established a handful of generous endowments for UCLA's Graduate School of Education and Information Studies (GSE&IS) and the UCLA Library. His contributions include the Kenneth Karmiole Fellowship to support students studying rare books and manuscripts, and the Kenneth Karmiole Endowment for Rare Books and Manuscripts to finance the acquisition of special collections throughout UCLA's libraries.
Karmiole has owned his own business since 1976. His current storefront, which he has operated since 1986, is located in Santa Monica. Karmiole is considered an authority on early printed books, science, medicine and technology, and the history of printing.
Eligibility
Fellowship is open to all graduate students engaged in research on any subject represented by the Clark Library's collections. Research residency may last for one month between July 1, and June 30, of each fellowship year.
Application Instructions and Deadline
To apply for this fellowship please use our fellowship application form.
Completed applications must be received on or before February 1 each year.
Notification
Applicants will be notified of the fellowship committee's decision by email in March/April of the fellowship application year.
Contact
Fellowship inquires may be directed to Myrna Ortiz at ortiz@humnet.ucla.edu or 310-206-8552.
---
Karmiole Fellows
2023–24
Sylvia Tongyan Qiu, UCLA
A Pearl Inlaid Celestial Globe and the Worldly Space and Time of the Qing Court
John Thomas Sullivan, Northwestern University
Fractious Knowledge: Earthquakes and Engineering in Italy and the Spanish Atlantic, 1717–1799
2022–23
Gwendolyn Lockman, University of Texas at Austin
"Recreation and Reclamation: Parks, Mining, and Community in Butte, Montana, 1876–2022"
Joseph Nicolello, Temple University "Disability Scholarships in Light of English Sources to 1666: Milton's Sightlessness and the Depiction of Space in Paradise Lost"
2020–21
Tara Nicole Thomas, University of California, Santa Cruz
"Late-Victorian Queer Decadent Classicism"