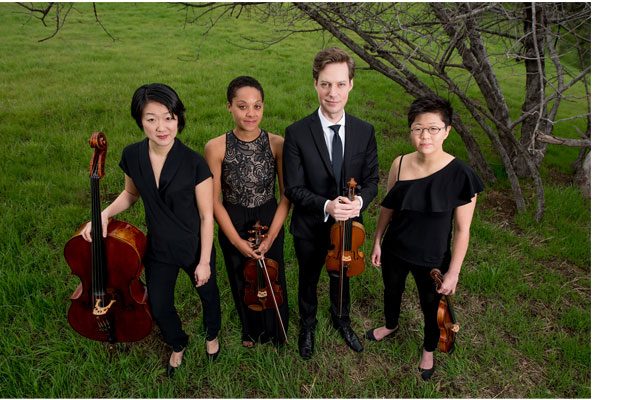 Date/Time
Sunday, February 10, 2019
2:00 pm – 4:00 pm
Location
William Andrews Clark Memorial Library
2520 Cimarron Street
Chamber Music at the Clark concert seating is determined via lottery. The booking-by-lottery entry form for Argus Quartet concert seats posts here on Thursday, December 13, 2018. Lottery registration closes Thursday, January 3, 2019.
Learn more about the booking-by-lottery system for securing Chamber Music at the Clark seats.
Argus Quartet
Clara Kim, violin
Dana Kelley, violin
Jason Issokson, viola
Joann Whang, cello
Praised for their "supreme melodic control and total authority" (Calgary Herald), the Argus Quartet is quickly gaining a reputation as one of today's most dynamic and versatile young ensembles.
Argus is dedicated to reinvigorating the audience-performer relationship through innovative concerts and diverse repertoire—connecting with and building a community of engaged listeners is at the core of the quartet's mission. The quartet believes that contemporary ensembles can honor the storied chamber music traditions of our past while forging a new path forward. In that spirit, their repertoire includes not just staples of the chamber music canon but also a large number of pieces by living composers.
First prize winners at the 2017 M-Prize Chamber Arts Competition, the Argus Quartet's recent and upcoming performances include appearances at Carnegie Hall's Weill and Zankel Halls, Roulette, the Albany Symphony's American Music Festival, Bang on a Can at the Noguchi Museum, the Hear Now Music Festival, Providence College, the University of Michigan, James Madison University's Contemporary Music Festival, Princeton University, the Shalin Liu Performance Center at Rockport Music, and the Muziekgebouw aan 't IJ in Amsterdam.
In the fall of 2017, the Argus Quartet began an appointment as the Graduate Quartet in Residence at the Juilliard School, where they worked closely with the Juilliard String Quartet. During the 2016-17 season, they served as the Ernst Stiefel Quartet in Residence at the Caramoor Center for Music and the Arts. From 2015–17 the quartet served as the Fellowship Quartet in Residence at the Yale School of Music and was the first ensemble to be mentored by the Brentano String Quartet in that capacity.
Recent commissions include new quartets by Donald Crockett, composer and GRAMMY nominee Eric Guinivan, the 2014 Hermitage Prize winner Thomas Kotcheff, and Guggenheim Fellowship recipient Juri Seo. The quartet has received grants from Chamber Music America and the Caramoor Center for Music and the Arts in support of their commissioning efforts.
Argus served as the Quartet in Residence at New Music on the Point under the guidance of the JACK Quartet, and was also selected as one of three ensembles to perform works from Kronos Quartet's "Fifty for the Future" commissioning project at Carnegie Hall.
The Argus Quartet is represented by Concert Artists Guild: www.concertartists.org
---
Program
Felix Mendelssohn (1809–1847)
String Quartet No. 1 in E-flat Major, op. 12
Adagio non troppo – Allegro non tardante
Canzonetta: Allegretto
Andante espressivo
Molto allegro e vivace
Josquin des Prez  (c.1450–1521)
(arr. Charles Wuorinen (1938– ))
Josquiniana
Helas madame
Faulte d'argent
Cela sans Plus
Comment peult
Vive le Ro
El Grillo, "Josquin a'Ascanio"
Christopher Theofanidis (1967– )
Visions and Miracles
All joy wills eternity
Peace Love Light YOUMEONE
I add brilliance to the sun
Intermission
Claude Debussy (1862–1918)
String Quartet in G Minor, op. 10
Animé et très décidé
Assez vif et bien rythmé
Andantino, doucement expressif
Très modéré – En animant peu à peu – Très mouvementé et avec passion
Reception