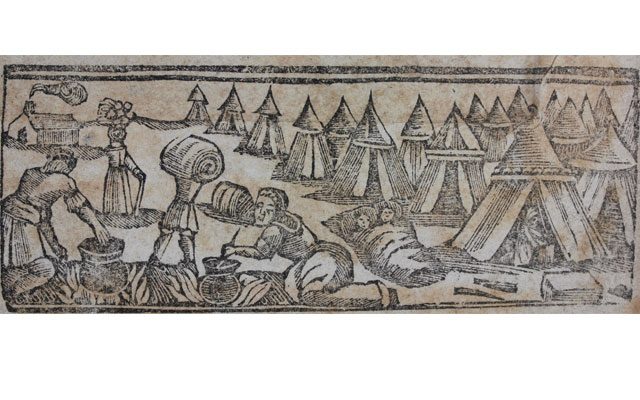 Date/Time
Friday, February 22, 2019
10:00 am – 5:00 pm
Location
William Andrews Clark Memorial Library
2520 Cimarron Street
—conference organized by Jayne Lewis (University of California, Irvine), Josephine McDonagh (King's College London), Jonathan Sachs (Concordia University), and Sarah Tindal Kareem (UCLA)
During the so-called Romantic century, 1750–1850, the flow of people across national borders fed an emergent literature of internal alienation, fostered new demographic preoccupations in contemporary historiography, underwrote new theories of political justice, and spurred the reformulation of religious identity, particularly in Britain.  In this context, the figure of the migrant comes to hold a complex and conflicted place within the regimes of western modernity as both constitutive of societies, and as a threat to national integrity. How might collective examination of migration in this period by an interdisciplinary group of scholars help us to understand precariousness and vulnerability as a lived condition, one yielding both deeper historical understanding and new insight into the mass population movements of our present moment? This conference will bring together specialists in different fields, including philosophers, political theorists, historians, and scholars of literature, art, music, law and religion, to explore the meanings of transnational migration in history and culture from multidisciplinary and global perspectives, and to understand their legacies in the contemporary world.
Speakers
Alan Bewell, University of Toronto
James Q. Davies, University of California, Berkeley
Stephanie DeGooyer, Harvard University
Malick W. Ghachem, Massachusetts Institute of Technology
David Kazanjian, University of Pennsylvania
Hagar Kotef, SOAS, University of London
Ourida Mostefai, Brown University
Kunal M. Parker, University of Miami School of Law
Charlotte Sussman, Duke University
---
After booking Day 1 below please remember to also book your spot for Day 2.
---
Image credit: Woodcut of Palatine refugees, from The State of the Palatines for Fifty Years Past to this Present Time (London, 1710). Clark Library Pamphlet Collection.