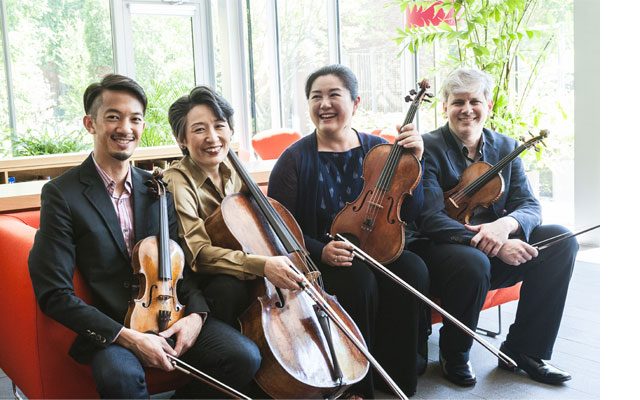 Date/Time
Sunday, May 10, 2020
2:00 pm – 4:00 pm
Location
William Andrews Clark Memorial Library
2520 Cimarron Street
This event is postponed, as we continue to monitor the COVID-19 situation daily and follow the public gathering guidelines set by UCLA, our local government officials, and the CDC. Please check our website for future updates.
---
Chamber Music at the Clark concert seating is determined via lottery. The booking-by-lottery entry form for Borromeo String Quartet concert seats posts here on Thursday, March 12, 2020. Lottery registration closes Thursday, April 2, 2020.
Learn more about the booking-by-lottery system for securing Chamber Music at the Clark seats.
Borromeo String Quartet
Nicholas Kitchen, violin
Kristopher Tong, violin
Mai Motobuchi, viola
Yeesun Kim, cello
Admired and sought after for both its fresh interpretations of the classical music canon, and its championing of contemporary composers, the Borromeo String Quartet has been hailed for its "edge-of-the-seat performances," by the Boston Globe, which called it "simply the best." Recently celebrating its 25th anniversary, the Borromeo continues to be a pioneer in its use of technology, and has the trailblazing distinction of being the first string quartet to utilize laptop computers on the concert stage. Reading music this way helps push artistic boundaries, allowing the artists to perform solely from 4-part scores and composers' manuscripts, a revealing and metamorphic experience which these dedicated musicians now teach to students around the world. As the New York Times noted, "The digital tide washing over society is lapping at the shores of classical music. The Borromeo players have embraced it in their daily musical lives like no other major chamber music group." The Quartet often leads discussions enhanced by projections of handwritten manuscripts, investigating with the audience the creative process of the composer. In 2003 the Borromeo became the first classical ensemble to make its own live concert recordings and videos, distributing them for many years to audiences through its Living Archive, a music learning web portal for which a new version will soon be released.
Borromeo has presented more than ten string quartet cycles by beloved masters such as Bartók, Beethoven, and Brahms; and it has enjoyed collaborations with composers John Cage, György Ligeti, Gunther Schuller, Osvaldo Golijov, Lera Auerbach, Jennifer Higdon, Steve Mackey, John Harbison, Derek Bermel, and Pierre Jalbert, among many others. The quartet has been in residence at the New England Conservatory and Taos School of Music, both for 25 years, as well as at the Heifetz International Music Institute, where first violinist Nicholas Kitchen is Artistic Director. As both performers and educators, the ensemble has worked extensively with the Library of Congress (highlighting both its manuscripts and instrument collections), Chamber Music Society of Lincoln Center, and were recently in residence at Colorado State University, Kansas University, and the San Francisco Conservatory.
Recent seasons included a sold out recital at Carnegie Hall, where it premiered portions of Bach's Well Tempered Clavier arranged by first violinist Nicholas Kitchen; a new multi-media collaboration with visual artist and director Doug Fitch; Tippet Rise Art Center, which commissioned Aaron Jay Kernis's 4th String Quartet for the quartet; and performances in Switzerland, Japan, Korea, Italy and China; the Bartók Cycle in Boston, San Francisco, and at the Library of Congress; and appearances at Carnegie Hall, Shriver Hall, the Schubert Club in Minneapolis, and the Hong Kong International Chamber Music Festival, as well as regular appearances on major stages across the globe.
"Nothing less than masterful" (Cleveland.com), the Borromeo Quartet has received numerous awards throughout its illustrious career, including Lincoln Center's Avery Fisher Career Grant and Martin E. Segal Award, and Chamber Music America's Cleveland Quartet Award. It was also a recipient of the Young Concert Artists International Auditions, and top prizes at the International String Quartet Competition in Evian, France.
Borromeo String Quartet is represented by Dworkin & Company: www.dworkincompany.com
---
Program
Ludwig van Beethoven (1770–1827)
String Quartet No. 3 in D Major, op. 18, no. 3
Allegro
Andante con moto
Allegro
Presto
String Quartet No. 9 in C Major, op. 59, no. 3
Andante con moto–Allegro vivace
Andante con moto quasi Allegretto
Menuetto (Grazioso)
Allegro molto
Intermission
String Quartet No. 14 in C Sharp Minor, op. 131
Adagio ma non troppo e molto espressivo
Allegro molto vivace
Allegro moderato–Adagio
Andante ma non troppo e molto cantabile
Presto
Adagio quasi un poco andante
Allegro
---
Booking Form
Bookings are currently closed for this event.