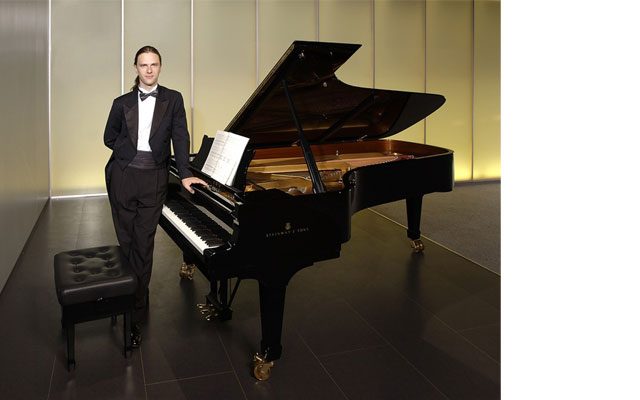 Date/Time
Sunday, April 5, 2020
2:00 pm – 4:00 pm
Location
William Andrews Clark Memorial Library
2520 Cimarron Street
Chamber Music at the Clark concert seating is determined via lottery. The booking-by-lottery entry form for Markus Groh concert seats posts here on Thursday, February 6, 2020. Lottery registration closes Thursday, February 27, 2020.
Learn more about the booking-by-lottery system for securing Chamber Music at the Clark seats.
Markus Groh (piano)
Pianist Markus Groh gained global attention after winning the Queen Elisabeth International Competition in 1995. Since then his remarkable "sound imagination" and astonishing technique have confirmed his place among the finest pianists in the world. In recent seasons, Mr. Groh made his debut with the National Symphony Orchestra of Costa Rica under Carl St. Clair; he toured the U.S. with the Berlin Philharmonic Piano Quartet; he made debuts with the Pacific Symphony and the National Symphony of Colombia; as well as return appearances with the Omaha Symphony and the National Symphony Orchestra of Costa Rica.
Markus Groh has previously appeared with the symphony orchestras of Baltimore, Cincinnati, Cleveland, Colorado, Detroit, Florida, Fort Worth, Houston, Indianapolis, Jacksonville, Kansas City, Louisville, Milwaukee, National (Washington, DC), New Jersey, New Orleans, the New York Philharmonic, Omaha, Philadelphia, Rochester, Saint Louis, San Francisco, Seattle, Toledo, and Vancouver. Worldwide engagements include the Auckland Philharmonia, Bamberg Symphony, Beijing Symphony, Berlin Symphony, Bournemouth Symphony, Budapest Festival Orchestra, Hague Residentie Orkest, Helsinki Philharmonic, London Symphony, Malmö Symphony, MDR Leipzig Radio Symphony Orchestra, Mozarteum Orchestra, New Japan Philharmonic, Orchestre de la Suisse Romande, Osaka Philharmonic, Royal Scottish National Orchestra, St. Petersburg Philharmonic, Southwest German Radio Symphony Orchestra, and the Warsaw Philharmonic.
Among the conductors with whom Mr. Groh has collaborated are Jesus López Cobos, Andreas Delfs, Ivan Fischer, Miguel Harth-Bedoya, Marek Janowski, Neeme Järvi, Fabio Luisi, Ludovic Morlot, Kent Nagano, Jonathan Nott, David Robertson, Kwamé Ryan, and Stefan Sanderling, to name a few.
A spellbinding recitalist, Markus Groh draws from the piano shapes, textures, and colors that one seldom hears in live performance. In addition to his stunning debut on the Hayes Piano Series at Kennedy Center in 2013, he has appeared at the Friends of Chamber Music Denver, Friends of Chamber Music Kansas City, Vancouver Recital Society, and several times at The Frick Collection in New York. Chamber music activities include regular tours with the Tokyo String Quartet and the newly- founded Berlin Philharmonic Piano Quartet.
Widely acclaimed for his interpretations of Liszt, an all-Liszt CD (including the Totentanz and B Minor Sonata) was released by AVIE in 2006. Showered with rave reviews, it was also named "Editor's Choice" in Gramophone. In the words of the Philadelphia Inquirer, "Among the pianists laying claim to Liszt as a central figure in their repertoires, Groh's fingers and sense of comprehension set a new modern standard." A highly acclaimed all-Brahms CD was released by AVIE in June of 2008. Other recordings include a CD of Debussy, Prokofiev, and Britten cello sonatas with Claudio Bohórquez on Berlin Classics, and a CD of Liszt's Totentanz with the Orchestre de la Suisse Romande, conducted by Fabio Luisi on Cascavelle.
A frequent guest at international festivals such as Grant Park, Festival Cultural de Mayo/Mexico, La Folle Journée, Ruhr, Ludwigsburg, Bad Kissingen, and the Schubertiade, Mr. Groh is the founder and artistic director of the Bebersee Festival near Berlin. He has appeared frequently on radio and television throughout Europe, in Japan (NHK), Mexico, Canada, and in the United States (NPR).
Markus Groh was a student of Professor Konrad Richter in Stuttgart and Professor Hans Leygraf in Berlin and Salzburg. He has recently been named Professor of Piano at the University of the Arts in Berlin.
Markus Groh is represented by Schmidt Artists International: http://www.schmidtart.com/
---
Program
Ludwig van Beethoven (1770–1827)
Piano Sonata No. 27 in E Minor, op. 90
Mit Lebhaftigkeit und durchaus mit Empfindung und Ausdruck
Nicht zu geschwind und sehr singbar vorgetragen
Piano Sonata No. 28 in A Major, op. 101
Etwas lebhaft und mit der innigsten Empfindung
Lebhaft, marschmäßig
Langsam und sehnsuchtsvoll
Geschwind, doch nicht zu sehr und mit Entschlossenheit –heit
Intermission
Piano Sonata No. 29 in B-flat Major, op. 106, "Hammerklavier"
Allegro
Scherzo: Assai vivace
Adagio sostenuto
Introduzione: Largo; Fuga: Allegro risoluto
Reception
---
Booking Form
Bookings are currently closed for this event.