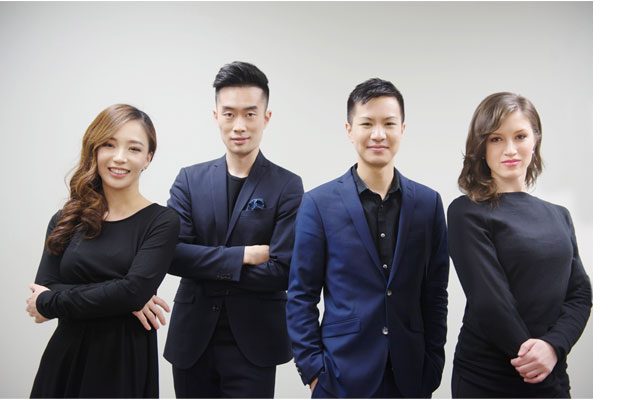 Date/Time
Sunday, December 8, 2019
2:00 pm – 4:00 pm
Location
William Andrews Clark Memorial Library
2520 Cimarron Street
Chamber Music at the Clark concert seating is determined via lottery. The booking-by-lottery entry form for Rolston String Quartet concert seats posts here on Thursday, October 10, 2019. Lottery registration closes Thursday, October 31, 2019.
Learn more about the booking-by-lottery system for securing Chamber Music at the Clark seats.
Rolston String Quartet
Luri Lee, violin
Emily Kruspe, violin
Hezekiah Leung, viola
Jonathan Lo, cello
Canada's Rolston String Quartet was the 2018 recipient of the prestigious Cleveland Quartet Award from Chamber Music America, they were the first international ensemble chosen for the award. In 2016 they earned First Prize at the 12th Banff International String Quartet Competition. Other prizes that year include the Astral's National Auditions, Grand Prize at the 31st Chamber Music Yellow Springs Competition, the 2016 Bordeaux International String Quartet Competition, and the inaugural M-Prize competition. Amidst this year of success they were named among CBC Radio's "30 Hot Canadian Classical Musicians Under 30."
The Quartet's Banff win took them on an international tour covering Germany, Italy, Austria, Canada, and the United States. As website Ludwig van Toronto states, "they performed with a maturity and cohesion rivaling the best string quartets in the world." During the the 2017–18 season they passed the 100-concert milestone with performances throughout Canada, the United States, Germany, Brussels, Italy, and Israel. Highlights for the 2018–19 season include debut performances at Carnegie Hall, Freer Gallery, Wigmore Hall, Chamber Music Houston, in addition to two major tours in Canada and three European tours.
Rolston String Quartet began their two-year term as the Yale School of Music's Fellowship Quartet-in-Residence in the fall of 2017. They have also served as the Graduate Quartet-in-Residence at Rice University's Shepherd School of Music, and have participated in residencies and fellowships at the Académie musicale de Villecroze, Aspen Music Festival, Banff Centre, McGill International String Quartet Academy, Norfolk Chamber Music Festival, Robert Mann String Quartet Institute, St. Lawrence String Quartet Seminar, and the Yehudi Menuhin Chamber Music Festival.
The Quartet's notable collaborations include performances with Andrés Díaz, Gilbert Kalish, Mark Morris, Arthur Rowe, Robert McDonald, Donald Palma, Jon Kimura Parker, and Miguel da Silva. They have worked with songwriter Kishi Bashi, and composers John Luther Adams and Brian Current. Primary mentors include the Brentano Quartet, James Dunham, Norman Fischer, and Kenneth Goldsmith, and the quartet has received additional guidance from the St. Lawrence String Quartet, Barry Shiffman, Miguel da Silva, and Alastair Tait.
The Rolston String Quartet–Luri Lee (violin), Hezekiah Leung (viola), Jonathan Lo (cello), and new member as of spring 2018 Emily Kruspe (violin)–was formed in the summer of 2013 at the Banff Centre for Arts and Creativity's Chamber Music Residency. They take their name from Canadian violinist Thomas Rolston, founder and long-time director of the Music and Sound Programs at the Banff Centre.
Luri Lee plays a Carlo Tononi violin, generously on loan from Shauna Rolston Shaw. Emily Kruspe plays a 1900 Stefano Scarampella violin, generously on loan from the Canada Council for the Arts Musical Instrument Bank. The Rolston String Quartet is endorsed by Jargar Strings of Denmark.
http://www.rolstonstringquartet.com/
The Rolston String Quartet is represented by Andrew Kwan Artists Management Inc.: http://andrewkwanartists.com
---
Program
Wolfgang Amadeus Mozart (1756–1791)
String Quartet No. 19 in C Major, "Dissonance", k. 465
Adagio–Allegro
Andante cantabile
Menuetto: Allegro
Allegro molto
Erwin Schulhoff (1894–1942)
Fünf Stücke für Streichquartett (Five Pieces for String Quartet)
Alla Valse Viennese: Allegro
Alla Serenata: Allegretto con moto
Alla Czeca: Molto Allegro
Alla Tango: Andante
Alla Tarantella: Prestissimo con fuoco
Intermission
Ludwig van Beethoven (1770–1827)
String Quartet No. 13 in B-flat Major, op. 130
Adagio ma non troppo; Allegro
Presto
Andante con moto, ma non troppo
Alla danza tedesca: Allegro assai
Cavatina: Adagio molto espressivo
Grosse Fuge
---
Booking Form
Bookings are currently closed for this event.