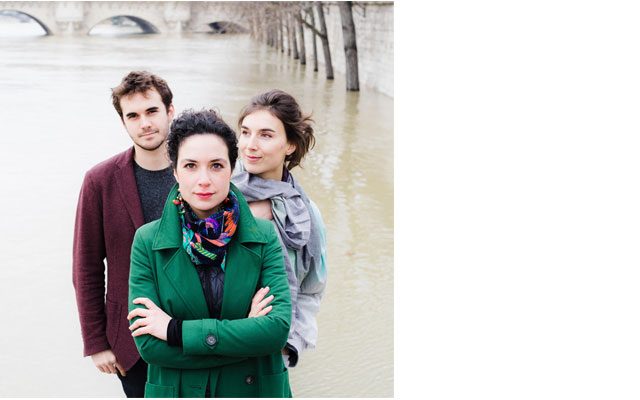 Date/Time
Sunday, November 3, 2019
2:00 pm – 4:00 pm
Location
William Andrews Clark Memorial Library
2520 Cimarron Street
Chamber Music at the Clark concert seating is determined via lottery. The booking-by-lottery entry form for Trio Karénine concert seats posts here on Thursday, September 5, 2019. Lottery registration closes on Thursday, September 26, 2019.
Learn more about the booking-by-lottery system for securing Chamber Music at the Clark seats.
Trio Karénine
Fanny Robilliard, violin
Louis Rodde, cello
Paloma Kouider, piano
Founded in Paris in 2009, Trio Karénine takes its name from Tolstoy's titular heroine, Anna Karenina. The trio is lauded for its musical integrity and joie de vivre by critics and audiences alike. Top prize winner at the ARD international Competition in 2013, the ensemble has performed in major halls including Wigmore Hall in London, Salle Pleyel and Auditorium du Louvre in Paris, Musée des Beaux-Arts in Montréal, Palazzetto Bru Zane in Venice, Laeiszhalle in Hamburg, and Prinzregentheater and Herkulessaal in Munich. The trio has toured Asia, both in China with the Festival Croisements, and in Japan.
In Germany, the trio received the prestigious Nordmetall-Ensemble Prize from the Mecklenburg-Vorpommern Festspiele in 2015 with bassist Laurène Durantel and violist Krzysztof Chorzelski. The trio also appeared in the prestigious Arte's series Stars von Morgen, presented by Rollando Villazon. Trio Karénine received First Prize at the International Chamber Music Competition in the Netherlands, laureate of the "Joseph Haydn" Competition in Vienna, and the prestigious Banque Populaire grant. The trio was unanimously awarded the International Pro Musicis Prize in Paris, and is laureate of the Maurice Ravel Academy, and the Charles Oulmont Foundation.
Regular performers of new music, the trio plays works by Wolfgang Rihm, Hans Werner Henze, Philippe Hersant, Graciane Finzi. Benoît Menut's second trio, Les Allées Sombres, was dedicated to the group.
The group's first album, devoted to Schumann's piano trios, was released in 2016 on the French label Mirare. Gramophone proclaimed it "a most impressive debut," adding "there's an effervescence and litheness that underpins their approach."
Individually the musicians graduated from Conservatoire national supérieur de musique et de danse in Paris and Lyon, the École normale supérieure in Paris, and studied with well-known teachers in Leipzig, Vienna, and Berlin. The ensemble trained with influential chamber music artists, such as the Ysaÿe Quartet, Menahem Pressler, Ferenc Rados, Jean-Claude Pennetier, the Wanderer Trio, and Hatto Beyerle.
Trio Karénine is represented by Alliance Artist Management: www.allianceartistmanagement.com
---
Program
Joseph Haydn (1732–1809)
Piano Trio No. 39 in G Major, "Gypsy Rondo," Hob. XV:25
Andante
Poco adagio
Rondo all'Ongarese: Presto
Felix Mendelssohn (1809–1847)
Piano Trio No. 2 in C Minor, op. 66
Allegro energico e con fuoco
Andante espressivo
Scherzo: Molto allegro quasi presto
Finale: Allegro appassionato
Intermission
 Antonín Dvořák (1841–1904)
Piano Trio No. 4, "Dumky Trio," op. 90
Lento maestoso — Allegro quasi doppio movimento
Poco Adagio — Vivace non troppo — Vivace
Andante — Vivace non troppo — Allegretto
Andante moderato — Allegretto scherzando — Quasi tempo di marcia
Allegro
Lento maestoso
---
Booking Form
Bookings are currently closed for this event.