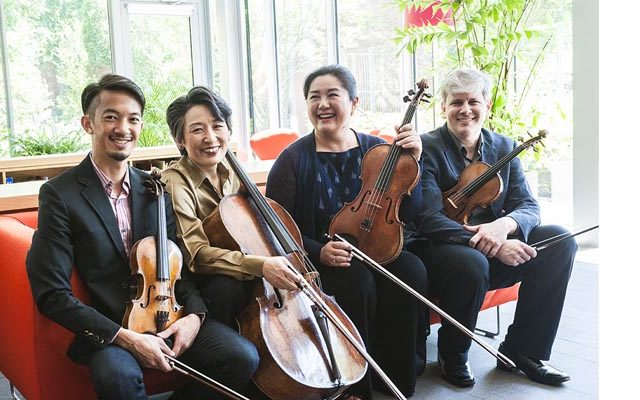 Date/Time
Sunday, April 3, 2022
2:00 pm – 4:00 pm
Location
William Andrews Clark Memorial Library
2520 Cimarron Street
Chamber Music at the Clark concert seating is determined via lottery. Concert pricing is $35 per person for general admission, and $10 each for UCLA students with ID. The booking-by-lottery entry form for Borromeo String Quartet concert seats posts here on Thursday, February 3, 2022. Lottery registration closes Thursday, February 24, 2022.
Learn more about the booking-by-lottery system for securing Chamber Music at the Clark seats.
---
Face masks are mandatory and must be worn at all indoor UCLA events of any size. Attendees should also wear masks while waiting in line to enter the venue.
UCLA students, faculty and staff attending an indoor event must show their Symptom Monitoring Survey clearance certificate for that day to gain entry.
Non-affiliates — those attendees who are not members of the UCLA community — must show proof of being fully vaccinated or proof of a negative COVID-19 test within the previous 72 hours.
Results of both PCR and antigen tests are acceptable as proof.
Attendees showing proof of a negative test must provide a photo ID and documentation from a test provider or lab (either printed or on a smartphone) that includes the test result, the person's name, the date of the test and the type of test.
---
Program
Ludwig van Beethoven (1770–1827)
String Quartet No. 6 in B-flat Major, op. 18
Allegro con brio
Adagio ma non troppo
Scherzo: Allegro
La Malinconia: Adagio–Allegretto quasi Allegro
String Quartet No. 11 in F Minor, op. 95
Allegro con brio
Allegretto ma non troppo
Allegro assai vivace ma serioso
Larghetto espressivo – Allegretto agitato
Intermission
String Quartet No. 16 in F Major, op. 135
Allegretto
Vivace
Lento assai, cantante e tranquillo
Der schwer  gefaßte Entschluß. Grave, ma non troppo tratto–Allegro
Borromeo String Quartet
Nicholas Kitchen, violin
Kristopher Tong, violin
Mai Motobuchi, viola
Yeesun Kim, cello 
Each visionary performance of the award-winning Borromeo String Quartet strengthens and deepens its reputation as one of the most important ensembles of our time. Admired and sought after for both its fresh interpretations of the classical music canon and its championing of works by 20th- and 21st-century composers, the ensemble has been hailed for its "edge-of-the-seat performances," by the Boston Globe, which called it "simply the best."
Inspiring audiences for more than 25 years, the Borromeo continues to be a pioneer in its use of technology, and has the trailblazing distinction of being the first string quartet to utilize laptop computers on the concert stage. Reading music this way helps push artistic boundaries, allowing the artists to perform solely from 4-part scores and composers' manuscripts, a revealing and metamorphic experience which these dedicated musicians now teach to students around the world. As the New York Times noted, "The digital tide washing over society is lapping at the shores of classical music. The Borromeo players have embraced it in their daily musical lives like no other major chamber music group." Moreover, the Quartet often leads discussions enhanced by projections of handwritten manuscripts, investigating with the audience the creative process of the composer. And in 2003 the Borromeo became the first classical ensemble to make its own live concert recordings and videos, distributing them for many years to audiences through its Living Archive, a music learning web portal for which a new version will soon be released.
Passionate educators, the Borromeos encourage audiences of all ages to explore and listen to both traditional and contemporary repertoire in new ways. The ensemble uses multi-media tools such as video projection to share the often surprising creative process behind some works, or to graphically show the elaborate architecture behind others. This produces delightfully refreshing viewpoints and has been a springboard for the Quartet's acclaimed young people's programs. One such program is Mathemusica which delves into the numerical relationships that under-pin the sounds of music and shows how musical syntax mirrors natural forms. Classic Video uses one movement of a quartet as the platform from which to teach computer drawing, video editing, animation, musical form, and production processes to create a meaningful union of music and visual art.
The Borromeo String Quartet has been ensemble-in-residence at the New England Conservatory and Taos School of Music for 25 years. It has also, for over two decades, enjoyed a long-term relationship with the Isabella Stewart Gardner Museum where it continues to appear regularly. It is quartet-in-residence at the Heifetz International Music Institute, where first violinist Nicholas Kitchen is Artistic Director. The quartet was also in residence at the Library of Congress (highlighting both its manuscripts and instrument collections), and the Chamber Music Society of Lincoln Center. The ensemble joined the Emerson Quartet as the Hittman Ensembles in Residence at the Peabody Institute in Baltimore, and was recently in residence at Kansas University, the San Francisco Conservatory, and Colorado State University.
The Quartet's presentation of the cycle of Bartók String Quartets as well as its lecture "Bartók: Paths Not Taken" gives audiences a once-in-a-lifetime chance to hear a set of rediscovered alternate movements Béla Bartók drafted for his six Quartets. Describing a Bartók concert at the Curtis Institute, the Philadelphia Inquirer wrote that the quartet "performed at a high standard that brought you so deeply into the music's inner workings that you wondered if your brain could take it all in … The music's mystery, violence, and sorrow become absolutely inescapable."
Also noteworthy within Borromeo's repertory are dramatic discoveries within the manuscripts of the Beethoven Quartets; its performances of the Complete Cycle; the Beethoven Decathlon (four concerts of Beethoven's last ten quartets, with accompanying lectures that explore his manuscripts); and the Beethoven Tryptich concerts. The Quartet's expansive repertoire also includes the Shostakovich Cycle., and those of Mendelssohn, Dvořák, Brahms, Schumann, Schoenberg, Janáček, Lera Auerbach, Tchaikovsky, and Gunther Schuller.
The Quartet has collaborated with some of this generation's most important composers, including Gunther Schuller, John Cage, György Ligeti, Steve Reich, Aaron Jay Kernis, Osvaldo Golijov, Jennifer Higdon, Steve Mackey, John Harbison, Sebastian Currier, and Leon Kirchner; and it has performed on major concert stages across the globe, including Carnegie Hall, the Berlin Philharmonie, Wigmore Hall, Suntory Hall (Tokyo), The Concertgebouw, Seoul Arts Center, Shanghai Oriental Arts Center, the Incontri in Terra di Siena Chamber Music Festival in Tuscany, Kammermusik Basel (Switzerland), the Prague Spring Festival, and the Haydn Festival in Eisenstadt.
The group recently premiered new works written for it by Sebastian Currier and Aaron Jay Kernis at recitals at Carnegie Hall, Shriver Concerts, and the Tippet Rise Art Center. The ensemble continues to perform violinist Nicholas Kitchen's transcriptions of Bach's Goldberg Variations and the Well-Tempered Clavier Bk. I. In the latter case, Borromeo recently released an acclaimed premiere recording which hit the Billboard charts.
"Nothing less than masterful" (Cleveland.com), the Borromeo Quartet has received numerous awards throughout its illustrious career, including Lincoln Center's Avery Fisher Career Grant and Martin E. Segal Award, and Chamber Music America's Cleveland Quartet Award. It was also a recipient of the Young Concert Artists International Auditions and a prize-winner at the International String Quartet Competition in Evian, France.
https://www.borromeoquartet.org/
The Borromeo String Quartet is represented by Dworkin & Company: http://dworkincompany.com/site/
Click here for more information about our chamber music programs.
Chamber Music at the Clark is made possible by the generous support of The Ahmanson Foundation; The Colburn Foundation; Martha Bardach; Catherine Glynn Benkaim, Ph.D. and Barbara Timmer; Dr. Marla C. Berns; Dr. Rogers Brubaker; Patricia Chock; Regina and Bruce Drucker; Beth S. Farb; Susan Harris; Judy and Sam Hellinger; Henry J. Bruman Endowment for Chamber Music; Dr. Sheldon H. Kardener and Monika Olofsson Kardener; Carol Krause; Mari and Edmund D. Edelman Foundation for Music and Public Service; Elaine and Bernie Mendes; Janet and Henry Minami; Bette I. and Jeffrey L. Nagin; Joyce Perry; Jeanne Robson; Jackie and Charles Schwartz; Dr. Patricia Bates Simun and Mr. Richard V. Simun Memorial Fund; Patricia Waldron, M.D., and Richard Waldron; Roberta and Robert Young and Friends of the Clark Library.
---
Booking Form
Bookings are currently closed for this event.