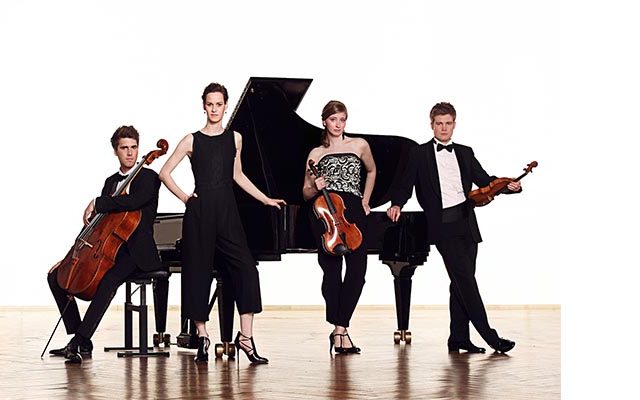 Date/Time
Sunday, February 6, 2022
2:00 pm – 4:00 pm
1-7-2022: We are sorry to announce that this Notos Quartet concert has been postponed due to Covid related concerns. Refunds have been issued to lottery winners who previously paid for their tickets.
---
Chamber Music at the Clark concert seating is determined via lottery. Concert pricing is $35 per person for general admission, and $10 each for UCLA with ID. The booking-by-lottery entry form for Notos Piano Quartet concert seats posts here on Thursday, November 18, 2021. Lottery registration closes Thursday, December 9, 2021.
Learn more about the booking-by-lottery system for securing Chamber Music at the Clark seats.
---
Per Los Angeles City ordinance, effective November 4, 2021, the following is required to enter this event:
UCLA Venue Clearance Certificate
OR
Proof of COVID-19 Full Vaccination AND Valid Photo ID
OR
Self-attestation of qualifying medical or religious exemption, AND Proof of Negative COVID-19 test within 72 hours, AND Valid Photo ID
Examples of acceptable Photo ID, Proof of Negative COVID-19 Test, and Proof of Vaccination can be found on page 5 of Los Angeles City Ordinance No.187219: https://clkrep.lacity.org/onlinedocs/2021/21-0878_ord_187219_11-08-21.pdf
Advance registration is required to attend, and face masks are required to be worn by all attendees at indoor events.
---
Program
Robert Schumann (1810–1856)
Piano Quartet in E-flat Major, op. 47
Sostenuto assai–Allegro ma non troppo
Scherzo. Molto vivace
Andante cantabile
Finale. Vivace 
Bryce Dessner (1976–  )
Spirals
(Commissioned by Notos Quartet)
Intermission
Johannes Brahms (1833–1897)
Piano Quartet No. 1 in G Minor, op. 25
Allegro
Intermezzo. Allegro ma non troppo
Andante con moto
Rondo alla Zingarese. Presto
Notos Quartet
Sindri Lederer, violin
Andrea Burger, viola
Philip Graham, cello
Antonia Köster, piano
Since its foundation in 2007, the Notos Quartet has won 6 first prizes and various special awards in numerous international competitions (including Holland, Italy, England, and China). Notos has since established international renown through performances in European concert halls such as the Berliner Philharmonie, Konzerthaus Berlin, Konzerthaus Vienna, Concertgebouw Amsterdam, Tonhalle Zürich, and Bozar Brussels. The Quartet has also performed at important festivals in Rheingau, Schwetzingen, Würzburg, Mecklenburg-Vorpommern, Usedom, Montpellier, France, and regularly travels to Russia, Australia, South Africa, China, and Japan.
In addition to the well-known masterpieces, the quartet is committed to contemporary music and world premieres. Postponed from the 2019/20 season due to the pandemic, premieres of works by Beat Furrer, Judit Varga, and Bernhard Gander were performed in Vienna, Innsbruck, and Berlin in 2020/21.
The musicians endeavor to track down lost and forgotten works of the piano quartet genre and to present them to a wider audience. This approach is reflected in their debut CD, Hungarian Treasures, which was released by Sony Classical/RCA in February 2017. This recording includes the world premiere of Béla Bartók's Piano Quartet in C Minor. The rediscovery of this piece garnered worldwide attention and recognition for the ensemble. Notos' second recording on Sony Classical, is dedicated entirely to the great romantic Johannes Brahms–it includes the famous Piano Quartet in G Minor, and an arrangement of the Symphony No. 3 by Andreas N. Tarkmann created especially for the Notos Quartet.
The Notos Quartet's reputation has grown through numerous concert recordings, interviews, and portraits on radio and television across the world. Broadcasters include ARD, ZDF, Deutschlandfunk, the BBC, France Musique, and NHK Japan.
It is important to the musicians to take a stand on social issues. They were the first artists to return the prestigious German music prize ECHO Klassik in 2017 in response to the ECHO Pop Awards of 2018, which honored an album containing anti-Semitic language. Their actions triggered a protest movement that was joined by many well-known artists, including Igor Levit, and Daniel Barenboim. As a result of this protest the ECHO brand was abolished.
The social commitment of the ensemble is also reflected in its promotion of young musicians. They have taught at the Royal Northern College of Music in Manchester, led the masterclass at Saigon Chamber Music in Vietnam, and they organize the annual Notos Chamber Music Academy. The Academy was founded in 2019 in cooperation with the Jeunesses Musicales Deutschland in Weikersheim.
Notos studied with Günter Pichler, the leader of the legendary Alban Berg Quartet, in Madrid at the Escuela Superior de Música Reina Sofía until 2017. Other teachers and supporters include the Mandelring Quartet, Menahem Pressler, András Schiff, Clemens Hagen, and Uwe Martin Haiberg.
The Notos Quartet plays on instruments from old Italian masters, this is made possible by the Merito String Instruments Trust. As Pirastro artists, the Quartet plays exclusively on strings made by the renowned manufacturer Pirastro GmbH.
http://www.notosquartett.de/en
The Notos Quartet is represented by Künstlersekretariat Astrid Schoerke GmbH:
http://en.ks-schoerke.de/
The Notos Quartet visits with the  financial support of the Goethe-Institut.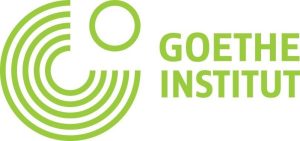 Click here for more information about our chamber music programs.
Chamber Music at the Clark is made possible by the generous support of The Ahmanson Foundation; The Colburn Foundation; Martha Bardach; Catherine Glynn Benkaim, Ph.D. and Barbara Timmer; Dr. Marla C. Berns; Dr. Rogers Brubaker; Patricia Chock; Regina and Bruce Drucker; Beth S. Farb; Susan Harris; Judy and Sam Hellinger; Henry J. Bruman Endowment for Chamber Music; Dr. Sheldon H. Kardener and Monika Olofsson Kardener; Carol Krause; Mari and Edmund D. Edelman Foundation for Music and Public Service; Elaine and Bernie Mendes; Janet and Henry Minami; Bette I. and Jeffrey L. Nagin; Joyce Perry; Jeanne Robson; Jackie and Charles Schwartz; Dr. Patricia Bates Simun and Mr. Richard V. Simun Memorial Fund; Patricia Waldron, M.D., and Richard Waldron; Roberta and Robert Young and Friends of the Clark Library.
---
Booking Form
Bookings are currently closed for this event.