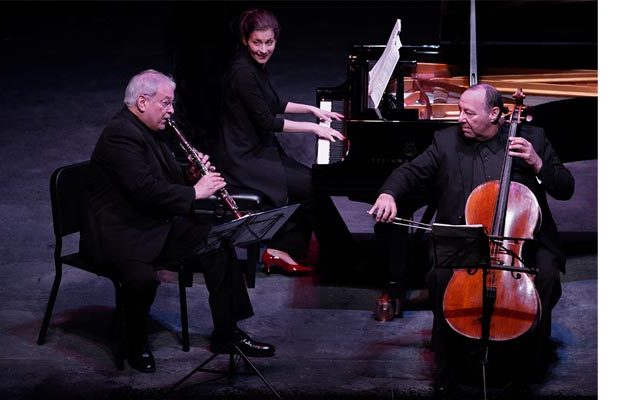 Date/Time
Sunday, March 20, 2022
2:00 pm – 4:00 pm
Location
William Andrews Clark Memorial Library
2520 Cimarron Street
Chamber Music at the Clark concert seating is determined via lottery. Concert pricing is $35 per person for general admission, and $10 each for UCLA students with ID. The booking-by-lottery entry form for the Polonsky-Shifrin-Wiley Trio concert seats posts here on Thursday, January 20, 2022. Lottery registration closes Thursday, February 10, 2022.
Learn more about the booking-by-lottery system for securing Chamber Music at the Clark seats.
---
Face masks are mandatory and must be worn at all indoor UCLA events of any size. Attendees also should wear masks while waiting in line to enter the venue.
Per Los Angeles City ordinance, effective November 4, 2021, the following is required to enter this event:
·  UCLA Venue Clearance Certificate
OR
·  Proof of COVID-19 Full Vaccination AND Valid Photo ID
OR
·  Self-attestation of qualifying medical or religious exemption, AND Proof of Negative COVID-19 test within 72 hours, AND Valid Photo ID
Examples of acceptable Photo ID, Proof of Negative COVID-19 Test, and Proof of Vaccination can be found on page 5 of Los Angeles City Ordinance No.187219: https://clkrep.lacity.org/onlinedocs/2021/21-0878_ord_187219_11-08-21.pdf
---
Program
Johannes Brahms (1833–1897)
Sonata No. 2 in E-flat Major, op. 120
Allegro amabile
Allegro appassionato
Andante con moto–Allegro
Cello Sonata No. 2 in F Major, op. 99
Allegro vivace
Adagio affettuoso
Allegro passionate
Allegro molto
Intermission 
Trio in A Minor, op. 114
Allegro
Adagio
Andantino grazioso
Allegro
Polonsky-Shirfrin-Wiley Trio
Anna Polonsky, piano
David Shifrin, clarinet
Peter Wiley, cello​
Upon receiving Chamber Music America's Richard J. Bogomolny National Service Award in 2018–an award that recognizes an individual who has provided historic service to the chamber music field–David Shifrin announced the formation of a new trio with the distinguished cellist Peter Wiley, and the rising star pianist Anna Polonsky. The Polonsky-Shifrin-Wiley Trio made its debut at Dumbarton Oaks in February 2019 and followed up with performances for the Candlelight Concerts in Connecticut, and the Classic Chamber Concerts in Florida. The Trio's 2019–2020 season included performances for the Chamber Music Societies in Detroit, Philadelphia, and Phoenix; the Fontana Chamber Music Society at Yale and Clemson Universities, and for the Market Square Concerts in Harrisburg.
Pianist Anna Polonsky is widely in demand as a soloist and chamber musician. She has appeared with the Moscow Virtuosi, the Buffalo Philharmonic, the Saint Paul Chamber Orchestra, the Columbus Symphony Orchestra, the Memphis Symphony, the Chamber Orchestra of Philadelphia, the St. Luke's Chamber Ensemble, among others. Ms. Polonsky has collaborated with the Guarneri, Orion, Daedalus, and Shanghai Quartets, and with musicians Mitsuko Uchida, Yo-Yo Ma, David Shifrin, Richard Goode, Emanuel Ax, Arnold Steinhardt, Peter Wiley, and Jaime Laredo. She has performed chamber music at festivals including Marlboro, Chamber Music Northwest, Seattle, Music@Menlo, Cartagena, Bard, and Caramoor, as well as at Bargemusic in Brooklyn. Ms. Polonsky has given concerts in the Amsterdam Concertgebouw, the Vienna Konzerthaus, Alice Tully Hall, and Carnegie Hall's Stern, Weill, and Zankel Halls. She has toured extensively throughout the United States, Europe, and Asia. A frequent guest at the Chamber Music Society of Lincoln Center, she was a member of the Chamber Music Society Two from 2002–2004. In 2006 she took a part in the European Broadcasting Union's project to record and broadcast all of Mozart's keyboard sonatas, and in the spring of 2007, she performed a solo recital at Carnegie Hall's Stern Auditorium to inaugurate the Emerson Quartet's "Perspectives" series. She is a recipient of a Borletti-Buitoni Trust Fellowship and the Andrew Wolf Chamber Music Award. Anna Polonsky made her solo piano debut at the age of seven at the Special Central Music School in Moscow, Russia. She emigrated to the United States in 1990, and attended high school at the Interlochen Arts Academy in Michigan. She received her Bachelor of Music diploma from The Curtis Institute of Music under the tutelage of the renowned pianist Peter Serkin, and continued her studies with Jerome Lowenthal, earning her Master's degree from the Juilliard School. In addition to performing, she teaches as piano faculty at Vassar College, and during summers at the Marlboro and Kneisel Hall chamber music festivals. Ms. Polonsky is a Steinway Artist.
A Yale University faculty member since 1987, clarinetist David Shifrin is artistic director of Yale's "Chamber Music Society Series" and "Yale in New York," a concert series at Carnegie Hall. He has performed with the Chamber Music Society since 1982. He served as its artistic director from 1992 to 2004, where he inaugurated The Bowers Program (then called CMS Two) and the annual Brandenburg Concerto concerts. He continues as artistic director of Chamber Music Northwest in Portland, Oregon, a post he has held since 1981. He has collaborated with the Guarneri, Tokyo, and Emerson quartets, and frequently performs with pianist André Watts. Winner of the Avery Fisher Prize, he is also the recipient of a Solo Recitalist Fellowship from the National Endowment for the Arts. A top prize winner in competitions throughout the world, including Munich, Geneva, and San Francisco, he has held principal clarinet positions in The Cleveland Orchestra, and the American Symphony under Leopold Stokowski. His recordings have received three Grammy nominations, and his performance of Mozart's Clarinet Concerto with the Mostly Mozart Festival Orchestra was named Record of the Year by Stereo Review. He has also released two CDs of Lalo Schifrin's compositions, one of which was nominated for a Latin Grammy. New Delos recording releases in 2017 included Carl Nielsen's clarinet concert in a chamber version by Rene Orth, and a volume of quintets for clarinet and strings with the Miró, Dover, and Jasper quartets featuring music by Peter Schickele, Richard Danielpour, and Aaron J. Kernis.
Cellist Peter Wiley enjoys a prolific career as a performer and teacher. He attended the Curtis Institute at just 13 years of age, under the tutelage of David Soyer, and continued his impressive youthful accomplishments with his appointment as principal cellist of the Cincinnati Symphony at age 20 (after one year in the Pittsburgh Symphony). From 1987 through 1998, Mr. Wiley was cellist of the Beaux Arts Trio, with which he performed over a thousand concerts, including appearances with many of the world's greatest orchestras. He succeeded his mentor, David Soyer, as cellist of the Guarneri Quartet from 2001 until the Quartet retired from the concert stage in 2009. Awarded an Avery Fisher Career Grant, Peter Wiley was also nominated for a Grammy Award in 1998 with the Beaux Arts Trio, and in 2009 with the Guarneri Quartet. He has maintained a close association with the Marlboro Music Festival for over 40 years. A much sought-after teacher, Mr. Wiley has been a faculty artist at Caramoor's "Rising Stars" program, and taught at the Cincinnati College Conservatory of Music, Mannes College of Music, and Manhattan School of Music. He is currently on the faculty of the Curtis Institute of Music, and the Bard College Conservatory of Music.
The Polonsky-Shifrin-Wiley Trio is represented by BesenArts: http://besenarts.com/
Click here for more information about our chamber music programs.
Chamber Music at the Clark is made possible by the generous support of The Ahmanson Foundation; The Colburn Foundation; Martha Bardach; Catherine Glynn Benkaim, Ph.D. and Barbara Timmer; Dr. Marla C. Berns; Dr. Rogers Brubaker; Patricia Chock; Regina and Bruce Drucker; Beth S. Farb; Susan Harris; Judy and Sam Hellinger; Henry J. Bruman Endowment for Chamber Music; Dr. Sheldon H. Kardener and Monika Olofsson Kardener; Carol Krause; Mari and Edmund D. Edelman Foundation for Music and Public Service; Elaine and Bernie Mendes; Janet and Henry Minami; Bette I. and Jeffrey L. Nagin; Joyce Perry; Jeanne Robson; Jackie and Charles Schwartz; Dr. Patricia Bates Simun and Mr. Richard V. Simun Memorial Fund; Patricia Waldron, M.D., and Richard Waldron; Roberta and Robert Young and Friends of the Clark Library.
---
Booking Form
Bookings are currently closed for this event.