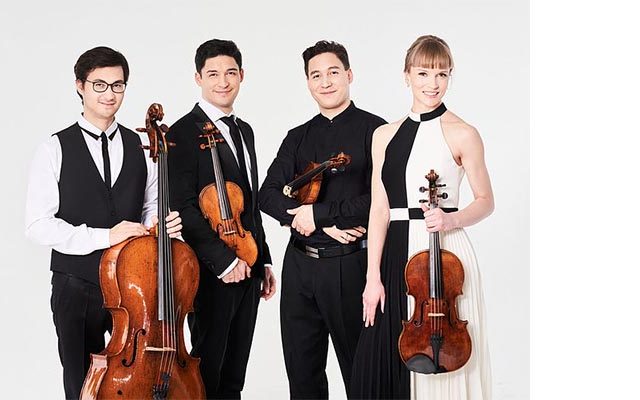 Date/Time
Saturday, November 20, 2021
2:00 pm – 4:00 pm
Location
William Andrews Clark Memorial Library
2520 Cimarron Street
Please note this concert will be held on Saturday, November 20
(instead of the normal Sunday afternoon time).
Chamber Music at the Clark concert seating is determined via lottery. Concert pricing is $35 per person for general admission, and $10 each for UCLA students with ID. The booking-by-lottery entry form for Schumann Quartet concert seats posts here on Thursday, September 23, 2021. Lottery registration closes Thursday, October 14, 2021.
Learn more about the booking-by-lottery system for securing Chamber Music at the Clark seats.
---
Per Los Angeles City ordinance, effective November 4, 2021, the following is required to enter this event:
UCLA Venue Clearance Certificate
OR
Proof of COVID-19 Full Vaccination AND Valid Photo ID
OR
Self-attestation of qualifying medical or religious exemption, AND Proof of Negative COVID-19 test within 72 hours, AND Valid Photo ID
Examples of acceptable Photo ID, Proof of Negative COVID-19 Test, and Proof of Vaccination can be found on page 5 of Los Angeles City Ordinance No.187219: https://clkrep.lacity.org/onlinedocs/2021/21-0878_ord_187219_11-08-21.pdf
Advance registration is required to attend, and face masks are required to be worn by all attendees at indoor events.
---
Program
Felix Mendelssohn (1809–1847)
String Quartet No. 2 in A Minor, op. 13
Adagio–Allegro vivace
Adagio non lento
Intermezzo. Allegretto con moto–Allegro di molto
Presto–Adagio non lento
Maurice Ravel (1875–1937)
String Quartet in F Major
Allegro moderato–très doux
Assez vif–très rythmé
Très lent
Vif et agité
Intermission
Wolfgang Amadeus Mozart (1756–1791)
String Quartet No. 19 in C Major, K. 465 "Dissonance"
Adagio–Allegro
Andante cantabile
Menuetto. Allegro
Allegro molto
Program notes by Bruce Whiteman.
Schumann Quartet
Erik Schumann, violin
Ken Schumann, violin
Liisa Randalu, viola
Mark Schumann, cello
The Schumann Quartet has reached a stage where anything is possible because it has dispensed with certainties. This has consequences for audiences, who from one concert to the next have to be prepared for any eventuality: "A work really develops only in a live performance," the Quartet says. "That is 'the real thing,' because we ourselves never know what will happen. On the stage all imitation disappears and you automatically become honest with yourself. Then you can create a bond with the audience–communicate with it in music." This live situation gains new energy as the Quartet partners with new and forthcoming collaborators including, Albrecht Mayer, Menahem Pressler, Kit Armstrong, Anna Vinnitskaya, and Anna Lucia Richter.
Recent season highlights include an invitation to perform in Tokyo at Suntory Hall. The Quartet has also toured North America and Asia, given guest performances at festivals in Germany, Switzerland, the Netherlands, and held concerts in the musical metropolises of London, Zurich, Madrid, Hamburg, and Berlin. Furthermore, the ensemble engaged in two special programs in Barcelona and Madrid together with the soprano Katharina Konradi.
Most recently the Schumann Quartet expanded its discography with Fragment (2020), an examination of one of the masters of the string quartet, Franz Schubert. The Quartet's album Intermezzo (2018,  Schumann, Reimann with Anna-Lucia Richter and Mendelssohn Bartholdy) has been hailed enthusiastically both at home and abroad and received the award "Opus Klassik". These albums are celebrated as a worthy successors to the Schumann's award-winning Landscapes album, in which the Quartet traces its own roots by combining works of Haydn, Bartók, Takemitsu, and Pärt. Among other prizes, the earlier album received the "Jahrespreis der deutschen Schallplattenkritik," five "Diapason d'Or de l'Année" awards,  and was selected as Editor's Choice by BBC Music Magazine. For its previous CD, Mozart Ives Verdi, the Schumann Quartet was accorded the 2016 "Newcomer Award" at the BBC Music Magazine Awards in London.
Brothers Mark, Erik, and Ken Schumann have been playing together since early childhood. In 2012 they were joined by violist Liisa Randalu. Randalu was born in the Estonian capital, Tallinn, and grew up in Karlsruhe, Germany. The strong connection between the Quartet's members is often remarked upon by audiences. The four musicians enjoy wordless communication, a single look conveys how a particular member wants to play a particular passage. Although individual personalities clearly manifest themselves, a common space arises in every musical performance through a process of spiritual metamorphosis. The Quartet's openness and curiosity may, in part, be the result of the formative influence of teachers such as Eberhard Feltz, the Alban Berg Quartet or musical partners such as Menahem Pressler.
Teachers, musical partners, prestigious prizes, CD releases–it is always tempting to speculate on what factors lead many to view the Schumann Quartet as world class. However, the four Schumann musicians regard such milestones as mere encounters, as confirmation of the path they have taken. They feel that their musical development in recent years represents a quantum leap. "We really want to take things to extremes, to see how far the excitement, and our spontaneity as a group, take[s] us," says Ken Schumann, the middle of the three Schumann brothers. They charmingly sidestep any attempt to categorize their sound, approach or style, and simply let the concerts speak for themselves.
Critics approve, Harald Eggebrecht in Süddeutsche Zeitung says of the Quartet: "Fire and energy. The Schumann Quartet plays staggeringly well […] without doubt one of the very best formations among today's abundance of quartets, […] with sparkling virtuosity and a willingness to astonish"
Quotes taken from an interview with journalists from the classical music magazine VAN (van-magazin.de)
http://www.schumannquartett.de/eng
The Schumann Quartet is represented in the United States by Arts Management Group: https://www.artsmg.com/
Click here for more information about our chamber music programs.
Chamber Music at the Clark is made possible by the generous support of The Ahmanson Foundation; The Colburn Foundation; Martha Bardach; Catherine Glynn Benkaim, Ph.D. and Barbara Timmer; Dr. Marla C. Berns; Dr. Rogers Brubaker; Patricia Chock; Regina and Bruce Drucker; Beth S. Farb; Susan Harris; Judy and Sam Hellinger; Henry J. Bruman Endowment for Chamber Music; Dr. Sheldon H. Kardener and Monika Olofsson Kardener; Carol Krause; Mari and Edmund D. Edelman Foundation for Music and Public Service; Elaine and Bernie Mendes; Janet and Henry Minami; Bette I. and Jeffrey L. Nagin; Joyce Perry; Jeanne Robson; Jackie and Charles Schwartz; Dr. Patricia Bates Simun and Mr. Richard V. Simun Memorial Fund; Patricia Waldron, M.D., and Richard Waldron; Roberta and Robert Young and Friends of the Clark Library.
---
Booking Form
Bookings are currently closed for this event.