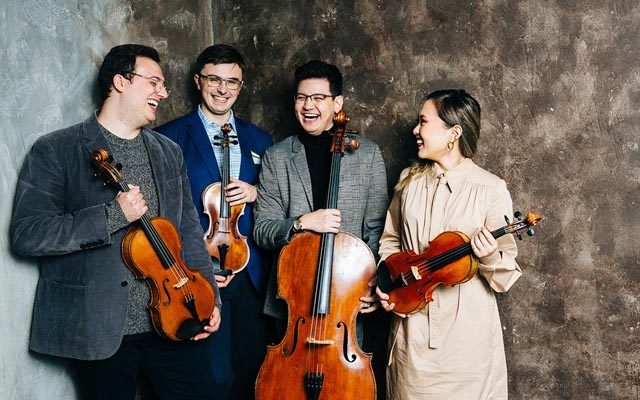 Date/Time
Sunday, May 7, 2023
2:00 pm – 4:00 pm
Location
William Andrews Clark Memorial Library
2520 Cimarron Street
Tickets for the Balourdet Quartet concert are now sold out.
---
Face masks are not required but are strongly recommended at all indoor campus events.
---
Program
Douglas J. Cuomo (1958– )
A White Rose in the Blue Ground
Felix Mendelssohn (1809–1847)
String Quartet No. 4 in E Minor, op. 44 no. 2
I. Allegro assai appassionato
II. Scherzo. Allegro di molto
III. Andante
IV. Presto agitato
Intermission
Ludwig van Beethoven (1770–1827)
String Quartet No. 13 in B-Flat Major, op. 130
I. Adagio, ma non troppo – Allegro
II. Presto
III. Andante con moto, ma non troppo. Poco scherzoso
IV. Alla danza tedesca. Allegro assai
V. Cavatina. Adagio molto espressivo
VI. Große Fuge (Grande Fugue, op. 133): Ouverture. Allegro–Meno mosso e moderato–Allegretto–Fuga. [Allegro]–Meno Mosso e moderato–Allegro molto e con brio–Allegro
Balourdet Quartet
Angela Bae, violin
Justin DeFilippis, violin
Benjamin Zannoni, viola
Russell Houston, cello
The Balourdet Quartet, based in Boston, Massachusetts, is currently in residence at the New England Conservatory's Professional String Quartet Program. The quartet received the Grand Prize at the 2021 Concert Artists Guild Victor Elmaleh Competition as well as the top prize awarded in the 2021 Premio Paolo Borciani in Reggio Emilia, Italy. The group also received the Gold Medal in the 2020 Fischoff National Chamber Music Competition and the 2021 Chamber Music Yellow Springs Competition.
Highlights of the 2021–2022 season include the Nevada Chamber Music Festival, ProMusica Santa Fe, Montgomery Chamber Music, ProMusica San Miguel de Allende, Chamber Music Yellow Springs, and a recital in NEC's Jordan Hall. Last summer, the group performed in concert series including Oklahoma Mozart Festival, Music Mountain and Bravo! Vail. During the 2022–2023 season, the quartet is thrilled to premiere a new work they commissioned by Karim Al-Zand, made possible through Chamber Music America's Classical Commissioning Grant.
The Balourdet has performed at festivals including La Jolla Music Society Summerfest, Amelia Island Chamber Music Festival, Aspen Music Festival, and Accademia Musicale Chigiana. It works primarily with Paul Katz at  New England Conservatory, as well as Miriam Fried and members of the Cleveland and Borromeo Quartets. The quartet was formed in 2018 at Rice University in Houston, Texas under the tutelage of James Dunham, Norman Fischer, and Cho-Liang Lin.
The Balourdet Quartet gets its name from Antoine Balourdet, chef extraordinaire at the Hotel St. Bernard and beloved member of the Taos School of Music community.
https://www.balourdetquartet.com/
Balourdet Quartet is represented by Concert Artists Guild: https://www.concertartists.org/
Click here for more information about our chamber music programs.
Chamber Music at the Clark is made possible by The Ahmanson Foundation; The Colburn Foundation; Martha Bardach; Catherine Glynn Benkaim, Ph.D. and Barbara Timmer; Dr. Rogers Brubaker; Patricia N. Chock; Dr. Susan Harris and Mark Harris; Judy Hellinger; Henry J. Bruman Endowment for Chamber Music; Dr. Sheldon H. Kardener and Monika Olofsson Kardener; Elaine and Bernie Mendes; Janet Minami; Bette I. and Jeffrey L. Nagin; Dr. Jeanne Robson; Carol E. Sandberg; Jackie Schwartz; Dr. Patricia Bates Simun and Mr. Richard V. Simun Memorial Fund; Patricia Waldron, M.D., and Richard Waldron; and Roberta and Robert Young.