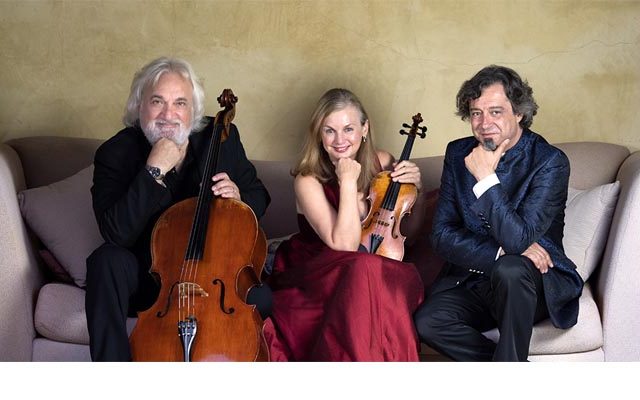 Date/Time
Sunday, January 8, 2023
2:00 pm – 4:00 pm
Location
William Andrews Clark Memorial Library
2520 Cimarron Street
NEW!
Chamber Music at the Clark tickets are no longer distributed via lottery.
Tickets for the  Los Angeles Piano Trio concert will go on sale at
https://commerce.cashnet.com/CLARKLIBRARYEVENTS
at 12 noon on Tuesday, November 15, 2022.
Tickets sales are limited to 2 per person.
---
All attendees must adhere to the UCLA COVID-19 Protocol for Organized Events. This protocol will be in effect until further notice and adjusted as needed to respond to evolving public health conditions.
Face masks: It is strongly recommended that all attendees at indoor campus events wear a highly protective mask (i.e. surgical, N95, KN95, or KP94).
Requirements for event entry: All  attendees must present  proof  of  COVID-19  vaccination  or proof  of  negative  COVID-19 test per Los Angeles County Department of Public Health guidelines.
---
Program
Wolfgang Amadeus Mozart (1756–1791)
Piano Trio No. 4 in E Major, K. 542
I. Allegro
II. Andante grazioso
III. Allegro
Ludwig van Beethoven (1770–1827)
Piano Trio in D Major, op. 70 no. 1, "Ghost"
I. Allegro vivace e con brio
II. Largo assai ed espressivo
III. Presto
Intermission
Felix Mendelssohn (1809–1847)
Piano Trio No. 1 in D Minor, op. 49
I. Molto Allegro agitato
II. Andante con molto tranquillo
III. Scherzo. Leggiero e vivace
IV. Finale. Allegro assai appassionato
Los Angeles Piano Trio
Margaret Batjer, violin
Andrew Shulman, cello
Fabio Bidini, piano
Los Angeles Piano Trio brings a new level of refinement, emotional depth and artistry to the piano trio repertoire, reflecting the City of Angels' rich cultural legacy, global impact and vibrant energy. Venerated artists and long-time L.A. residents Fabio Bidini, piano, Margaret Batjer, violin, and Andrew Shulman, cello, founded the chamber ensemble in 2020, building upon their distinguished international careers as critically acclaimed soloists, chamber musicians, recording artists and pedagogues.
Finding great joy in playing together, which is palpable, the three like-minded musicians embrace the artistic freedom and warmth provided within the structure of the trio, enabling them to express their distinctive musical personalities while creating highly collaborative, inspiring chamber music performances. They present the core piano trio repertoire of Haydn, Mozart, Beethoven, Brahms and Dvorak and 20th century gems by Shostakovich, Ravel and others, transporting audiences with their fresh, inventive interpretations, exceptional technical prowess and abiding musical passion. Additionally, they plan to introduce new and seldom-played works in seasons to come, mirroring L.A.'s own diverse arts scene, which, rooted in tradition, also sets trends around the globe.
For Bidini, Batjer and Shulman, who have performed together in various duo and ensemble combinations over the years, this project comes at the optimum time in their careers with each infusing Los Angeles Piano Trio with decades of wide-ranging musical experience at the highest echelon, for which they have garnered tremendous accolades.
Critics proclaim Fabio Bidini, a finalist in the 1993 Van Cliburn Piano Competition, a "keyboard wizard (with) a beautiful tone" (Boston Musical Intelligencer) "capable of an admirable simplicity…truly touching" (The New York Times). The Italian-born musician, who plays with "the rigor of a poet and the flair of a magician" (Los Angeles Times), is considered among the world's leading concert pianists and pedagogues. Bidini made his North American debut with the Atlanta Symphony Orchestra and has been a frequent guest of San Francisco Symphony, Dallas Symphony, Budapest Festival Orchestra, Chamber Orchestra of Philadelphia and BBC Orchestra Wales, among many others. Also in demand as a chamber music partner, he has enjoyed artistic collaborations with American String Quartet, Janacek Quartet, Brodsky Quartet, Szymanowski Quartet, Modigliani Quartet, Zoltan Kocsis, Nikolaj Znaider, Johannes Moser, Paula Robison, Wendy Warner, Eva Urbanova, Nina Kotova, Maria Bachmann, Dimitri Ashkenazy, Eva Mie, Alexis-Pia Gerlach and others. Bidini, hailed as "a master of the master class…one of the most intense teachers in classical music" (Los Angeles Times), formerly held the piano chair at the Berlin Hanns Eisler Hochschule für Musik and, in 2015, was named the first Carol Grigor Piano Chair at the Colburn Music Academy in Los Angeles and appointed as a Professor at the Hochschule für Musik und Tanz in Cologne, Germany.
Margaret Batjer, lauded for her "gleaming warmth" (Los Angeles Times), "high-flying" performances and ability to make "her instrument purr and soar…with an engrossing combination of intensity and technical fluency" (San Francisco Classical Voice), is "downright exciting to watch and hear" (Violinist.com). She has served as Concertmaster of Los Angeles Chamber Orchestra since 1998, which has featured her on numerous world premieres and CDs, including a Deutsche Grammophon recording of Bach's Concerto for Two Violins with violinist Hilary Hahn. Since her solo debut at age 15 with the Chicago Symphony Orchestra, with which she has subsequently performed numerous times, Batjer has appeared with The Philadelphia Orchestra, St. Louis Symphony Orchestra, Seattle Symphony, New York String Orchestra, Prague Chamber Orchestra, Berlin Symphony Orchestra and Chamber Orchestra of Europe, among others. The esteemed chamber artist has long been affiliated with Marlboro Music Festival and Italy's Naples and Cremona festivals, and has played with cellists Yo-Yo Ma and David Finckel, pianists Peter Serkin, Maurizio Pollini, Radu Lupu and Jeffrey Kahane and mandolin virtuoso Chris Thile. As a member of Quartetto Accardo from 1984 to 2000, Batjer recorded and toured extensively, appearing at La Scala, Carnegie Hall, the Salzburg Festival and elsewhere. She serves on the violin faculty at both USC Thornton School of Music and Colburn Music Academy. Batjer's most recent BIS recording with the Los Angeles Chamber Orchestra features her in the Pierre Jalbert Violin Concerto, a Bach Concerto, and works by Vasks and Pärt.
Andrew Shulman draws praise for his "fastidious poetry of phrase and technique" (The Times, London) and "nuanced and impassioned" performances (Salt Lake Tribune). His distinctive sound is "stunning… brilliantly powerful (with a) burnished tone creating a confiding expressiveness…always eloquent and passionate" (Los Angeles Times). Appointed Principal Cello of Los Angeles Chamber Orchestra in 2008, the London-born musician served as Principal Cello of Philharmonia Orchestra and Los Angeles Philharmonic. His extensive solo career includes performing the major cello concertos with such leading orchestras as Academy of St. Martin-in-the-Fields, Philharmonia Orchestra, Utah Symphony, Los Angeles Philharmonic and Singapore Symphony, working with Sir Simon Rattle, Esa Pekka Salonen and Franz Welser-Most. He has also appeared in solo recitals at Buckingham Palace, the Royal Palace in Stockholm, Wigmore Hall and the Musikverein, Vienna, as well as the Edinburgh, Aspen and La Jolla Summer Festivals. A faculty member at USC Thornton School of Music, Shulman is featured on 40 solo and chamber recordings, including 26 with Britten Quartet. Appointed an Honorary Fellow of The Royal College of Music by the Queen Mother in 1986, he is the first British musician to win New England Conservatory's prestigious Piatigorsky Artist Award. He is also a successful conductor, appearing frequently in the USA, Europe and Scandinavia.
https://www.losangelespianotrio.com/
Los Angeles Piano Trio is represented by Arts Management Group: https://www.artsmg.com/
Click here for more information about our chamber music programs.
Chamber Music at the Clark is made possible by The Ahmanson Foundation; The Colburn Foundation; Martha Bardach; Catherine Glynn Benkaim, Ph.D. and Barbara Timmer; Dr. Rogers Brubaker; Patricia N. Chock; Dr. Susan Harris and Mark Harris; Judy Hellinger; Henry J. Bruman Endowment for Chamber Music; Dr. Sheldon H. Kardener and Monika Olofsson Kardener; Elaine and Bernie Mendes; Janet Minami; Bette I. and Jeffrey L. Nagin; Dr. Jeanne Robson; Carol E. Sandberg; Jackie Schwartz; Dr. Patricia Bates Simun and Mr. Richard V. Simun Memorial Fund; Patricia Waldron, M.D., and Richard Waldron; and Roberta and Robert Young.