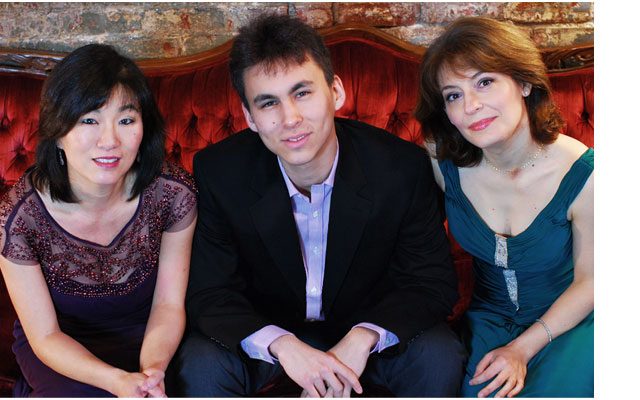 Date/Time
Sunday, May 12, 2019
2:00 pm – 4:00 pm
Location
William Andrews Clark Memorial Library
2520 Cimarron Street
Chamber Music at the Clark concert seating is determined via lottery. The booking-by-lottery entry form for Boston Trio concert seats posts here on Thursday, March 14, 2019. Lottery registration closes Thursday, April 4, 2019.
Learn more about the booking-by-lottery system for securing Chamber Music at the Clark seats.
Boston Trio
Irina Muresanu, violin
Jonah Ellsworth, cello
Heng-Jin Park, piano
"Whenever this trio plays, drop everything and go hear them!" Boston Globe
Since their formation in 1997, the Boston Trio has quickly become one of today's most exciting chamber music trios. Acclaimed for their superb sense of ensemble and wondrous balance, these virtuosic musicians are committed to creating exceptional performances within the standard and contemporary repertoires.
Violinist Irina Muresanu, cellist Jonah Ellsworth, and pianist Heng-Jin Park each have distinguished careers as soloists, recitalists, and chamber musicians. They have appeared with major orchestras, and at premier chamber music festivals throughout the United States and Europe. Ellsworth has performed as a soloist with the Boston Symphony, Akron Symphony, Boston Philharmonic, Jacksonville Symphony, Johnstown Symphony, Symphony by the Sea, and the New Bedford Symphony.  Muresanu, who has appeared as a soloist with the Boston Philharmonic, the Orchestre de la Suisse Romande, and other top international orchestras, is the recipient of top prizes at the Montreal International Competition and the Queen Elizabeth Violin Competition. Park, who made her solo debut with the Boston Pops at the age of 15, is the founding member of the Boston Trio and founder and artistic director of the Halcyon Music Festival.
Highlights from the 2017–18 season included the trio's second performance at Carnegie's Weill Recital Hall, a tour of Florida featuring a performance at the Flagler Museum, a return to the Sanibel Music Festival, and tours from California to upstate New York. Recent highlights for the Boston Trio include performances at UCLA, Detroit Pro Musica, University of Arkansas, Maui Classical Music Festival, Rockport Chamber Music Festival, Cape Cod Chamber Music Festival, Virtuosi Concerts in Winnipeg, and performances of Beethoven's Triple Concerto with the Boston Philharmonic.
The Trio has coached chamber music at the Tanglewood Institute of Music, and served as Ensemble-in-Residence at the American Academy of Arts and Sciences in Cambridge from 1997 to 2004. The Trio is committed to bringing chamber music to a broader audience through outreach activities at public schools and assisted living centers. The individual members serve on the faculties of the New England Conservatory, the Boston Conservatory, Harvard University, and the Massachusetts Institute of Technology. They teach master classes throughout the United States, Asia, and Europe.
The Boston Trio is represented by JMS Artist Management: www.jmsartistmanagement.com
---
Program
Jennifer Higdon (1962– )
Piano Trio
Pale Yellow
Fiery Red
Erich Wolfgang Korngold (1897–1957)
Piano Trio in D Major, op. 1
Allegro non troppo, con espressione
Scherzo: Allegro; Trio: Viel langsamer, innig
Larghetto
Finale: Allegro molto e energico
Intermission
Ludwig van Beethoven (1770–1827)
Piano Trio in B-flat Major, op. 97, "Archduke Trio"
Allegro moderato
Scherzo (Allegro)
Andante cantabile ma però con moto. Poco piu adagio
Allegro moderato
Reception
---
Booking Form
Bookings are currently closed for this event.