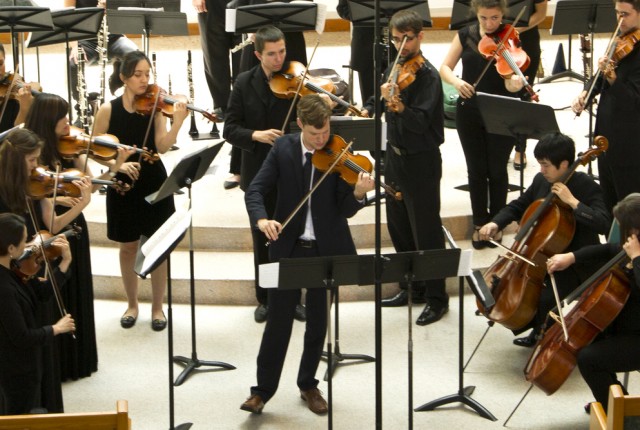 Date/Time
Thursday, August 11, 2016
12:00 pm – 1:00 pm
Location
Powell Library Rotunda
10740 Dickson Plaza
Please note that this year's Henry J. Bruman Summer Chamber Music
Festival will be held at the Powell Library Rotunda on UCLA's main campus.
Kaleidoscope Chamber Orchestra
Nicholas Akdag, bassoon
Ambroise Aubrun, violin
Mia Barcia-Colombo, cello
Anna Corcoran, violin
Maiani da Silva, viola
Virginie D'Avezac de Castéra, viola
Mira Khomik, violin
Aija Mattson, French horn
Kevin Mendoza, violin
Benjamin Mitchell, clarinet
Nicole Sauder, violin
Eric Shetzen, bass
Jennifer Wu, viola
Lila Yang, cello
The Kaleidoscope Chamber Orchestra is a conductorless chamber orchestra dedicated to enriching lives through exhilarating concert experiences, artistic excellence, musician leadership, and connecting with the diverse communities of Los Angeles. It performs orchestral music that speaks profoundly to its community and is both representative of its time and timeless, whether written today or centuries ago. The ensemble stretches the boundaries for what is thought possible without a conductor, both by musicians and audiences, to allow all its members to grow through the process. The orchestra regularly collaborates with living composers. The Kaleidoscope Chamber Orchestra designs programs that explore less conventional concert experiences and allow audiences to feel more personally connected to music and the musicians who perform it.
---
Program
Ludwig van Beethoven (1770–1827)
Septet in E-flat Major, op. 20
Adagio. Allegro con brio
Adagio cantabile
Tempo di menuetto
Tema andante con variazioni
Scherzo. Allegro molto e vivace
Andante con moto alla marcia. Presto
Wolfgang Amadeus Mozart (1756–1791)
Eine Kleine Nachtmusik, K. 525
Allegro
Romanze. Andante
Menuetto. Allegretto
Rondo. Allegro
---
Acknowledgements
The festival is made possible by the Henry J. Bruman Trust; by a gift from Professors Wendell E. Jeffrey and Bernice M. Wenzel; by a gift in memory of Raymond E. Johnson; and with the support of the UCLA Center for 17th- & 18th-Century Studies.