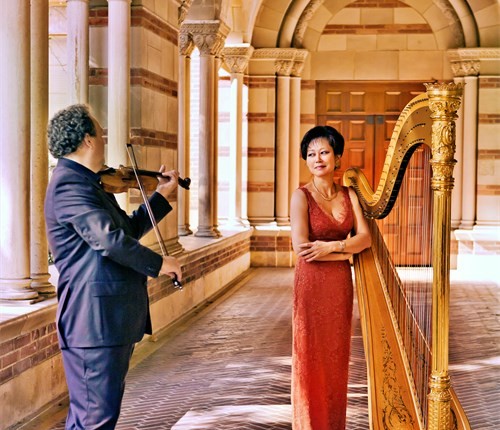 Date/Time
Tuesday, August 2, 2016
12:00 pm – 1:00 pm
Location
Powell Library Rotunda
10740 Dickson Plaza
Please note that this year's Henry J. Bruman Summer Chamber Music
Festival will be held at the Powell Library Rotunda on UCLA's main campus.
Duo Sutre-Kim
Kyunghee Kim-Sutre, harp
Guillaume Sutre, violin
Established in 1991, the Duo Sutre-Kim was founded in Paris by violinist Guillaume Sutre, founding member of Trio Wanderer and subsequently first violin of Quatuor Ysaÿe, and harpist Kyunghee Kim-Sutre, graduate of the Curtis Institute of Music and Conservatoire supérieur de musique de la Ville de Paris. After a Premier Prix au Concours de Musique de Chambre Lily Laskine, the duo toured Europe, the United States, and Asia, exploring and deepening the repertoire for violin and harp. The concerts of Duo Sutre-Kim are always much appreciated, reviving—with the musicians' intimate style and profound understanding—works whose charm recalls the creative and joyful sensibility of the la belle époque. Inspired by their native cultures and their numerous travels throughout the world, Kyunghee Kim-Sutre and Guillaume Sutre love to assemble original thematic programs, often accompanied by musicians such as Movses Pogossian, Richard O'Neill, Ronald Leonard, Sung-Won Yang, Quatuor Ysaÿe, and Romain Guyot.
---
Program
Luigi Maurizio Tedeschi (1867–1944)
Fantasia for Harp and Violin, op. 48
Robert Nicolas-Charles Bochsa (1789–1856) and Rodolphe Kreutzer (1766–1831)
Nocturne No. 4 for Harp and Violin
Eugène Ysaÿe (1858–1931)
Sonata No. 4 in E Minor. Allemanda
Nicolai von Wilm (1834–1911)
Larghetto for Violin and Harp, op. 119
Camille Saint-Saëns (1835–1921)
Fantaisie for Violin and Harp, op. 124
---
Acknowledgements
The festival is made possible by the Henry J. Bruman Trust; by a gift from Professors Wendell E. Jeffrey and Bernice M. Wenzel; by a gift in memory of Raymond E. Johnson; and with the support of the UCLA Center for 17th- & 18th-Century Studies.