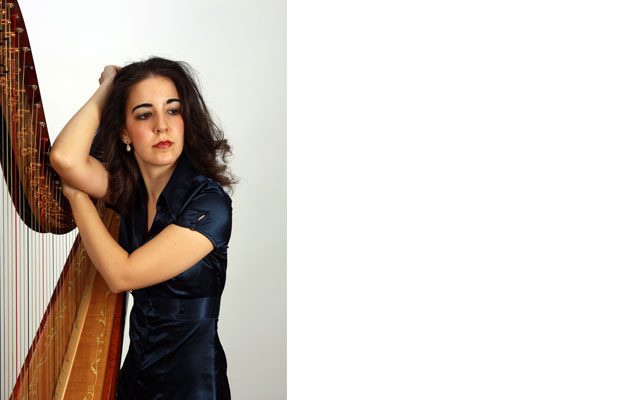 Date/Time
Wednesday, August 8, 2018
12:00 pm – 1:00 pm
Location
Powell Library Rotunda
10740 Dickson Plaza
Cristina Montes-Mateo
Program
Nino Rota (1911–1979)
Sarabanda e toccata
Robert Nicolas Charles Bochsa (1789–1856)
Airs du Barbier de Séville
Gabriel Fauré (1845–1924)
Impromptu No. 6,  op. 86
Elias Parish Alvars (1808–1849)
Grand Study in Imitation of the Mandoline, op. 84
Benjamin Britten (1913–1976)
Suite for Harp, op. 83
Overture
Toccata
Nocturne
Fugue
Hymn (St. Denio)
Henriette Renié (1875–1956)
Légende after Les elfes by Leconte de Lisle
---
Cristina Montes-Mateo, harp
I have met and heard thousands of musicians but I can highlight only one of them in the harp world: Cristina Montes-Mateo—Plácido Domingo
Unanimous winner of the first prize at the Torneo Internazionale di Musica (Rome) and the International Harp Competition "V. Bucchi," Montes-Mateo is recognized throughout the world as one of the leading harpists of her generation. She has also won four more international contests (prizes include Lily Laskine and Sacem in Paris, Arpista Ludovico in Madrid, and Nippon Harp Competition in Tokyo), as well as numerous national awards (e.g. Jeunesses Musicales, V. Salvi, Andalusian of the Future).
Montes-Mateo is a regular soloist in festivals and with orchestras such as the Ensemble Orchestral de Paris, Simón Bolívar Orchestra in Venezuela, Orchestra of the Theatre-für-Niedersachsen-Hannover, and the Santiago de Chile Orchestra. She has also played a recital for the King and the Queen of Spain and the President of the United Nations, which was broadcast live internationally.
She was selected by Lorin Maazel and Zubin Mehta as Principal Harp of the Valencia Opera Orchestra (Spain), and she often plays with the Munich Philharmonic, Royal Liverpool Philharmonic, Staatsoper Berlin, and the Los Angeles Philharmonic.
A sought-after teacher, Montes-Mateo teaches Master classes at Berklee College of Music, Birmingham Conservatoire, and Musikhochschule in Cologne.
She has recorded for Decca, Unitel Classica and Sony. Her latest Solo Album Voyage has been rated 10 out of 10 by the magazine Harp Column.
Cristina Montes-Mateo is currently based in Los Angeles.
http://www.cristinamontesmateo.com/en/
Cristina Montes Mateo performs a Lyon & Healy Concert Grand Harp, Salzedo model.
---
Acknowledgements
The festival is made possible by the Henry J. Bruman Trust, Professors Wendell E. Jeffrey and Bernice M. Wenzel, by a gift in memory of Raymond E. Johnson, and with the support of the UCLA Center for 17th– & 18th-Century Studies and Powell Library.