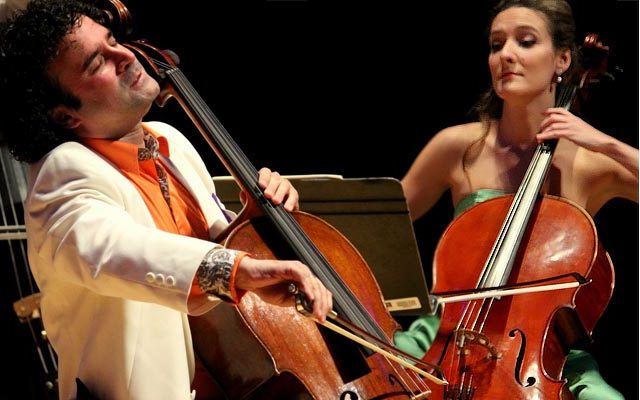 Date/Time
Thursday, August 5, 2021
12:00 pm – 1:00 pm
Presented online via Zoom meeting
Join us for an exclusive online event featuring a concert performed by the Colón Duo just for our audience, followed by a live Q & A with the musicians hosted by the festival's Artistic Director, Ambroise Aubrun.
This event is free of charge, but you must register to attend in advance. All audience members will receive instructions via email after registration. Click the following link to register directly with Zoom:
https://ucla.zoom.us/meeting/register/tJItfu6qrDsvGN16Dpj-1stEUDSXBJRmoimi
Program
Luigi Boccherini (1743–1805)
Sonata in C Major, G. 74
I: Allegro moderato
II: Largo
III: Allegro 
Jean-Baptiste Barrière (1707–1747)
Sonata No. 10 in G Major
I: Andante
II: Adagio
III: Allegro Prestissimo 
Reinhold Glière (1875–1956)
Ten Duets for Two Cellos, op.53
I: Comodo
IV: Vivace
VI: Energico
VII: Animato
VIII: Giocoso
David Popper (1843–1913)
Tempo di Marcia, op. 16a 
Niccolò Paganini (1782–1840)
Variations on One String from Rossini's Mosè in Egitto
arr. E. Colón
Colón Duo
Cara Elise Colón, cello
Emilio Colón, cello
Cara Elise Colón has performed in chamber music collaborations throughout the world with concerts in Europe, Asia, North and South America.  She has been invited to perform for the L'Hermitage Concert Series in Los Angeles, Ware Center Concert Series in Pennsylvania, Mammoth Lakes Music Festival, Killington Music Festival, PSPA International Chamber Ensemble on tour in Malaysia, Pittsburgh Symphony Orchestra Chamber Series, and Fundación Musical Chamber Series in Puerto Rico. She has studied with many leading musicians including Janos Starker, Anne Martindale-Williams and Sidney Harth, and played in master classes for Mstislav Rostropovich and the Diaz Trio.
As a pedagogue, Cara has held positions on the faculty of the Indiana University String Academy and the Indianapolis Academy of Music.  She has been invited as a guest clinician for the London Suzuki Group, Killington Music Festival, Cello|Fresno Festival, University of Alaska Cello Festival, University of Oklahoma 'Low Strings Attached' Festival, and for pedagogy courses and ASTA at Indiana University.
As an arts administrator, she held the position of the Assistant Director of the Indianapolis Academy of Music. She is currently the Vice President of the American Cello Institute whose project, the International Chamber Orchestra of Puerto Rico, is a National Endowment for the Arts award-winning organization that provides free concerts, educational events, and television programming for children and communities throughout Puerto Rico.
Emilio Colón's performances have been described in prose as "lively, exciting, expressive and absolutely beautiful" (American Record Guide). Recently Emilio was awarded "2017 Artist of the Year" by the New York Classical Music Society.
Emilio has performed across the world. He has been invited as a soloist to join the Reno Chamber Orchestra, Presidential Symphony Orchestra of Turkey, Casals Festival, National Symphony of the Ukraine, National Symphony of Istanbul, Izmir Symphony Orchestra, Guayaquil Symphony Orchestra, Puerto Rico Symphony Orchestra, Huntsville Symphony Orchestra, Bozeman Symphony, and San Angelo Symphony. As a recitalist he has appeared at the Shanghai Oriental Arts Center in China, Nevada Chamber Music Festival, L'Hermitage Foundation in Los Angeles, Tons Voisin Festival in Albi, France, La Musica International Chamber Festival in Sarasota, Florida, Mill Valley Chamber Music Society, and at recital tours throughout Europe and Asia.
Emilio recently appeared as a performer in the movie Un poema a l'exili. El Pessebre de Pau Casals i Joan Alavedra (2012) which received the Best Picture Award at the 2014 REUS International Festival in Spain. Colón's recordings are featured on the Enharmonic, Centaur, Zephyr, Klavier, and Lyras labels. His arrangements, editions, and original compositions are published by Masters Music Publications, Edwin F. Kalmus, LudwigMasters Publications, and H.P. Music Publications.
At the age of 26, Emilio was appointed to the faculty of the Jacobs School of Music at Indiana University, and has since established himself as a highly sought-after pedagogue. He has been invited to offer courses at the Paris Conservatoire, Geneva Conservatoire, Franz Liszt Academy of Music in Budapest, Hungary, Royal Academy of Music in London, Hochschüle für Musik in Stuttgart, Yonsei University in Seoul, Korea, and Toho Gakuen in Tokyo, Japan. As an international adjudicator, Colón served as a member of the jury in the 2014 Pablo Casals International Cello Competition in Budapest, Hungary, and adjudicated and presented masterclasses at the 2019 Stulberg International String Competition.
With three consecutive awards from the National Endowment for the Arts, and awards from the National Endowment for the Humanities and the Flamboyan Foundation, Emilio gives back to his homeland as the founder and artistic director of the International Chamber Orchestra of Puerto Rico. The Orchestra is an innovative new project that provides high-impact cultural and artistic experiences to under-served communities in Puerto Rico and throughout the Caribbean. Its programs include free performances, educational events, and educational programming on CBS Puerto Rico and Liberty Cable. A recent review of the festival stated, "Colón and the musicians' sense of style was utterly secure and their playing flawless" (The American Record Guide).
Emilio performs on his Amati cello made in 1699 in Cremona, Italy.
About The Henry J. Bruman Summer Chamber Music Festival
Ambroise Aubrun, D.M.A., Artistic Director
The festival was founded in 1988 by Professor Henry J. Bruman (1913–2005), who sought to introduce new audiences to chamber music at informal concerts on the UCLA campus. The festival is made possible by the Henry J. Bruman Trust, Professors Wendell E. Jeffrey and Bernice M. Wenzel, by a gift in memory of Raymond E. Johnson, and with the support of the UCLA Center for 17th-& 18th-Century Studies.
To learn more about Chamber Music programs from the Clark and view videos from past performances, please visit https://www.1718.ucla.edu/events/categories/music/