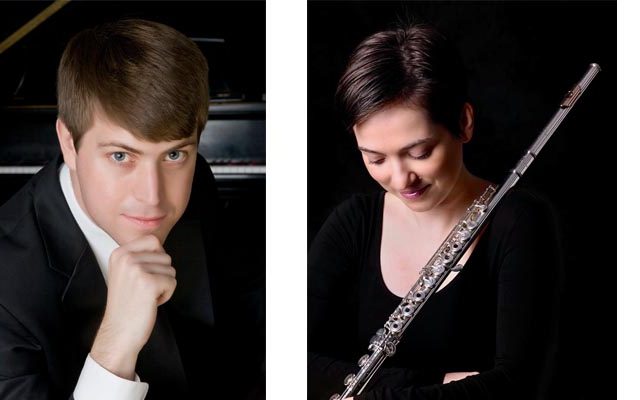 Date/Time
Tuesday, August 3, 2021
12:00 pm – 1:00 pm
Presented online via Zoom meeting
Join us for an exclusive online event featuring a concert performed by the Petanova & Hoft Duo just for our audience, followed by a live Q & A with the musicians hosted by the festival's Artistic Director, Ambroise Aubrun.
This event is free of charge, but you must register to attend in advance. All audience members will receive instructions via email after registration. Click the following link to register directly with Zoom:
https://ucla.zoom.us/meeting/register/tJApc-GprTwrHtx93bHE7Cy9rYDYKChqmwP_

Program
Georg Philipp Telemann (1681–1767)
Sonata in F Minor, TWV 41:f1
I:.Triste
II. Allegro
III. Andante
IV. Vivace
Philippe Gaubert (1879–1941)
Flute Sonata No. 1
I. Modéré
II. Lent
III. Allegro moderato
Maurice Ravel (1875–1937)
Sonata for Flute and Piano (Posthume)
(arr. A. Petanova)
Petanova & Hoft Duo
Anastasia Petanova, flute
Timothy Hoft, piano
Praised as "an extraordinary artist with a perfect technique and a gorgeous sound" by American composer John Corigliano, flutist Anastasia Petanova has performed in the major concert halls of Russia, the countries of the former Soviet Union, Europe, and North and South America. These include concerts in Carnegie Hall; The Kennedy Center; The Phillips Collection; the Music Center at Strathmore in the U.S.; the Tonhalle in Zurich, Switzerland; the Max Joseph Saal in Munich, Germany; the UNESCO Center in Paris, France; and the Great Hall of the Moscow Conservatory.
From a young age Ms. Petanova has been a guest soloist with two major Russian orchestras: the Russian State Chamber Orchestra "Moscow Virtuosi" and the legendary Russian National Orchestra, both directed by the renowned conductor and violinist Vladimir Spivakov. This collaboration brought numerous concert tours in Russia and abroad, including performances at the Festival International de Musique de Colmar, France and concerts across North America.
Ms. Petanova's musical education began in Russia at the age of four (playing recorder, piccolo, and piano). She then continued at the Central Music School of the Moscow Conservatory, studying under the distinguished teacher and professor Yuri Doljikov. During her school years, Ms. Petanova actively performed as a recitalist in Russia and Europe, as well as holding scholarships from the Vladimir Spivakov International Charity Foundation, the "New Names" International Charity Program, Yuri Bashmet's Foundation "The Stars of New Russia," and the "Orpheus of the 21st Century." She was also a prize winner in the "New Names National Competition" held in Moscow in 2000, and at the Young Concert Artists International Auditions in New York City in 2001.
Ms. Petanova completed her Bachelor of Music and Artist Diploma program at the Peabody Institute of the Johns Hopkins University, studying as a recipient of the Ruth Blaustein Rosenberg Scholarship and Grant under the renowned flutist, Marina Piccinini. While at Peabody, Ms. Petanova was awarded the Peabody Development Career Grant twice (in 2003 and 2008) and won several awards for outstanding academic achievement. During her studies at Peabody, Ms. Petanova worked with the most outstanding members of the conservatory faculty, including pianists Benjamin Pasternack and Alexander Shtarkman, guitarist Manuel Baruecco, the legendary American soprano Phyllis Bryn-Julson, and Pulitzer Prize-winning composer Kevin Puts. She also had lessons and participated in master classes with renowned flutists Julius Baker, Jeanne Baxtresser, Bradley Garner, Maxence Larrieu, and Elizabeth Rowe.
A devoted chamber musician, Ms. Petanova has been involved in numerous chamber music projects. She has been one of the few instrumentalist fellows at the La Gesse Festival in France, Italy, and the US, and is currently a member of the Phillips Camerata, an ensemble-in-residence at the Phillips Collection in Washington, D.C. Most recent performances include those with the Lyris Quartet, Grammy-winning soprano Hila Plitmann, and internationally acclaimed cellist Antonio Lysy.
Ms. Petanova has held teaching positions at the Peabody Institute of the Johns Hopkins University, the SUNY Fredonia School of Music, and the University of Nevada-Las Vegas. Her debut CD recording, Somnium was released in 2016 on TNC/Cambria Recordings label. In December 2019, she received a Doctor of Musical Arts degree from UCLA's Herb Alpert School of Music.
Ms. Petanova plays on a flute by Brannen Brothers, Inc. that was generously presented to her by Maestro Vladimir Spivakov in 2004.
A pianist of unique versatility, Timothy Hoft has been praised for his recent performances. "Hoft's objective approach to performing new music was especially successful…[his] precise control of dynamics and quiet approach to the keyboard with a perfect technique led to a beautiful, automatic sense of music making…" (Michael Lodico, Ionarts.org). His debut CD, Reflections on Ukrainian Piano Music Vol. I, has been favorably reviewed. "Here is piano music that needs to be known, piano music that abounds with visceral vibrancy and expressive intensity, not to mention being skillfully and subtly wrought for the instrument. Timothy Hoft's ardent and caring virtuosity is captured in superb, lifelike sonics. You can't ask for a more auspicious start to what promises to be an important series" (Jed Distler, Gramophone critic). Hoft has given performances as soloist and chamber musician in the concert halls of Ukraine, Russia, Poland, France, Italy, the Czech Republic, England, Scotland, and the U.S.. Venues include Carnegie Hall's Weill Recital Hall, the John F. Kennedy Center, the Phillips Collection, the Yamaha Piano Salon, the Ukrainian Institute of America, the Hobby Center for the Performing Arts, and the Smith Center. He has performed with ensembles such as the Lviv Philharmonic, Phillips Camerata, Peabody Camerata, Peabody Wind Ensemble, UNLV Symphony Orchestra, UNLV Wind Ensemble, Henderson Symphony Orchestra, and the Detroit Civic Symphony Orchestra.
A graduate of the University of Michigan and the Peabody Conservatory, Hoft holds Bachelor's, Master's, and Doctoral Degrees in piano performance. His primary teachers were Logan Skelton and Benjamin Pasternack. During his graduate studies, Hoft was awarded a fellowship through the La Gesse Foundation, giving him numerous performances in Europe and in the U.S. He was also granted the Earl Wild Scholarship of the Ivory Classics Foundation, allowing him to study with the legendary pianist, Earl Wild.
Hoft is an Associate Professor at the University of Nevada, Las Vegas, where he teaches solo and collaborative piano. Hoft is currently exploring and performing solo piano repertoire of 20th and 21st century Ukrainian composers, including the Nocturnals of Virko Baley, the piano sonatas of Valentin Silvestrov, the monumental cycle of 34 Preludes and Fugues by Valentin Bibik, the piano sonatas of Boris Lyatoshynsky, and others, for a series of recordings entitled "Reflections on Ukrainian Piano Music," to be released on the Troppe Note/Cambria label.
About The Henry J. Bruman Summer Chamber Music Festival
Ambroise Aubrun, D.M.A., Artistic Director
The festival was founded in 1988 by Professor Henry J. Bruman (1913–2005), who sought to introduce new audiences to chamber music at informal concerts on the UCLA campus. The festival is made possible by the Henry J. Bruman Trust, Professors Wendell E. Jeffrey and Bernice M. Wenzel, by a gift in memory of Raymond E. Johnson, and with the support of the UCLA Center for 17th-& 18th-Century Studies.
To learn more about Chamber Music programs from the Clark and view videos from past performances, please visit https://www.1718.ucla.edu/events/categories/music/