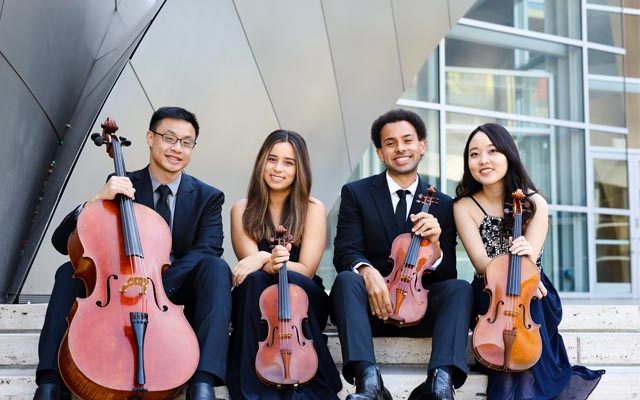 Date/Time
Tuesday, July 27, 2021
12:00 pm – 1:00 pm
Presented online via Zoom meeting
Join us for an exclusive online event featuring a concert performed by the Zelter String Quartet just for our audience, followed by a live Q & A with the musicians hosted by the festival's Artistic Director, Ambroise Aubrun.
This event is free of charge, but you must register to attend in advance. All audience members will receive instructions via email after registration. Click the following link to register directly with Zoom:
https://ucla.zoom.us/meeting/register/tJwrdu6trTgrH9Tl-Um0IxL-jDSlsgEXUHmu

Program
Maurice Ravel (1875–1937)
String Quartet in F Major
I: Allegro moderato–très doux
II: Assez vif–très rythmé 
Felix Mendelssohn (1809–1847)
String Quartet No. 2 in A Minor, op. 13
I: Adagio–Allegro vivace
II: Adagio non lento
III: Intermezzo: Allegretto con moto–Allegro di molto
IV: Presto–Adagio non lento
Zelter String Quartet
Kyle Gilner, violin
Gallia Kastner, violin
Nao Kubota, viola
Allan Hon, cello
Praised by LA Opus for their "seemingly effortless precision and blend", the Zelter String Quartet recently won the Gold Prize in the 2021 Chesapeake International Chamber Music Competition. Formed in Los Angeles in 2018, the quartet is comprised of violinists Kyle Gilner and Gallia Kastner, violist Nao Kubota, and cellist Allan Hon. The quartet has worked with several distinguished artists including Lina Bahn, Scott St. John, Yura Lee, and Alasdair Tait, and has collaborated with the Verona String Quartet. In 2019, The Zelter String Quartet was awarded a full scholarship to participate in the St. Lawrence String Quartet Chamber Music Seminar. At the seminar they worked with members of the St. Lawrence and Danish String Quartets, and the work culminated in a performance at the Campbell Recital Hall at Stanford University. Most recently, they were invited to participate in the Juilliard String Quartet Seminar, as well as the Rencontres Franco-Américaines de Musique de Chambre, as winners of the USC Ofiesh Chamber Music Competition.
For more information and updates from the Zelter String Quartet, please visit:
www.facebook.com/zelterstringquartet/
www.instagram.com/zelterstringquartet/
www.youtube.com/channel/UC1tt7aBRaBxyMVa2d4TPHOg
---
About The Henry J. Bruman Summer Chamber Music Festival
Ambroise Aubrun, D.M.A., Artistic Director
The festival was founded in 1988 by Professor Henry J. Bruman (1913–2005), who sought to introduce new audiences to chamber music at informal concerts on the UCLA campus. The festival is made possible by the Henry J. Bruman Trust, Professors Wendell E. Jeffrey and Bernice M. Wenzel, by a gift in memory of Raymond E. Johnson, and with the support of the UCLA Center for 17th-& 18th-Century Studies.
To learn more about Chamber Music programs from the Clark and view videos from past performances, please visit https://www.1718.ucla.edu/events/categories/music/