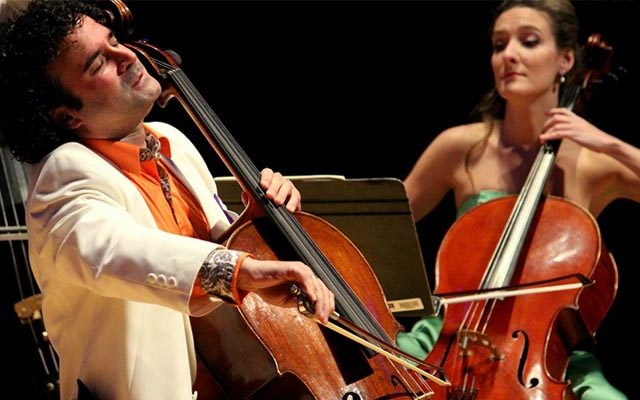 Date/Time
Tuesday, August 2, 2022
12:00 pm – 1:00 pm
Location
Powell Library Rotunda
10740 Dickson Plaza
Program
Franz Joseph Haydn (1732–1809)
Duo for 2 Barytons in G Major, Hob. XII:4
I. Moderato con variazioni
II. Minuetto: Allegretto
III. Allegro
Anton Kraft  (1749–1820)
Cello Duo in G Minor, op. 5
I. Allegro resoluto – Moderato
II. Adagio – Adagio cantabile
III. Rondo – Allegro non troppo
Reinhold Glière (1875–1956)
Ten Duos for Two Cellos, op.53
1. Comodo
3. Con moto
4. Vivace
5. Andante
6. Energico
7. Animato
8. Giocoso
David Popper (1843–1913) , arr. Emilio Colón
Hungarian Rhapsody, op. 68
Colón Duo
Emilio Colón, cello
Cara Elise Colón, cello
The critically acclaimed cellist, Emilio Colón's playing has been described as "full of life and warmth"  by American Record Guide, which praised his performance as "lively, exciting, expressive and absolutely beautiful." Fanfare Magazine wrote, "Emilio Colón is obviously a virtuoso with taste." Emilio was awarded 2017 Artist of the Year by the New York Classical Music Society.
Performing throughout the world, Emilio has been invited as soloist with the Reno Chamber Orchestra, Casals Festival, National Symphony of the Ukraine, and theNational Symphony of Istanbul amongst others. Emilio has played as recitalist for Shanghai Oriental Arts Center, the Nevada Chamber Music Festival, L'Hermitage Foundation, and recitals throughout Europe and Asia.
At the age of 26, Emilio was appointed to the faculty of the Jacobs School of Music at Indiana University, and has since established himself as a highly sought-after pedagogue. He has been invited to offer courses at the Paris Conservatoire, Geneva Conservatoire, Franz Liszt Academy of Music in Budapest, the Royal Academy of Music in London, and others. Recently he was invited to adjudicate the prestigious Pablo Casals International Cello Competition in Budapest, and the Stulberg International String Competition in Michigan.
Emilio appeared on screen for the movie, Un Poema a L'Exili which received the Best Picture Award at the 2014 REUS International Festival in Spain.  His recordings are featured on the Enharmonic, Centaur, Zephyr, Klavier and Lyras labels.
As an international cultural advocate, he has been guest artist at many national and foreign embassies, recently receiving the US Ambassador's Cultural Diplomacy Award for his work in improving the relations between the US and foreign countries.
As the founder and artistic director of the International Chamber Orchestra of Puerto Rico, Emilio won three consecutive awards from the National Endowment for the Arts, awards from the National Endowment for the Humanities, and the Flamboyan Foundation. This work, which provides free concerts for underserved communities in Puerto Rico, throughout the Caribbean, the US, and Canada through televised programming. A review of the ICOPR in the American Record Guide states, "Colón and the musicians' sense of style was utterly secure and their playing flawless."
As a Larsen Artist, Emilio performs using Il Cannone® strings on his Amati cello made in Cremona in 1690 in combination with his Dominique Peccatte, Nicolas Maire or Jean "Grand Adam" bows.
American cellist, Cara Elise Colón, enjoys a career as performer, pedagogue, and arts administrator. She has been invited to perform in concert for L'Hermitage Concert Series, the International Chamber Orchestra of Puerto Rico, Ware Center Concert Series in Pennsylvania, Mammoth Lakes Music Festival, amongst others. She studied with many leading musicians including Janos Starker, Anne Martindale-Williams, and Sidney Harth; and played in master classes for Mstislav Rostropovich and the Diaz Trio.
As a pedagogue, Cara has held positions on the faculty of the Indiana University String Academy, and the Indianapolis Academy of Music.  She has been invited as a guest clinician for the London Suzuki Group, Killington Music Festival, Cello|Fresno Festival, University of Alaska Cello Festival, University of Oklahoma 'Low Strings Attached' Festival, and for pedagogy courses and ASTA events at Indiana University.
As an arts administrator, Cara is currently the Vice President of the American Cello Institute whose project, the International Chamber Orchestra of Puerto Rico, is a National Endowment for the Arts award-winning organization that provides free access to concerts, educational events and television programming throughout Puerto Rico and abroad.
About The Henry J. Bruman Summer Chamber Music Festival
Ambroise Aubrun, D.M.A., Artistic Director
The festival was founded in 1988 by Professor Henry J. Bruman (1913–2005), who sought to introduce new audiences to chamber music at informal concerts on the UCLA campus. The festival is made possible by the Henry J. Bruman Trust, Professors Wendell E. Jeffrey and Bernice M. Wenzel, by a gift in memory of Raymond E. Johnson, and with the support of the UCLA Center for 17th-& 18th-Century Studies.
---
As of Friday, May 27, 2022, universal indoor masking has resumed at UCLA due to a rise in COVID-19 cases. Upgraded, well-fitting masks are required to be worn indoors by all, regardless of vaccination status.