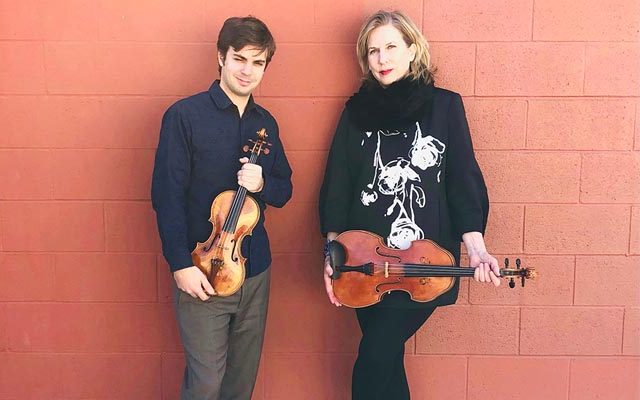 Date/Time
Tuesday, August 9, 2022
12:00 pm – 1:00 pm
Location
Powell Library Rotunda
10740 Dickson Plaza
Program
Jean Sibelius (1865–1957)
Duo in C Major
Johan Halvorsen (1864–1935)
Theme and 11 Variations 
Krzysztof Penderecki ( 1933–2020)
Ciaccona in memoria del Giovanni Paolo II
Wolfgang Amadeus Mozart (1756 –1791)
Duo for Violin and Viola, K. 424
Adagio–Allegro
Andante cantabile
Tema con variazioni
Bohuslav Martinů  (1890–1959)
Three Madrigals for Violin and Viola, H. 313
Poco allegro – Poco vivo
Poco andante – Andante moderato
Allegro – Moderato
Duo Novae 
Ambroise Aubrun, violin
Kate Hamilton, viola
Duo Novae has performed recitals in France, Italy and throughout the United States. In May 2022, they returned to Europe to make their debuts at the Sibelius International Festival in Sestri Levante, Italy, and in Mouans Sartoux, France.
In addition to being full-time faculty members at the University of Nevada, Las Vegas, both artists are frequent international soloists, chamber musicians, and clinicians. Ms. Hamilton is a regular substitute with the Berlin Philharmonic, and Dr. Aubrun performs regularly with the Los Angeles Philharmonic. Their recital, and chamber music performances, along with their CDs, have been broadcast on CBS, France Musique, K-USC Los Angeles, Minnesota Public Radio, KBS, WFMT, Klara Radio (Belgium), KPFK (CA) and KNCJ (Reno).
About The Henry J. Bruman Summer Chamber Music Festival
Ambroise Aubrun, D.M.A., Artistic Director
The festival was founded in 1988 by Professor Henry J. Bruman (1913–2005), who sought to introduce new audiences to chamber music at informal concerts on the UCLA campus. The festival is made possible by the Henry J. Bruman Trust, Professors Wendell E. Jeffrey and Bernice M. Wenzel, by a gift in memory of Raymond E. Johnson, and with the support of the UCLA Center for 17th-& 18th-Century Studies.
---
As of Friday, May 27, 2022, universal indoor masking has resumed at UCLA due to a rise in COVID-19 cases. Upgraded, well-fitting masks are required to be worn indoors by all, regardless of vaccination status.