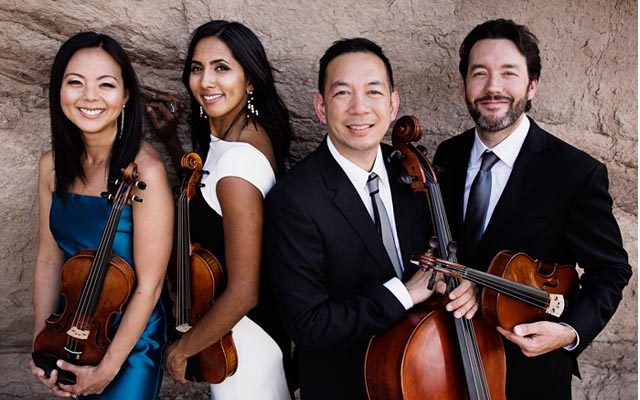 Date/Time
Monday, August 8, 2022
12:00 pm – 1:00 pm
Location
Powell Library Rotunda
10740 Dickson Plaza
Program
Wolfgang Amadeus Mozart (1756 –1791)
String Quartet No. 19 in C Major, K.465, "Dissonance"
I.Adagio-Allegro
II. Andante cantabile
III. Menuetto. Allegro
IV. Allegro molto
Maurice Ravel (1875–1937)
String Quartet in F Major
I. Allegro moderato–très doux
II. Assez vif–très rythmé
III. Très lent
IV. Vif et agité
Lyris Quartet
Alyssa Park, violin
Shalini Vijayan, violin
Luke Maurer, viola
Timothy Loo, cello 
The Lyris Quartet, described as "radiant…exquisite… and powerfully engaged" by Mark Swed of the Los Angeles Times, was founded in 2008. Members of the quartet have won top prizes at the Tchaikovsky International Competition, the Aspen Music Festival, and have collaborated with renowned artists Natalia Gutman, David Geringas, Martha Argerich, Alban Gerhardt, Boris Pergamenschikov, Guillaume Sutre, Myung-Whun Chung, and Richard Stoltzman.
Lyris has collaborated closely with composers Krystof Penderecki, Andrew Norman, Oliver Knussen, Steven Mackey, John Adams, Bruce Broughton, Peter Knell, Kurt Rohde, Paquito D'Rivera, Wadada Leo Smith, and Gerard Schurmann. They appeared alongside composer/pianist Billy Childs as part of the LA Philharmonic's "Jazz and World Music" series at Disney Hall and with Steve Reich at LACMA's Bing Hall.
The quartet has appeared throughout North America, Europe, and Asia in a diverse range of ensembles including Grammy nominated groups Absolute Ensemble, Southwest Chamber Music, and Orchestra Ensemble Kanazawa, as well as solo and chamber appearances in various festivals such as Ravinia, Brahms Festival in Madrid, Music Academy of the West, Banff Centre for the Arts, Czech SommerFest, and Oregon Festival of American Music among others. This season, Lyris was invited by the LA Philharmonic to perform on their "Green Umbrella" series and on their tribute concert to composer Steven Stucky. New projects include innovative multimedia concerts with artists Andrew Burke and Ana Prvački, as well as opening for Kraftwerk and Ben Harper. They also gave the west-coast premiere of David Lang's The Difficulty of Crossing a Field. This year will mark their fifth season as the resident ensemble for the critically acclaimed series "Jacaranda: Music at the Edge."
The Lyris Quartet is the founding resident ensemble of the Hear Now Music Festival, which focuses on the music of living Los Angeles composers. As part of this series, they have collaborated with and premiered works by Stephen Hartke, Don Davis, Arturo Cardelús , and Veronika Krausas, among others. The Lyris Quartet has recorded for Toccata Classics, ARS, and Naxos.
About The Henry J. Bruman Summer Chamber Music Festival
Ambroise Aubrun, D.M.A., Artistic Director
The festival was founded in 1988 by Professor Henry J. Bruman (1913–2005), who sought to introduce new audiences to chamber music at informal concerts on the UCLA campus. The festival is made possible by the Henry J. Bruman Trust, Professors Wendell E. Jeffrey and Bernice M. Wenzel, by a gift in memory of Raymond E. Johnson, and with the support of the UCLA Center for 17th-& 18th-Century Studies.
---
As of Friday, May 27, 2022, universal indoor masking has resumed at UCLA due to a rise in COVID-19 cases. Upgraded, well-fitting masks are required to be worn indoors by all, regardless of vaccination status.