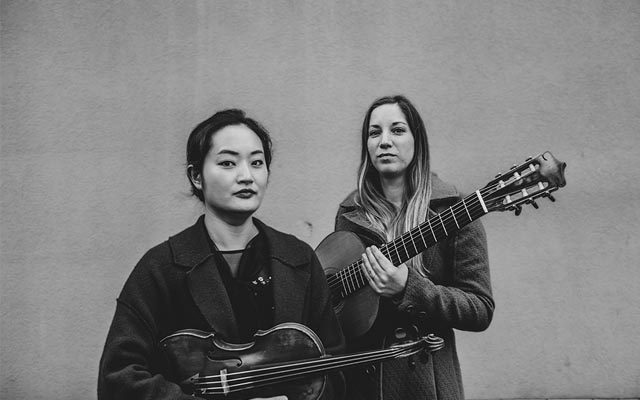 Date/Time
Friday, August 5, 2022
12:00 pm – 1:00 pm
Location
Powell Library Rotunda
10740 Dickson Plaza
Program
Béla Bartók (1881–1945)
Romanian Folk Dances, Sz. 56
I. Bot tánc / Jocul cu bâtă (Stick Dance)
II. Brâul (Sash Dance)
III. Topogó / Pe loc (In One Spot)
IV. Buciumeana (Dance from Bucsum)
V. Román polka (Romanian Polka)
VI. Aprózó / Mărunțel (Fast Dance)
Robert Beaser (1954– )
Mountain Songs
I. Barbara Allen
II. The House Carpenter
Franz Schubert (1797–1828)
Die Forelle (The Trout) [arr. Yu&I Duo]
Weißt du, wie viel Sternlein stehen (Do you know how many stars there are?), [arr. Yu&I Duo]
(German traditional)
Rocky Island [arr. Yu&I Duo]
Kuejina Chingching Nanae [arr. Yu&I Duo]
(Korean traditional)
Astor Piazzolla (1921–1992)
Histoire du Tango
I. Bordel 1900
II. Café 1930
III. Nightclub 1960
IV. Modern-Day Concert
Yu & I Duo
YuEun Kim, violin
Ines Thomé, classical guitar
Winners of the Beverly Hills National Auditions, YuEun Kim and Ines Thomé met in 2013 when they both moved to the US. YuEun hails from Korea while Ines comes from Germany, serendipity brought them together as housemates in an old Victorian building in Los Angeles. Both students at USC's Thornton School of Music, they immediately connected through their love of chamber music and good Korean food.
They have been shared numerous stages in California and excited their audiences with charisma and virtuosity. Both musicians are winners of multiple solo competitions, and have performed around the world. Their programs range from early music performed on period instruments to original popular music arrangements performed to the highest level of artistry. Their program for the Bruman Festival features music with popular influences showcasing the versatility of their instruments. The listener can look forward to songs and dances that will invite them to hum along and move their feet: beautiful Italian melodies, flowing songs from the USA, passionate dances from Argentina, enchanting songs from Germany, dreamy melodies from Korea, and fierce rhythms from Romania will transport the listener to a magical world of sound.
The duo recently recorded their debut album, "A Journey with Yu & I," featuring folk-inspired music from around the world. The album will be released in summer 2022 and includes music from YuEun's and Ines' home countries, South Korea and Germany. Concerts with the Yu & I Duo are both energizing and relaxing, both traditional and boundary breaking.
https://www.jeanschreibermanagement.com/yuandi
About The Henry J. Bruman Summer Chamber Music Festival
Ambroise Aubrun, D.M.A., Artistic Director
The festival was founded in 1988 by Professor Henry J. Bruman (1913–2005), who sought to introduce new audiences to chamber music at informal concerts on the UCLA campus. The festival is made possible by the Henry J. Bruman Trust, Professors Wendell E. Jeffrey and Bernice M. Wenzel, by a gift in memory of Raymond E. Johnson, and with the support of the UCLA Center for 17th-& 18th-Century Studies.
---
As of Friday, May 27, 2022, universal indoor masking has resumed at UCLA due to a rise in COVID-19 cases. Upgraded, well-fitting masks are required to be worn indoors by all, regardless of vaccination status.