Date/Time
Thursday, November 30, 2023
4:00 pm – 5:30 pm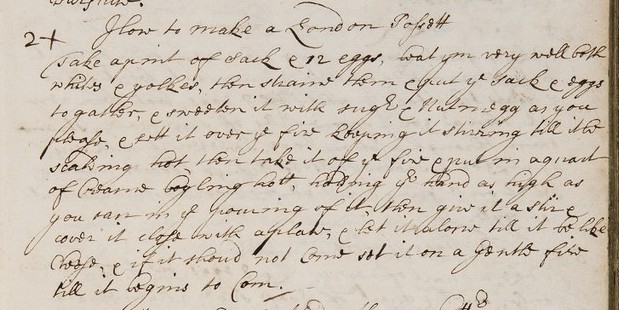 Lecture by Marissa Nicosia, The Pennsylvania State University – Abington College
Manuscript recipe books are full of intriguing, strange, and familiar concoctions: recipes for syllabubs, turnip cordial water, jumballs, and carrot pudding. When Dr. Nicosia launched Cooking in the Archives in 2014, she wanted to know what would happen if culinary historians asked questions in the kitchen as well as in the library. She wanted to see if four-hundred-year-old recipes would still work if she tried them in her tiny kitchen in Philadelphia.
Dr. Nicosia's project sets out to find, investigate, update, cook, and write about recipes from manuscript recipe books produced between 1600 and 1800. This research practice has, in turn, attuned her to culinary metaphors in the literature that she researches and teaches, including works by William Shakespeare, Margaret Cavendish, and many others. In this talk, she will share recipes and explain how she finds, researches, updates, and, most importantly, cooks from recipe books. She will also discuss how this embodied research practice informs her approach to early modern English literature.
Marissa Nicosia is Associate Professor of Renaissance Literature at The Pennsylvania State University — Abington College and she lives in Philadelphia. Marissa has published articles on Renaissance literature, temporality, food culture, and book history and manuscript studies. She previously held a month-long fellowship at the Clark to support this work. Since 2014, Marissa has been updating historical recipes and writing about that process on her public food history website Cooking in the Archives (www.rarecooking.com). Her first monograph, Imagining Time in the English Chronicle Play: Historical Futures, 1590-1660 was published Oxford University Press in September 2023, and her current research projects include Shakespeare in the Kitchen (forthcoming from Routledge's Spotlight on Shakespeare series) and Seasonal Tastes: Literary and Recipe Cultures, 1550-1750.
---
Registration for the lecture has reached capacity. Please fill out the form below to be added to the wait list; individuals will be notified on a first-come, first-served basis if space becomes available due to cancellations. The lecture is free to attend and will be held in-person at the Clark Library. Seating is limited at the Clark Library; walk-in registrants are welcome as space permits.
---
Image: Elisabeth Hawar. [Culinary and medical recipe book]. about 1687. f MS.1975.003