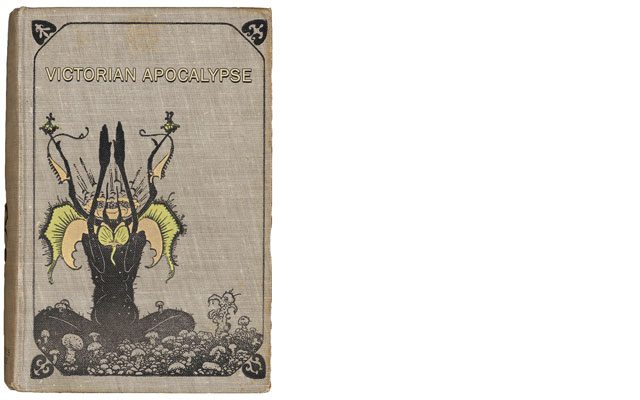 Date/Time
Friday, March 11, 2022–Saturday, March 12, 2022
8:30 am – 10:30 am
–Organized by Joseph Bristow (University of California, Los Angeles), Neil Hultgren (California State University, Long Beach) and Elizabeth Carolyn Miller (University of California, Davis) 
Online Event via Zoom meeting. Please register in advance:
https://ucla.zoom.us/meeting/register/tJ0lcu2upjkoGNVul39O1wqWHApU_Mun2auN
During the 2021–22 academic year, the UCLA Center for 17th– & 18th-Century Studies and William Andrews Clark Memorial Library will host the Core Program entitled "Victorian Apocalypse: The  siècle  at its  fin." This program of lectures and presentations aims to reassess the ways in which the 1890s as an era has strong associations with theories of decadence, degeneration, and disease. "Victorian Apocalypse" will draw attention to the significance of UCLA's unrivaled collections relating to the 1890s, especially the life and work of Oscar Wilde, which are held in the Clark Library collections.
On April 6, 1895, the day after Oscar Wilde was arrested for committing acts of gross indecency with other men, the National Observer thanked the Marquess of Queensberry for destroying "the High Priest of the Decadents." Wilde's imprisonment marked not only one of the most prominent episodes that brought the supposed immorality of fashionable Decadence to public attention; his case was also surrounded by emergent discourses of degeneration, ones that viewed his homosexuality as a pathology that was a clear symptom that Western culture was caught in a sexual and racial downward spiral.
Conference 2:
Literary critics, historians, and art historians have long noted the distinctiveness of the Victorian fin de siècle as a period of self-conscious conclusions, in which an aging monarch, a fragile empire, and wistful literary attempts to gauge progress or decline over the course of the nineteenth century culminated in a sense of loss and anxiety. The narrator of H. G. Wells's The War of the Worlds (1899) ends his story by emphasizing death or artificial life, as he imagines that the "busy multitudes" of London are no more than "phantasms in a dead city, the mockery of life in a galvanised body" after the Martian attack. Yet the last years of the nineteenth century are not only distinctive because of their historical singularities or even their doomsday zeitgeist. In part, scholarship on the fin de siècle has thrived in light of fears and anxieties about the late twentieth century, with the 1890s receiving attention because of potential parallels with the 1990s. Scholars of fin-de-siècle writing have since the 1990s, however, attempted to imagine an approach between historicism and presentism, or what Sally Ledger and Scott McCracken described in 1995 as "a sophisticated historical criticism which is capable of standing back not only from the period but also from our own time, and then examining the dialectical relationship between the two."
Taking its cue from Ledger and McCracken, this conference focuses on the fin de siècle's ability to provoke critical examination of the concepts of temporality and eschatology, as well as the proliferation of temporalities allowed by historical, scientific, and cultural developments of the late nineteenth century. The Victorian fin de siècle provokes questions about the boundaries of literary, artistic, and historical periodicity and invites critics and scholars to explore previously ignored temporalities related to science, religion, and nation. What is the relationship between, for instance, the fin de siècle and the temporalities of territories and cultures outside of England, in light of the adoption of Greenwich Mean Time in 1884? How do late-Victorian discoveries in Egyptology, geology, and archaeology shape the understanding of the fin de siècle by scholars of the period? How does the period's fascination with spiritualism, the occult, psychical research inform Victorians' understandings of time and endings, or, alternatively allow them to imagine new forms of continuity beyond death or the extinction of humanity? What are we to make of the fin de siècle emergence of science fiction in the scientific romances of H. G. Wells and M. P. Shiel, or the prominence of apocalyptic destruction in late-Victorian Gothic writing by Arthur Machen or Marie Corelli? How does our understanding of the Victorian fin de siècle shift when we consider Einstein's subsequent discoveries about time, gravity, and velocity beginning in 1905 or, alternatively, developments in early twenty-first century physics that dismiss time as an obsolete scientific concept?
Program
Friday, March 11, 2022 
8:30 a.m.
Bronwen Wilson, University of California, Los Angeles
Welcome 
Neil Hultgren, California State University, Long Beach, Joseph Bristow, University of California, Los Angeles, and Elizabeth Carolyn Miller, University of California, Davis
Introductory Remarks 
8:45 a.m.
Session I: Occult Temporalities
Moderator: Neil Hultgren, California State University, Long Beach                       
Gauri Viswanathan, Columbia University
Blavatsky's Monsters: Evolution, Memory, and Imagination
9:10 a.m.
Eleanor Dobson, University of Birmingham
'The sphinx will speak at last': Creative Egyptologies of the Occult Revival
9:35 a.m.
Dennis Denisoff, University of Tulsa
The Big Reveal: Queer Transmissions, Occult Ecologies
10:00 a.m.
Discussion
Moderators: Zach Fruit and Lindsay Wells, Ahmanson-Getty Postdoctoral Fellows
10:30 a.m.
Session adjourns
Saturday, March 12, 2022
8:30 a.m.
Session II: Scientific Exhilaration, Apocalypse, and Print Culture
Moderator: Neil Hultgren, California State University, Long Beach
Introductory Remarks
8:35 am
Stephen Arata, University of Virginia
The High Alchemy of Style: Arthur Machen and Apocalyptic Science 
9:00 a.m.        
Jessica Straley, University of Utah
Earth's Ends: Prehistoric Horror and Polar Fantasy at the Fin-de-Siècle
9:25 a.m.
Will Tattersdill, University of Birmingham
H.G. Wells's Periodical Projections of Future Disasters
9:50 a.m.
Discussion
Moderators: Zach Fruit and Lindsay Wells, Ahmanson-Getty Postdoctoral Fellows
10:30 a.m.
Conference concludes
---
Image: Arthur Machen, front board, The House of Souls (London: E. G. Richards, 1906). Artist unknown. Reproduced by kind permission of Library Special Collections, Young Research Library, University of California.