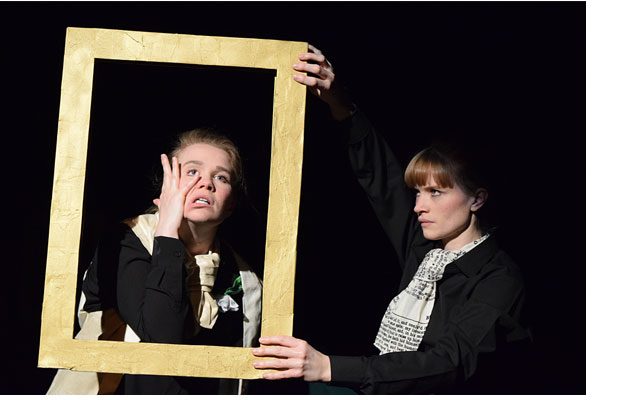 Date/Time
Sunday, October 21, 2018
2:00 pm – 4:00 pm
Location
William Andrews Clark Memorial Library
2520 Cimarron Street
Arts on the Grounds
The Picture of Dorian Gray
Performed by Box Tale Soup
An original adaptation of Oscar Wilde's novel commissioned by the Clark Library
This performance will be held inside the Library's wheelchair accessible drawing room.
"What does it profit a man if he gain the whole world and lose his own soul?"
Award-winning theater company Box Tale Soup presents Oscar Wilde's haunting story of evil, debauchery, and scandal, featuring puppetry and a powerful original soundtrack. Dorian Gray, young and exceptionally beautiful, sinks deep into a frivolous lifestyle of glamorous luxury and selfish abandon, seemingly unchanged by corruption and untouched by age. But behind a thick, locked door, beneath a dark, heavy curtain, Dorian's portrait tells a different story….
Actors: Antonia Christophers, Mark Collier, and Noel Byrne
Performance length: 70 minutes with no intermission
Box Tale Soup was formed in the United Kingdom in 2012. The company has toured extensively throughout the UK and abroad, including Lyric Hammersmith, Little Angel Theatre, Wigmore Hall and Wilton's Music Hall, London; The Broad Stage, Los Angeles; Ursulinensäle, Austria, and LongFu Theatre, Beijing. Box Tale Soup has received great critical acclaim, including awards for Northanger Abbey and Alice's Adventures in Wonderland. Recent highlights include a collaboration with world-renowned choral ensemble The Sixteen on a version of Shakespeare's A Midsummer Night's Dream with music from Purcell's The Fairy Queen, and a collaboration with Music Action International's refugee music collective, Stone Flowers, on a piece of new writing inspired by their experiences. The company has received two commissions from the Everyman Theatre, Cheltenham, and looks forward to its third commission later this year. Box Tale Soup aims to make work that is affordable, using minimal resources, without being compromised in quality or originality. https://www.boxtalesoup.co.uk/
Arts on the Grounds creates intersections of literature and the performing arts.  Events have included modern interpretations of classical theater and site-specific productions designed for the Clark grounds. The program engages a broad new range of audiences and brings the Library's rich collections to life through performance.  https://www.1718.ucla.edu/about/
Tickets: FREE
Limit of 2 per person
Bookings start: September 14
Reservation deadline: October 12
---
Booking Form
Bookings are currently closed for this event.