Date/Time
Friday, June 1, 2018–Saturday, June 2, 2018
9:00 am – 5:00 pm
Location
Royce Hall, Room 306
10745 Dickson Plaza
—a conference organized by Malina Stefanovska (UCLA) and Marie-Paule De Weerdt-Pilorge (Université de Tours)
Co-sponsored by the UCLA Department of French and Francophone Studies, Center for 17th- & 18th-Century Studies, William Andrews Clark Memorial Library, Université de Tours, and the FACE Foundation Partner University Fund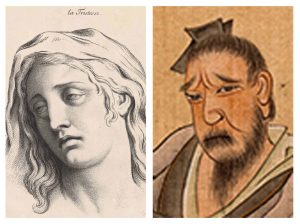 This 1 ½ day conference will bring together scholars of various literatures and cultures in the period between 1600-1850 in non-fictional (factual) sources which involve passions and/or emotions. While keeping a slight emphasis on Western "emotions," the conference seeks to open its investigations to a different cultural sphere.
The history of emotions in eighteenth century Europe has often been charted concomitantly with the rise of fictional literature, notably the novel. After the reign of passions and their rootedness in the humoral constitution of the body, the European Enlightenment stressed "emotions" and "sentiments" predicated on the dominance of senses in human cognition, seen as more diverse, ephemeral, and socially informed.
In exploring the representation of the self and its relationship to passions and emotions both within the perspective of cultural encounters between East and West and within the specific genre of non-fictional accounts (testimonies, journals, memoirs, correspondences), we will be guided by such questions as: are passions personal or common? Is the physical, religious or social grid dominant in their representations? Is the self their victim or their agent? What terms are used for various feelings described? What are the differences between East and West, between court and family, between men and women? Is there a historical shift? What dominant feelings characterize the writing self and how?
The conference is funded in part by the FACE Foundation through its Partner University Fund, as part of a three-year-long project of cooperation between the University of California, Los Angeles and Université de Tours, entitled "From Passions To Emotions: Non-Fictional Representations of the Individual (1680-1850)".
 Speakers

Frédéric Charbonneau, Mc Gill University
Angelina Del Balzo, University of California, Los Angeles
Marie-Paule De Weerdt-Pilorge, Université de Tours
Dorothea Fronsman-Cecil, University of California, Los Angeles
Marc Hersant, Université de Paris III (Sorbonne Nouvelle)
Martin Huang, University of California, Irvine
Xiaoqiao Ling, Arizona State University
Tina Lu, Yale University
Robert Maniquis, University of California, Los Angeles
Jean-Jacques Tatin-Gourier, Université de Tours
Shirley F. Tung, Kansas State University
Daniel Williford, University of California, Los Angeles
Yinghui Wu, University of California, Los Angeles
Full schedule and registration details:
http://french.ucla.edu/event/east-west-emotions-non-fictional-representations-individual/