Date/Time
Saturday, October 18, 2014–Sunday, October 19, 2014
7:00 pm
Location
William Andrews Clark Memorial Library
2520 Cimarron Street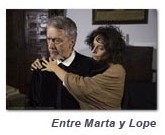 Cast:
Lope de Vega: César Sánchez
Marta de Nevares: Eva Higueras
Please note: the play is being performed in Spanish in the Clark's drawing room. English subtitles or translation will be provided.
Fundación Siglo de Oro, a premier Spanish theater company focusing on the classical tradition, will present Entre Marta y Lope, a contemporary play on the last days of Lope de Vega, the foremost Spanish playwright of the Golden Age. The play is designed to introduce audiences to this key figure, whose corpus includes over 400 plays. This heartfelt performance enchants audiences as Lope, the old playwright and mischievous womanizer who had already seen it all, engages with Marta, his last lover, his sin, his passion, his reward, and his punishment. The Clark Library and Fundación Siglo de Oro present theater about a man who was, all of him, theater itself.
A part of Arts on the Grounds, a performing arts series at UCLA's William Andrews Clark Memorial Library, which seeks to create intersections of literature and the performing arts for the benefit of new and expanded audiences.
Ticket prices:
$25 general admission
$10 students (must provide student ID number)
---
Entre Marta y Lope
de Gerardo Malla y Santiago Miralles
18 y 19 de octubre de 2014
19:00 horas
UCLA William Andrews Clark Memorial Library
2520 Cimarron Street, Los Angeles, CA 90018
www.clarklibrary.ucla.edu/visit
La obra es en español,
con subtítulos en inglés.
No hay nadie como Lope de Vega en nuestra literatura: nadie tan completo, tan inspirado, tan tierno en los afectos y eficaz en las tramas, tan abrumador. Detrás de una obra que no deja de sorprendernos, se esconde una personalidad no menos apasionante. El Lope mujeriego y pendenciero que escribía comedias con pasmosa rapidez y se mofaba de Cervantes no es más que una faceta, la más popular y simple, de un personaje lleno de matices. Espíritu orgulloso y humilde, vividor de ferviente religiosidad, soldado pensador, Lope supo evolucionar entre desilusiones y golpes sin perder nunca la fuerza creativa.
Fundación Siglo de Oro llega de Madrid para presentar Entre Marta y Lope, una obra contemporánea basada en los últimos días de Lope de Vega, el destacado dramaturgo del Siglo de Oro. La obra está diseñada para dar a conocer al público esta figura tan importante, que escribió más de 400 obras.
Reparto:
Lope de Vega: César Sánchez
Marta de Nevares: Eva Higueras
Esta obra es parte de Arts on the Grounds, una serie de presentaciones en la Clark Library de UCLA que crea intersecciones entre la literatura y las artes escénicas para el público más amplio.
Precio de la entrada
$25 público general
$10 estudiantes (número de identificación del estudiante requiere)
Cita limitada! Solo DOS funciones.
Favor de contactarnos al 310-206-8552 si requiere acceso para silla de ruedas.
COMPRE SU ENTRADA AHORA