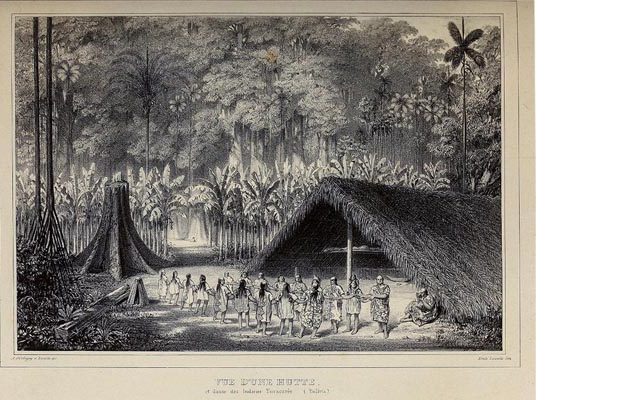 Date/Time
Saturday, February 11, 2023
10:00 am – 12:45 pm
Location
William Andrews Clark Memorial Library
2520 Cimarron Street
–conference organized by Stella Nair (University of California, Los Angeles) and Paul Niell (Florida State University)
This project is made possible through support from the Terra Foundation for American Art and is co-sponsored by the UCLA American Indian Studies Center.
This conference is free of charge. It will be held in person at the Clark, and livestreamed on the Center's YouTube Channel. To attend the conference in person, you must reserve your space by submitting the booking form at the bottom of this page. Bookings open Thrusday January 12, 2023 and close Monday, February 6, 2023 at 5:00 p.m. No registration is needed to watch the livestream.
---
Face masks are not required but are strongly recommended at all indoor campus events.
---
The 2022-23 Core Program hosted by the UCLA Center for 17th– & 18th-Century Studies and William Andrews Clark Memorial Library will convene scholars around the topics of "Ecology," "Ephemeral Architecture," and "Imperialism" in the early modern (16th–19th-century) world. The circum-Caribbean is our starting point; specifically, we use this term to refer to the deep connections between the peoples and places of the Caribbean and South America, along with parts of North America. Due to national politics, language barriers, and scholarly divisions that have their roots in the European colonization of the Americas, the long and complex history of exchange among these regions and peoples have been greatly understudied. In truth, this history of entanglement across water and land stretches back millennia, resulting in a rich and diverse built environment that is deeply tied to ecological change. This dynamic did not end with the invasion of 1492, but rather continued to expand and accelerate when people, plants, and empires came from across the Atlantic. Using ephemeral architecture, in particular the complex and exquisite creation of thatch roofs as the leading thread in these tapestries of exchange, this series of conferences highlight the profound ways in which environmental practices, botanical knowledge, technological development, architectural innovation, and creative expression were deeply tied across these distinct regions and peoples, and shaped by imperial actions. This conference series brings an unusually diverse number of disciplines together in order to unpack these complex dynamics, which challenge how we understand the built environment, the early modern Atlantic World, and the intersections between the local and the global.
Having explored the dynamic conditions, complexities, and perspectives of ecology in the first gathering, this second conference will bring into focus the ways in which distinct peoples, regions, and states used their local ecology to design, shape, and transform their built environments – often in the face of threats from imperial states. By shining a critical light on the fascinating but fleeting (and often overlooked) ephemeral architecture, in particular, thatch roofs, we will begin to see how ecologies and architectures became deeply entangled, such as in the form of technological, cultural, and environmental knowledge as well as artistic innovation. Scholars from multiple disciplines along with builders will come together to share and discuss a strikingly diverse and dynamic corpus from across the Americas and West Africa. These scholars will explore these "forgotten canopies" in all their material complexities, including the larger structures (built of out of wood, adobe, wattle and daub, brick, and stone), spaces (single, multi-room, rectangular, round, etc.), functions (political, religious, and domestic) and environments (tropical island, dry deserts, highland mountain, etc., as well as urban and rural landscapes) of which they were a part.
Speakers
Denise Y. Arnold, University College London
Brenner Billy, Choctaw Cultural Center
Mark Dike DeLancey, DePaul University
Jorge Baracutei Estevez, Director of Higuayagua Taíno of the Caribbean
Santiago Giraldo, Global Heritage Fund
Kenneth G. Kelly, Syracuse University and University of Southern Carolina
Louis Nelson, University of Virginia
David B. Sadighian, Harvard University
Shannon Speed, University of California, Los Angeles
Brendan J. M. Weaver, University of North Carolina Wilmington
---
Saturday, February 11, 2023
9:30 a.m.
Morning Coffee and Registration
10:00 a.m.
Stella Nair, University of California, Los Angeles
Paul Niell, Florida State University
Welcome (Back)
10:15 a.m.
Session 3 The Making of Ephemeralities
Moderator: Michael Osman, University of California, Los Angeles  
Kenneth G. Kelly, Syracuse University and University of Southern California
"Creating Kaz Kreole: A Multisited Archaeology of Ephemeral Architecture in Diverse Caribbean Contexts"
10:45 a.m.      
David B. Sadighian, Harvard University
"Rebuilding Palmares: Fugitive Architecture and its Afterlives"
11:15 a.m.
Coffee Break
11:30 a.m.
Jorge Baracutei Estevez, Higuayagua: Taíno of the Caribbean
"Return of the Bohio: Continuing Caribbean Indigeneity"
12:00 p.m.
Morning Session Discussion (Q&A)
12:45 p.m.
Conference portion of program concludes
Afternoon Workshop at Kuruvungna Sacred Springs: https://theforgottencanopy.create.fsu.edu/workshop-ii/
---
Booking Form
Bookings are currently closed for this event.