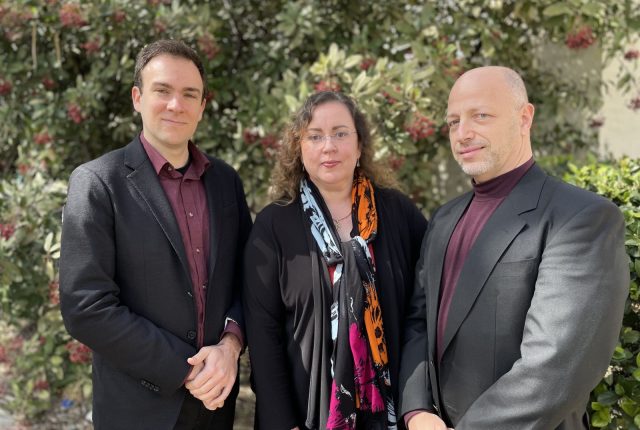 Date/Time
Thursday, August 10, 2023
12:00 pm – 1:00 pm
Location
Evelyn & Mo Ostin Music Center – The UCLA Herb Alpert School of Music
445 Charles E. Young Dr East, 2520 Schoenberg Music Building
Please note the concert will take place in the Ensemble Rehearsal Room in the Evelyn and Mo Ostin Music Center, 2520 Schoenberg Music Building. The location was moved from Lani Hall due to the facilities incident on August 9. We sincerely apologize for any inconvenience.
---
Program
Johannes Brahms (1833–1897)
Piano Trio No. 1 in B Major, Op. 8 (1854)
I. Allegro con brio — Tranquillo — In tempo ma sempre sostenuto
II. Scherzo: Allegro molto — Meno allegro — Tempo primo
III. Adagio
IV. Finale: Allegro
Maurice Ravel (1875–1937)
Piano Trio in A Minor (1914)
I. Modéré
II. Pantoum (Assez vif)
III. Passacaille (Très large)
IV. Final (Animé)
---
The Henry J. Bruman Summer Chamber Music Festival is being held this summer in the Schoenberg Music Building on the UCLA campus. All concerts are free of charge, and no reservations are required. Seating is available on a first-come, first-served basis. Lot 2 is the closest campus parking lot; click here for full details on UCLA visitor parking, including campus parking maps and rates.
This year's Festival will be livestreamed on the Center's YouTube Channel. Please subscribe to our channel to be notified when the concerts go live.
---
Fresno State Piano Trio
Limor Toren-Immerman, violin
Thomas Loewenheim, cello
Peter Klimo, piano

Limor Toren-Immerman
Limor Toren-Immerman has won numerous regional and national competitions and has appeared as soloist with orchestras throughout United States, Israel, and Russia.  Her concert career has additionally taken her through Europe, the Middle East, Japan, and Canada. Presently, she serves as Concertmaster for the Mozart Classical and Palm Springs Opera in the Park orchestras and performs as a Guest Concertmaster with the Fresno Philharmonic and other Southern California orchestras.  As a diverse chamber music player, Ms. Toren-Immerman performs music from Baroque to the twenty-first century, and is a member of the Fresno State Piano Trio as well as a founding member of Trio Accento, whose début CD Extant Blues was released on Albany Records in December 2019.
She is a frequent guest performer with other groups around the country, such as Southwest Chamber Music and Chamber Music series at the Montgomery Arts House for Music and Architecture. A recent collaboration with acclaimed pianist Hatem Nadim has been commemorated in a new CD, Johannes Brahms – Violin Sonatas, released on Albany Records in March of 2022. Her latest CD, "Timeless Rhapsody," presenting Solo Violin Sonatas by Bach, Bartók, and Ben-Haim, was scheduled for release in December of 2022.
An enthusiastic educator, Dr. Toren-Immerman currently serves as Professor of Music in Violin and Viola on the faculty of California State University Fresno. She has also been a regularly featured guest of international music festivals, such as the Colburn School Summer Chamber Music Intensive, the International Music Academy and Competition in Cremona, Italy, Chamber Music Unbound in Mammoth Lakes, California, Fresno Opera and Orchestra Summer Academy in Fresno, CA, Chamber Music Roundup in Fort Worth, Texas, Music in the Mountains Festival and Conservatory in Durango, Colorado, InterHarmony International Music Festival in Arcidosso, Italy, and CSU Summer Music.
Thomas Loewenheim
Thomas Loewenheim is a modern renaissance man: a unique musician who enjoys an international career, combining cello performance, conducting, and teaching at the highest levels.  He has toured North America, Europe, the Middle East, and the Far East, performing with orchestras, giving recitals, and playing chamber music, and has been broadcast over the national radio networks in Austria, Canada, and Israel.
Loewenheim is currently Professor of Cello and Director of Orchestras at California State University, Fresno, and the Music Director and conductor of the Youth Orchestras of Fresno. Recently he received the Fresno State Provost's Award for Excellence in Teaching (2016), the California Music Educators Association John Swain College/University Educator Award (2015), the Ella Odorfer Educator of the Year Horizon Award from the Fresno Arts Council (2012), the Fresno State Provost's Award for Promising New Faculty (2011), and Special Recognition from the Honor Society of Phi Kappa Phi for his service to the university and the community (2011).  Previously he taught at the Indiana University String Academy and the Memorial University of Newfoundland (MUN) and served as music director and conductor of the Musical Arts Youth Orchestra (MAYO) in south-central Indiana.
As a conductor, Loewenheim has earned a reputation for getting the most out of any orchestra, whether coming in for a single performance or festival week, as at the Hong Kong International School Choral and Orchestra Festival, or building an orchestra over a period of years, as at MUN or for MAYO.  He founded the iMAYO festival in Bloomington, Indiana, and was a co-founder of the international Tuckamore chamber music festival in St. John's, Newfoundland.  Through his own performing, working with some of the great musicians of our day, and his cumulative experience as a teacher, Loewenheim has synthesized an approach to teaching and conducting which produces a technical confidence that rapidly enables music-making at a sophisticated level.
Loewenheim earned a doctorate in cello performance from the renowned Jacobs School of Music at Indiana University, where he studied with Janos Starker and Tsuyoshi Tsutsumi, and was mentored in conducting by David Effron.  He received a master's degree from the University of Michigan under Erling Blöndal Bengtsson and a bachelor's degree from the Rubin Academy for Music and Dance in Jerusalem.  He also took part in master classes with Yo-Yo Ma, Mischa Maisky, Antonio Meneses, Arto Noras, Aldo Parisot, William Pleeth, and Menahem Pressler, among others.  He plays a Jean Baptiste Vuillaume cello, made in 1848.
Peter Klimo
Hungarian-American pianist Peter Klimo has been studying piano since the age of nine. A Los Angeles native, he began his piano studies with Vicharini and Rosanna Marzaroli and continued with Dr. Tyler Tom while attending the Los Angeles County High School for the Arts. Peter earned his Bachelor's Degree from the Eastman School of Music studying with Dr. Nelita True, his Master's Degree from the Yale School of Music studying with Peter Frankl, an Artist Diploma from Texas Christian University with Dr. Tamás Ungár, and his Doctorate of Musical Arts in Performance and Literature at the Eastman School of Music with Alan Chow.
Having participated in several international competitions, Peter won 3rd prize at the 2019 Bartók World Piano Competition, 3rd prize at the 2019 Bösendorfer International Piano Competition, 2nd prize at the 2014 International Franz Liszt Piano Competition in Utrecht, as well as special prizes at the 2017 Maj Lind and 2014 Wideman International Piano Competitions.  Performance highlights in recent years include concerto performances in Budapest, Hungary with Zsolt Hamar and the Hungarian National Philharmonic as well as with Gergely Ménesi and the Liszt Academy Symphony Orchestra; Phoenix, Arizona, with Matthew Kasper and the Phoenix Symphony; Seoul, South Korea with Hee-Chuhn Choi and the KBS Symphony Orchestra; Los Angeles, California with John Roscigno and the 52nd American Liszt Society Festival Orchestra; Columbus, Georgia with George del Gobbo and the Columbus Symphony Orchestra.
An avid chamber musician, Peter has toured with violinist Tessa Lark in the US and Holland, and with the Belenus Quartet in Austria and Holland. He performed Bartók's Sonata for Two Pianos and Percussion at the Kennedy Center in Washington D.C., at Sprague Hall at the Yale School of Music with all members playing from memory, as well as at the Dakota Sky International Piano Festival. He most recently performed the work throughout Holland in 2016 with winners of the International Tromp Percussion Competition.  Passionate about education and sustaining the art form, Peter has given masterclasses at Cal State University Northridge, Hardin Simmons University, at both Los Angeles and Orange County High Schools for the Arts, for the Thousand Oaks Philharmonic Society and the Steinway Society of Western Pennsylvania, and served as a faculty member for the 2013 inaugural year of the DBS Summer Music Festival in Hong Kong.  He has been called to adjudicate competitions both local and international, has maintained a private studio in Los Angeles, and is Assistant Professor of Piano at California State University Fresno.
About The Henry J. Bruman Summer Chamber Music Festival
Ambroise Aubrun, D.M.A., Artistic Director
The festival was founded in 1988 by Professor Henry J. Bruman (1913–2005), who sought to introduce new audiences to chamber music at informal concerts on the UCLA campus. The festival is made possible by the Henry J. Bruman Trust, Professors Wendell E. Jeffrey and Bernice M. Wenzel, by a gift in memory of Raymond E. Johnson, and with the support of the UCLA Center for 17th-& 18th-Century Studies.