Date/Time
Saturday, June 6, 2015
4:30 pm
Location
Hershey Hall cortile
801 Hilgard Avenue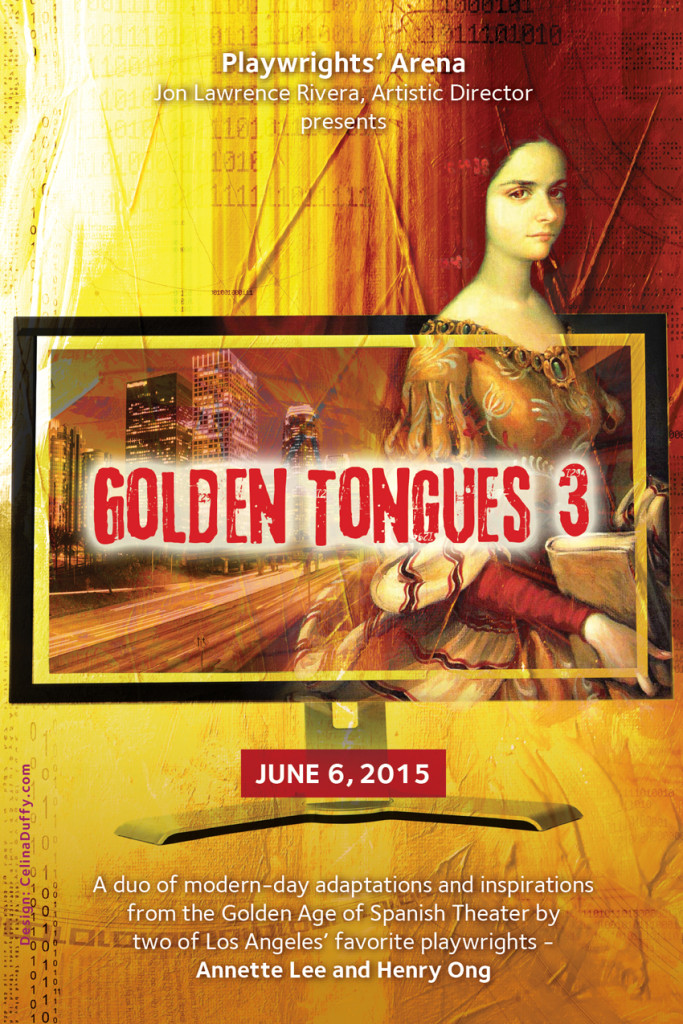 Playwrights' Arena is proud to present the third installment of Golden Tongues at UCLA's Hershey Hall cortile, part of the UCLA William Andrews Clark Memorial Library's Arts on the Grounds series. Designed to introduce audiences to the treasures of the Hispanic theater tradition (Tirso de Molina and Lope de Vega), Golden Tongues presents staged readings from Spain's Golden Age, adapted by Los Angeles playwrights Henry Ong and Annette Lee.
Please note: Due to the Clark Library's closure for a seismic retrofit, Golden Tongues 3 is being temporarily relocated to the UCLA main campus.
Enjoy these staged readings in the beautiful Spanish courtyard at
UCLA's Hershey Hall
For parking fees and directions, visit
https://main.transportation.ucla.edu/campus-parking/visitors
Program
4:30 p.m.
The Blade of Jealousy by Henry Ong
Directed by Jon Lawrence Rivera
Melchor falls in love with a mysterious, veiled lady outside a cathedral. Magdalena, the veiled lady, is similarly smitten by him. Later, Melchor fulfills a prior obligation to rendezvous with an Internet connection. She turns out to be none other than Magdalena herself. Melchor, however, not realizing that Magdalena and the veiled lady are one and the same person, is less than impressed with her this time. Magdalena who, of course, recognizes Melchor immediately as the dashing suitor from the cathedral, becomes consumed with jealousy at the thought that her beloved is in love with someone else—herself!
Inspired by Tirso de Molina's La Celosa de sí Misma (Jealous of Herself, 1622–23), Henry Ong's The Blade of Jealousy sets this ingenious madcap comedy of disguise and deception in modern-day Los Angeles.
5:30–6:30 p.m.
Reception
6:30 p.m.
Dawg in the 626 by Annette Lee
Directed by Diane Rodriguez
Diana, heiress to a wealthy manufacturing family, falls in love with her working-class, long-time friend, Theo, after she discovers he loves her cousin, Mimi. Does she open her heart to him and risk her reputation? Will her jealous cousin, Freddie, drive them apart? Will her smart phone, Trystan, keep them together? Love triangles abound and passions are flamed by inaccessibility and technology in this adaptation of Lope de Vega's El perro del hortelano (The Dog in the Manger, 1618).
TICKETS: $10 each
LIMITED SEATING, PURCHASE TICKETS TODAY
http://goldentongues3.brownpapertickets.com/
This historic space is wheelchair accessible. For inquiries, please contact us at 310-206-8552.
Golden Tongues 3 is made possible with support from the UCLA Center for 17th- & 18th-Century Studies/William Andrews Clark Memorial Library, UCLA Department of Spanish and Portuguese, and from Catherine Glynn Benkaim and Barbara Timmer. For more information and ways to contribute to future programs, please contact Barbara Fuchs, Director, at fuchsbar@humnet.ucla.edu or 310-206-8552.