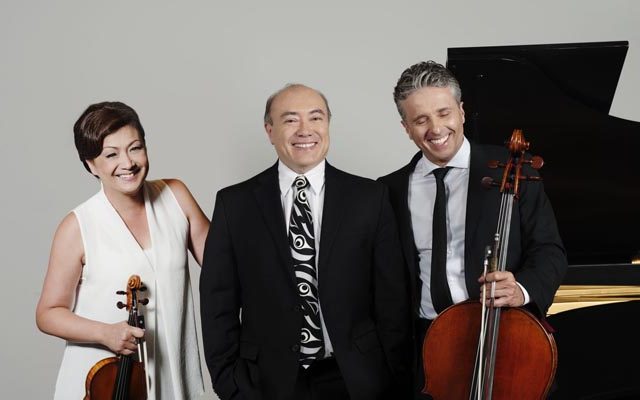 Date/Time
Sunday, December 13, 2020
1:00 pm – 2:30 pm
Presented online via Zoom webinar on 12/13/2020
Join us for an exclusive online event featuring a concert performed by the Gryphon Trio just for our audience, followed by a live Q & A with the musicians moderated by Bruce Whiteman, Clark Librarian Emeritus. Audience members will have the opportunity to pose questions via Zoom Group Chat.
To learn more about Chamber Music Conversations from the Clark and view videos from the series, visit: https://www.1718.ucla.edu/events/categories/music/
Program
(Franz) Josef Haydn (1732–1809)
Piano Trio in A Major, Hob. XV:18
Allegro moderato
Andante
Allegro
Felix Mendelssohn (1809–1847)
Piano Trio No. 2 in C-minor, op. 66
Allegro energico e con fuoco
Andante espressivo
Molto allegro quasi presto
Allegro appassionato
Program notes by Bruce Whiteman.
Gryphon Trio
Annalee Patipatanakoon, violin
Roman Borys, cello
Jamie Parker, piano
Gryphon Trio is firmly established as one of the world's preeminent piano trios. For more than 25 years, it has earned acclaim for and impressed international audiences with its highly refined, dynamic, and memorable performances. The Trio's repertoire ranges from traditional to contemporary, and from European classicism to modern-day multimedia. It is committed to redefining chamber music for the 21st century.
Violinist Annalee Patipatanakoon, cellist Roman Borys, and pianist Jamie Parker are creative innovators with an appetite for discovery and new ideas. They have commissioned over 85 new works, and they frequently collaborate with other artists on projects that push the boundaries of Classical music.
The Trio tours regularly throughout North America and Europe. It enjoys longstanding relationships with prominent arts incubators and presenters like Banff Centre for Arts and Creativity, Orford Music Academy, Music Toronto, Ottawa Chamberfest, and Festival del Lago International Academy of Music in Ajijic, Mexico. Gryphon Trio often performs triple concerti with the world's major symphony orchestras and smaller chamber orchestras.
Gryphon Trio's prolific recording catalogue includes 22 releases on Analekta, Naxos, and other labels; it is an encyclopedia of works for the genre. Honors include 11 nominations and three Juno Awards for Classical Album of the Year in 2004, 2011, and most recently in 2019. In 2013, Canada Council for the Arts presented Gryphon Trio with the prestigious Walter Carsen Prize for Excellence in the Performing Arts.
The Gryphons are deeply committed to community engagement, education, and the development of next-generation audiences and performers. They conduct masterclasses and workshops at universities and conservatories. They are artists-in-residence at the University of Toronto's Faculty of Music and Trinity College. Since 2010, the Trio's ground-breaking outreach program, Listen Up!, has inspired 16 Canadian communities to collaborate on large-scale multifaceted arts creation projects. The Trio leads Orford Music Academy's Piano Trio Workshop and directs the Classical Music Summer Programs at Banff Centre for Arts and Creativity.
Roman Borys is Artistic and Executive Director of the Ottawa Chamber Music Society, and Annalee Patipatanakoon and Jamie Parker serve as OCMS' Artistic Advisors. Mr. Parker is the Rupert E. Edwards Chair in Piano Performance at the University of Toronto Faculty of Music, and Ms. Patipatanakoon is Associate Professor of Violin and Performance Area Chair of Strings.
Gryphon Trio is represented by MKI Artists: https://mkiartists.com/
---
Chamber Music at the Clark is made possible by the generous support of The Ahmanson Foundation; The Colburn Foundation; Martha Bardach; Catherine Glynn Benkaim, Ph.D. and Barbara Timmer; Dr. Marla C. Berns; Dr. Rogers Brubaker; Patricia Chock; Regina and Bruce Drucker; Beth S. Farb; Susan Harris; Judy and Sam Hellinger; Henry J. Bruman Endowment for Chamber Music; Dr. Sheldon H. Kardener and Monika Olofsson Kardener; Carol Krause; Mari and Edmund D. Edelman Foundation for Music and Public Service; Elaine and Bernie Mendes; Janet and Henry Minami; Bette I. and Jeffrey L. Nagin; Joyce Perry; Jeanne Robson; Jackie and Charles Schwartz; Dr. Patricia Bates Simun and Mr. Richard V. Simun Memorial Fund; Patricia Waldron, M.D., and Richard Waldron; and Roberta and Robert Young.