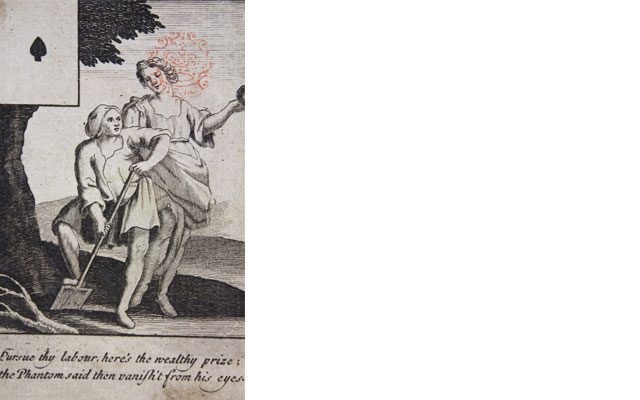 Date/Time
Saturday, December 15, 2018
1:30 pm – 4:30 pm
Location
William Andrews Clark Memorial Library
2520 Cimarron Street
"Let Spades be trumps!" cried Belinda, absorbed in a card game in Alexander Pope's Rape of the Lock.
Game play in early modern England served complex uses. It was both an important element of domestic sociability and a sign of moral degeneracy and dissipation. Playing cards provided rich metaphors for approaching the relationship between calculation and chance, from political machinations to commercial risks, global exploration to love. At the same time, gaming is theatrical, with its own rituals of performance.
Come join us for the next installment in our series of interactive, multisensory workshops, designed to acknowledge the varied ways in which we acquire knowledge through both reading and doing. We invite you to study and play two of the most popular card games of the 18th century. Fortified by refreshments and prizes, we will exercise our strategic acumen in a friendly tournament of whist, and attempt to make our fortunes in the high-stakes, fast-paced game of faro.
No prior card game experience is needed. This event will not use real currency. Free parking is available onsite.
Space is limited to 32 participants, who will be determined by lottery. The lottery will be open from Monday, November 19-Wednesday, November 28, 2018.
To enter the lottery, please complete and submit the booking form below. All lottery entrants will be notified of their status via email by Friday, November 30, 2018.
If you have any questions about this event, please contact Anna Chen at achen@humnet.ucla.edu.
---
Booking Form
Bookings are currently closed for this event.