Date/Time
Friday, October 21, 2011
2:00 pm
Location
William Andrews Clark Memorial Library
2520 Cimarron Street
—a lecture by Arthur Phillips, bestselling and critically acclaimed novelist, followed by a discussion with Helen Deutsch, University of California, Los Angeles, and Claire McEachern, University of California, Los Angeles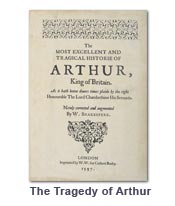 The Novel
The Tragedy of Arthur is an emotional and elaborately constructed tour de force featuring its doomed hero Arthur Phillips, a young man struggling with a larger-than-life father, a con artist who works wonders of deception but is a most unreliable parent. Arthur is raised in an enchanted world of smoke and mirrors where the only unshifting truth is his father's and his beloved twin sister's deep and abiding love for the works of William Shakespeare—a love so pervasive that Arthur becomes a writer in a misguided bid for their approval and affection.
Years later, Arthur's father, imprisoned for decades and nearing the end of his life, shares with Arthur a treasure he's kept secret for half a century: a previously unknown play by Shakespeare, titled The Tragedy of Arthur. But Arthur and his sister also inherit their father's mission: to see the play published and acknowledged as the Bard's last great gift to humanity. . . . Unless it's their father's last great con.
By turns hilarious and haunting, this virtuosic novel—which includes Shakespeare's (?) lost King Arthur play in its five-act entirety—captures the very essence of romantic and familial love and betrayal. The Tragedy of Arthur explores the tension between storytelling and truth-telling, the thirst for originality in all our lives, and the act of literary mythmaking, both now and four centuries ago, as the two Arthurs—Arthur the novelist and Arthur the ancient king—play out their individual but strangely intertwined fates.
The Author
Arthur Phillips was born in Minneapolis and educated at Harvard. He has been a child actor, a jazz musician, a speechwriter, a dismally failed entrepreneur, and a champion on Jeopardy! five times. He lives in New York with his wife and two sons.
His first novel, Prague, was named a New York Times Notable Book, and received the Los Angeles Times/Art Seidenbaum Award for best first novel. His second novel, The Egyptologist, was an international bestseller, and was on more than a dozen "Best of 2004" lists. Angelica, his third novel, made the Washington Post Best Fiction of 2007 and led that paper to call him "one of the best writers in America." The Song Is You was a New York Times Notable Book, on the Post's best of 2009 list, and inspired Kirkus to write, "Phillips still looks like the best American novelist to have emerged in the present decade." His fifth book, The Tragedy of Arthur, was published 11 April 2011 to critical acclaim. His work has been published in twenty-seven languages, and is the source of three films currently in development.
www.arthurphillips.info