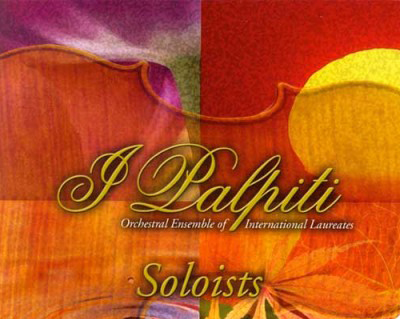 Date/Time
Tuesday, July 16, 2019
12:00 pm – 1:00 pm
Location
Powell Library Rotunda
10740 Dickson Plaza
Program
(subject to change)
Bohuslav Martinů (1890–1959)
Three Madrigals for Violin and Viola, h. 313
Poco allegro
Andante
Allegro
Friedrich Hermann (1828–1907)
Capriccio No. 2 for 3 Violins in G major, op. 5
Capriccio No. 1 for 3 Violins in D minor, op. 2
Nikolai Rimsky-Korsakov (1844–1908)
String Sextet in A major
Allegro vivace
Rondo fugeto: Allegretto grazioso
Scherzo: Vivace alla saltarello
Andante espressivo
Finale: Allegro molto
---
iPalpiti Soloists, presented by iPalpiti Artists International
Azer Damirov, violin
Lorenzo Mazzamuto, violin
Samuel Nebyu, violin
Semyon Promoe, violin
Midori Maruyama, viola
Agnieszka Podłucka, viola
Egor Antonenko, cello
Sevak Avanesyan, cello
The iPalpiti Orchestra, founded by Eduard Schmieder in 1991, became the flagship ensemble of iPalpiti Artists International. iPalpiti's humanitarian mission of cultural exchange succeeded in creating a truly universal network of more than 200 artists from all over the world. This network promotes international and cultural understanding through music. Each summer, iPalpiti brings 25 to 30 of these exceptionally gifted professional musicians to its home base in Los Angeles, California, for the prestigious iPalpiti Festival of International Laureates. During the festival members perform in solo, ensemble, and orchestral public concerts. iPalpiti artists, often referred to as the "Musical Peace Corps," hold claim to more than 100 international competition awards.
iPalpiti Artists International, a non-profit organization, was founded in 1997 by Eduard and Laura Schmieder, world-renowned violinists and music educators. With the support of distinguished legendary musicians, iPalpiti discovers and promotes talented young professional artists from around the globe.
---
Acknowledgements
The festival is made possible by the Henry J. Bruman Trust, Professors Wendell E. Jeffrey and Bernice M. Wenzel, by a gift in memory of Raymond E. Johnson, and with the support of the UCLA Center for 17th‐ & 18th-Century Studies and Powell Library.