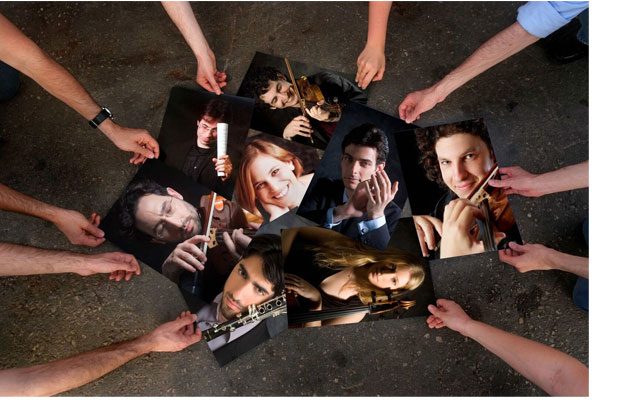 Date/Time
Sunday, April 7, 2019
2:00 pm – 4:00 pm
Location
William Andrews Clark Memorial Library
2520 Cimarron Street
Chamber Music at the Clark concert seating is determined via lottery. The booking-by-lottery entry form for Israeli Chamber Project seats posts here on Thursday, January 31, 2019. Lottery registration closes Thursday, February 21, 2019.
Learn more about the booking-by-lottery system for securing Chamber Music at the Clark seats.
Israeli Chamber Project
Daniel Bard, violin
Tibi Cziger, clarinet
Guy Ben-Ziony, viola
Tony Rymer, cello
Assaff Weisman, piano
"…a band of world-class soloists…in which egos dissolve and players think, breathe and play as one." (Time Out, New York)
The dynamic Israeli Chamber Project, comprised of strings, winds, harp, and piano, is based both in Tel Aviv and New York. The ensemble was created as a means for its members to give something back to the community where they began their musical educations and to showcase Israeli culture to concert goers overseas.
​On its tours of Israel, the Project performs at major venues as well as in remote locations where access to live classical music is limited. The ensemble offers lessons and masterclasses to students of all cultural and economic backgrounds, and it continues to support emerging Israeli composers by commissioning new works.
​Performances include Weill Recital Hall at Carnegie Hall, the Morgan Library and Museum, the Peoples' Symphony Concerts in New York, Beijing's Forbidden City Concert Hall, Ottawa's Chamberfest, Montreal Chamber Music Festival, and the Vancouver Friends of Chamber Music. The ensemble's critically acclaimed debut CD, Opus 1, was released in 2012 on the Azica label. Guest artists who have appeared with the Israeli Chamber Project include the Guarneri String Quartet's Michael Tree and Peter Wiley, the Cleveland Orchestra's Principal Flutist, Joshua Smith, as well as international soloists Antje Weithaas and Liza Ferschtman.
---
Program
Wolfgang Amadeus Mozart (1756–1791)/
Johann Anton André (1775–1842)
Clarinet Quartet in E-flat Major (after Violin Sonata K. 380)
Allegro
Andante con moto
Rondo: Allegro
Yinam Leef (1953– )
Tryptych [Homage to Ödön Pártos]
Energico
Dark, very expressive
Molto lento, transparente
Béla Bartók (1881–1945)
Contrasts, sz. 111
Verbunkos
Pihenő
Sebes
Intermission
Johannes Brahms (1833–1897)
Piano Quartet No. 3 in C Minor, op. 60
Allegro non troppo
Scherzo: Allegro
Andante
Finale: Allegro comodo
Reception
---
Booking Form
Bookings are currently closed for this event.