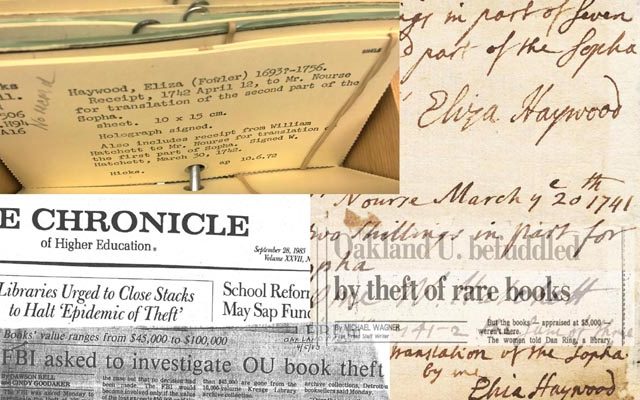 Date/Time
Wednesday, March 8, 2023–Thursday, March 9, 2023
9:00 am – 1:00 pm
A Virtual Conference
9 a.m.–1 p.m. PST

–conference organized by Anna Chen (Clark Library, UCLA), Rebecca Fenning Marschall (Clark Library, UCLA), Molly McGuire (Oakland University Libraries), Nina Schneider (Clark Library, UCLA), and Emily Spunaugle (Oakland University Libraries)
This event is free of charge, but you must register to attend in advance. All audience members will receive instructions via email after registration. Click the following link to register directly with Zoom:
https://ucla.zoom.us/meeting/register/tJwldeugpjkjGtQqQYGhrqI3-ZDKSJJPZzVo
This event will also be livestreamed on the Center's YouTube Channel. 
Keynote Speakers:
Tamar Evangelestia-Dougherty, Director, Smithsonian Libraries and Archives
T-Kay Sangwand, Librarian for Digital Collection Development, UCLA
Gabriel Daniel Solís, Executive Director, Texas After Violence Project
This virtual conference considers the ongoing reassessment of memory and heritage work and heritage ownership, as it is understood by libraries, archives and related organizations, through an examination of the multiple meanings, complexities, and resonances of loss. As an inevitable reality of heritage preservation–saving everything is an impossibility–a nuanced understanding of the fundamental role of loss is an important counterpart to these organizations' work towards preservation, permanence and sustainability.
Once seen as static evidence of the past, heritage is now recognized as the subject of ongoing reinterpretation, maintenance, and negotiation for those living in the present. Collectors are increasingly willing to confront processes of repatriation, reparation and restitution, and other forms of deaccessioning, and vocabularies of ownership are giving way to those of stewardship, custody, and post-custody. At the same time, heightened attention to sustainable practices is also encouraging a reassessment of longstanding assumptions about collection development and preservation, challenging the model of limitless expansion, growth and permanence as a primary measure of success. Cultural memory and heritage workers, too, face many other kinds of loss within and beyond the workplace that impacts their labor, including loss of resources, safety nets, and colleagues. What is heritage and cultural property, and to whom do they belong? Who owns the past, and what does such ownership mean? Is it possible for acts of past injustice to result in cooperative relationship-building for the future? How can a sustained interrogation of collection and heritage loss be productively leveraged to reckon with other kinds of loss in the cultural memory and heritage workspace? We seek to explore these and other related questions during this two-day conference.
---
Program
Wednesday, March 8, 2023
9:00 a.m.
Anna Chen, Rebecca Fenning Marschall, and Nina Schneider, William Andrews Clark Memorial Library, UCLA, and Molly McGuire and Emily Spunaugle, Oakland University Libraries
Welcome
9:15 a.m.
Tamar Evangelestia-Dougherty, Smithsonian Libraries and Archives
"Let Them Research Cake: Exploring Loss, Lessness and the Spirit of Abstraction in Narrative Building and Practices of Collecting"
9:55 a.m.
Q&A
10:15 a.m.
Panel 1: Digital Loss and Deaccessioning
Moderator: Elizabeth McAulay, University of California, Los Angeles
Kristen J. Nyitray and Dana Reijerkerk, State University of New York at Stony Brook
"Game (not) Over: The Genesis, Death, and Afterlife of a Video Game Archive"
10:35 a.m.
Eira Tansey, University of Cincinnati
"Death by a thousand cuts: Staff losses and institutional vulnerability to climate change"
10:55 a.m.
Q&A
11:15 a.m.
Break
11:40 a.m.
Panel 2: Archival Silences
Moderator: Emily Spunaugle, Oakland University Libraries
David Luftig, Washington State University
"Seeking Lost Histories: Issues Regarding Preserving Historic Agricultural Resources"
12:00 p.m.
Elspeth A. Olson, University of Nevada, Reno
"Mind the Gap: Addressing Archival Silences"
12:20 p.m.
Catherine Phan and Kacie Lucchini Butcher, University of Wisconsin–Madison
"Unpacking Archival Labor: Interrogating Our Practices"
12:40 p.m.
Q&A
Thursday, March 9, 2023
9:00 a.m.
Anna Chen, Rebecca Fenning Marschall, and Nina Schneider, William Andrews Clark Memorial Library, UCLA, and Molly McGuire and Emily Spunaugle, Oakland University Libraries
Welcome
9:10 a.m.
T-Kay Sangwand, UCLA Library
Gabriel Daniel Solís, Texas After Violence Project
"Limits and Loss: Reflections on a Decade of Postcustodial Praxis – A Conversation with T-Kay Sangwand and Gabriel Solís"
9:50 a.m.
Q&A
10:00 a.m.
Panel 3: Institutional Impact of Personal Legacies and Loss
Moderator: Molly McGuire, Oakland University Libraries
Laura Gray Blair, Queen Mary, University of London
"'Rescue these treasures': the politics of twentieth-century dispersal and acquisition of English country house libraries"
10:20 a.m.
Lauren S. Turner, University of Denver
"Omissions and Obituaries: Reckoning with Loss and Tracing Family Histories"
10:40 a.m.
Thomas G. Lannon, Lafayette College
"More than Missing Items: Unsolved cases in institutional histories"
11:00 a.m.
Q&A
11:20 a.m.
Break
11:40 a.m.
Panel 4: Archival and Library Inadequacy
Moderator: Nina Schneider, University of California, Los Angeles
Philip Menchaca, University of Michigan School of Information
"Data in the Bardo: Lessons and Questions from the Largest Digital Archive of Buddhist Texts"
12:00 p.m.
Juan Suárez Ontaneda, Xavier University-Cincinnati
"A Tale of Two Archives: The Ex-Penal García Moreno and the Making of Ecuadorian Carceral Memory"
12:20 p.m.
Salma Abumeeiz, UCLA Library
"Collections over People: Critiquing Notions of Institutional Inclusion within Library Heritage Materials"
12:40 p.m.
Q&A and Closing Remarks
1:00 p.m.
Program concludes