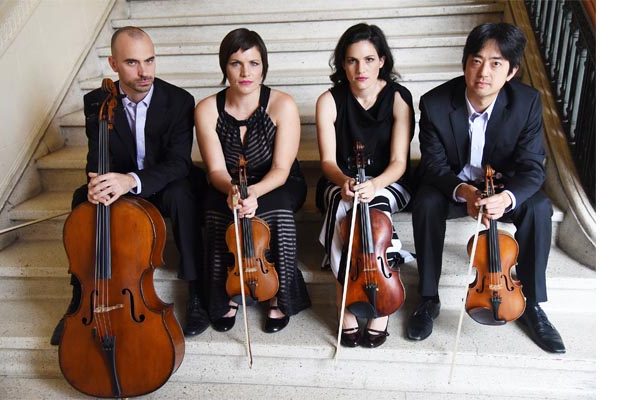 Date/Time
Sunday, May 16, 2021
1:00 pm – 2:30 pm
Presented online via Zoom webinar on May 16, 2021.
The following recording of the event will be posted for 6 months:
Join us for an exclusive online event featuring a concert performed by the Jupiter String Quartet just for our audience, followed by a live Q & A with the musicians moderated by Bruce Whiteman, Clark Librarian Emeritus. Audience members will have the opportunity to pose questions via Zoom Group Chat.
To learn more about Chamber Music Conversations from the Clark and view videos from the series, visit: https://www.1718.ucla.edu/events/categories/music/
Program
Felix Mendelssohn (1809–1847)
String Quartet No. 6 in F Minor, op. 80
Allegro vivace assai
Allegro assai
Adagio
Finale: Allegro molto
Fanny Mendelssohn Hensel (1805–1847)
String Quartet in E-flat Major
Adagio ma non troppo
Allegretto
Romanze
Allegro molto vivace
Judd Greenstein (1979– )
Four on the Floor
Download program notes from Bruce Whiteman.
Jupiter String Quartet
Nelson Lee, violin
Meg Freivogel, violin
Liz Freivogel, viola
Daniel McDonough, cello 
The Jupiter String Quartet is a particularly intimate group, consisting of violinists Nelson Lee and Meg Freivogel, violist Liz Freivogel (Meg's older sister), and cellist Daniel McDonough (Meg's husband, Liz's brother-in-law). Now enjoying their 19th year together, this tight-knit ensemble is firmly established as an important voice in the world of chamber music. The New Yorker claims, "The Jupiter String Quartet, an ensemble of eloquent intensity, has matured into one of the mainstays of the American chamber-music scene."
The quartet has performed in some of the world's finest halls, including New York City's Carnegie Hall and Lincoln Center, London's Wigmore Hall, Boston's Jordan Hall, Mexico City's Palacio de Bellas Artes, Washington, D.C.'s Kennedy Center and Library of Congress, Austria's Esterhazy Palace, and Seoul's Sejong Chamber Hall. Their major music festival appearances include the Aspen Music Festival and School, Bowdoin International Music Festival, Cape Cod Chamber Music Festival, Rockport Music Festival, Caramoor International Music Festival, Music at Menlo, the Banff Centre, the Seoul Spring Festival, and many others. In addition to their performing career, they have been artists-in-residence at the University of Illinois in Champaign-Urbana since 2012, where they maintain private studios and direct the chamber music program.
Their chamber music honors and awards include the grand prizes in the Banff International String Quartet Competition and the Fischoff National Chamber Music Competition; the Young Concert Artists International auditions in New York City; the Cleveland Quartet Award from Chamber Music America; an Avery Fisher Career Grant; and a grant from the Fromm Foundation. From 2007–2010, they were in residence at the Chamber Music Society of Lincoln Center's Chamber Music Two.
The Jupiter String Quartet feels a particular connection to the core string quartet repertoire; they have presented the complete Bartok and Beethoven string quartets on numerous occasions. Also strongly committed to new music, they have commissioned works by Michi Wiancko, Syd Hodkinson, Hannah Lash, Dan Visconti, Mark Adamo, Pierre Jalbert, and Kati Agócs.
The quartet's latest album, Metamorphosis (Marquis Classics, 2020), features Beethoven's String Quartet No. 14, and Ligeti's Quartet No. 1 "Métamorphoses nocturnes." Of the album, Cleveland Classical proclaimed "Perhaps what stands out most is the Jupiter Quartet's precise, unified, and spirited sense of ensemble." The quartet's discography also includes numerous recordings on labels including Azica Records and Deutsche Grammophon.
The Jupiter Quartet remains strongly committed to making music during these challenging times. In July 2020, the Jupiter Quartet gave the world premiere of Michi Wiancko's To Unpathed Waters, Undreamed Shores, which was commissioned for the ensemble and presented via livestream by Bay Chamber Concerts. Other recent and upcoming livestream concerts include performances presented by Bowdoin International Music Festival, Asheville Chamber Music Series, and Syracuse Friends of Chamber Music, as well as virtual residencies with the University of Iowa and Middlebury College.
The Jupiters place a strong emphasis on developing relationships with future classical music audiences through educational performances in schools and other community centers. They believe that, because of the intensity of its interplay and communication, chamber music is one of the most effective ways of spreading an enthusiasm for "classical" music to new audiences. The quartet has also held numerous masterclasses for young musicians at Northwestern University, Eastman School of Music, the Aspen Music Festival, Encore Chamber Festival, Madeline Island Music Festival, and Peabody Conservatory.
The quartet chose its name because Jupiter was the most prominent planet in the night sky at the time of its formation and the astrological symbol for Jupiter resembles the number four.
Jupiter String Quartet is represented by Jensen Artists: https://www.jensenartists.com/
---
Chamber Music at the Clark is made possible by the generous support of The Ahmanson Foundation; The Colburn Foundation; Martha Bardach; Catherine Glynn Benkaim, Ph.D. and Barbara Timmer; Dr. Marla C. Berns; Dr. Rogers Brubaker; Patricia Chock; Regina and Bruce Drucker; Beth S. Farb; Susan Harris; Judy and Sam Hellinger; Henry J. Bruman Endowment for Chamber Music; Dr. Sheldon H. Kardener and Monika Olofsson Kardener; Carol Krause; Mari and Edmund D. Edelman Foundation for Music and Public Service; Elaine and Bernie Mendes; Janet and Henry Minami; Bette I. and Jeffrey L. Nagin; Joyce Perry; Jeanne Robson; Jackie and Charles Schwartz; Dr. Patricia Bates Simun and Mr. Richard V. Simun Memorial Fund; Patricia Waldron, M.D., and Richard Waldron; and Roberta and Robert Young.
Image by Sarah Gardner