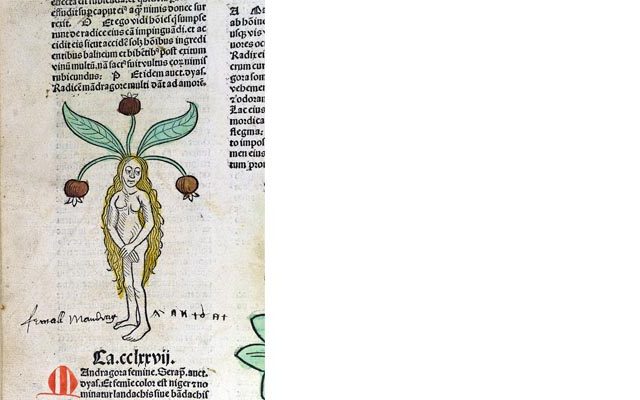 Date/Time
Tuesday, December 7, 2021
4:00 pm – 5:30 pm
Location
William Andrews Clark Memorial Library
2520 Cimarron Street
ASL interpretation will be provided to live attendees. The webinar will feature Zoom's live transcription feature, which provides automatic captioning through closed caption settings. The webinar will be recorded and will be posted to the Center's YouTube channel at a future date.
Sixteenth Kenneth Karmiole Lecture on the History of the Book Trade
–given by Sarah Neville, The Ohio State University
Between 1525 and 1640, the English book trade saw the production of more than two dozen editions identified by their imprints or by contemporaries as "herbals." In a little over a century, this genre grew from a series of tiny unillustrated octavos to authoritative folio tomes with thousands of woodcuts. As herbals grew in both size and scope, these books of natural history became valuable commodities within a competitive print marketplace. Herbals served readers across the social spectrum, making them especially profitable investments for publishers eager to expand their customers, as well as opportunities for authors to establish their botanical credibility. By explaining the shifting contingencies and regulations that characterized English publishing, Sarah Neville argues that the construction of scientific authority in early modern England was inextricably tied up in the circumstances governing print.
Sarah Neville is an assistant professor in English at The Ohio State University, where she also holds an appointment in the department of Theatre, Film, and Media Arts. She is an assistant editor of the New Oxford Shakespeare (2016–17), and an associate coordinating editor of the Digital Renaissance Editions. Her essays on book history, Renaissance drama, textual scholarship, and digital editing have appeared in Shakespeare, Shakespearean International Yearbook, Variants, Textual Cultures, Notes and Queries, and edited collections. Her monograph, "Early Modern Herbals and the Book Trade: English Stationers and the Commodification of Botany," is forthcoming from Cambridge University Press in Spring 2022.
This lecture is made possible by a generous endowment established in 2005 by Kenneth Karmiole, a Santa Monica antiquarian bookseller. The lecture series focuses on the book trade in England and Europe during the seventeenth and eighteenth centuries.
Image: Detail from Ortus Sanitatis (Mainz: Jacob Meydenbach, 1491), sig S4v. Harry Ransom Center, The University of Texas at Austin (Incun 1491 H787).
---
To attend the live event, please use the booking from below.
To attend the virtual Zoom webinar (with auto-caption support) please register in advance here:
https://ucla.zoom.us/webinar/register/WN_wg4uY0KeQlWMuZG20tvhng
---
Per Los Angeles City ordinance, effective November 4, 2021, the following is required to enter this event:
UCLA Venue Clearance Certificate
OR
Proof of COVID-19 Full Vaccination AND Valid Photo ID
OR
Self-attestation of qualifying medical or religious exemption, AND Proof of Negative COVID-19 test within 72 hours, AND Valid Photo ID
Examples of acceptable Photo ID, Proof of Negative COVID-19 Test, and Proof of Vaccination can be found on page 5 of Los Angeles City Ordinance No. 187219: https://clkrep.lacity.org/onlinedocs/2021/21-0878_ord_187219_11-08-21.pdf
Advance registration is required to attend, and face masks are required to be worn by all attendees at indoor events.
---
Booking Form
Bookings are currently closed for this event.