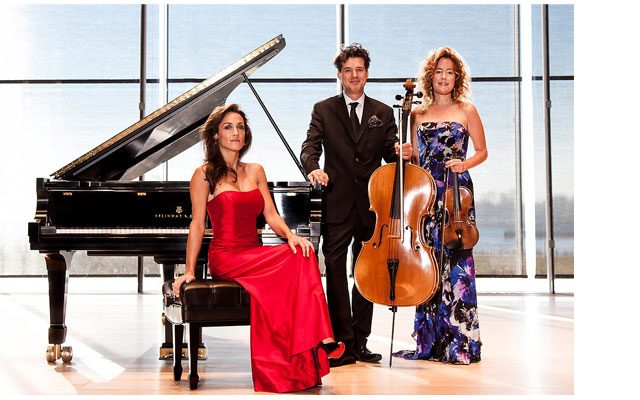 Date/Time
Sunday, October 15, 2017
2:00 pm – 4:00 pm
Location
William Andrews Clark Memorial Library
2520 Cimarron Street
Chamber Music at the Clark concert seating is determined via lottery. The booking-by-lottery entry form for Lincoln Trio seats posts here on Thursday, August 24, 2017. Lottery registration closes Thursday, September 14, 2017.
Learn more about the booking-by-lottery system for securing Chamber Music at the Clark seats.
Lincoln Trio
Desirée Ruhstrat, violin
David Cunliffe, cello
Marta Aznavoorian, piano
Nominated for Grammy Awards in 2014 and 2017, the Lincoln Trio has become Chicago's most celebrated chamber ensemble. Praised for their joy of sheer technical ability, unanimity of phrasing, and beautiful blended tone, the trio takes its name from their home in the heartland of the USA. Formed in 2003, the trio's polished presentations of well-known chamber works and their ability to forge new paths with contemporary repertoire has led to the group's reputation as a first rate ensemble. Their latest recording, featuring trios by Rebecca Clarke (UK), Arno Babajanian (Armenia) and Frank Martin (Switzerland) was hailed by The San Francisco Chronicle as "fervent and imaginative…["Trios from  Our Homelands"] features three relatively little-known piano trios from the 20th century that deserve better acquaintance—and that get fine, fiery readings from these musicians."
---
Program
Rebecca Clarke (1886–1979)
Piano Trio
Moderato ma appassionato
Andante molto semplice
Allegro vigoroso
Frank Martin (1890–1974)
Trio on Popular Irish Folk Tunes
Allegro moderato
Adagio
Gigue: Allegro
Intermission
Stacy Garrop (1969– )
Silver Dagger (written for the Lincoln Trio)
Johannes Brahms (1883–1897)
Piano Trio No. 2 in C major, Op. 87
Allegro moderato
Andante con moto
Scherzo: Presto
Finale: Allegro giocoso
Reception
The Lincoln Trio appears by arrangement with Lisa Sapinkopf Artists, www.chambermuse.com
---
Booking Form
Bookings are currently closed for this event.