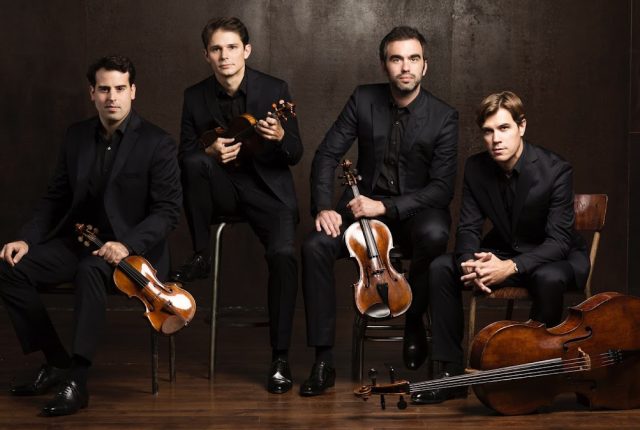 Date/Time
Saturday, November 4, 2023
2:00 pm – 4:00 pm
Location
William Andrews Clark Memorial Library
2520 Cimarron Street
Seats will be available for purchase on Tuesday, October 3 at 12:00 p.m. noon, via the following link. General admission seats are $40, and UCLA student seats (for UCLA students only, valid UID for each student required) are $10. Seating at the Clark Library is limited. To receive announcements when concert seats go on sale, please sign up for our mailing list.

While we do not maintain a wait list, we do offer same day stand-by seating for all Chamber Music at the Clark concerts. For more information on stand-by seating, please see here
---
Program
Igor Stravinsky (1882–1971)
Three Pieces for String Quartet
Dmitri Shostakovich (1906–1975)
String Quartet #3 in F Major, op. 73
Ludwig van Beethoven (1770–1827)
String Quartet #7 in F Major, op. 59, no. 1 "Razumovsky"
Modigliani Quartet
Amaury Coeytaux, violin
Loïc Rio, violin
Laurent Marfaing, viola
François Kieffer, cello
"One of today's best quartets in the world…Balance, transparency, symphonic comprehension, confident style, their performance reached a very high and inspiring level. " (Harald Eggbrecht in Süddeutsche Zeitung)
Founded in 2003, the Modigliani Quartet is recognized as one of today's most sought-after quartets, featuring regularly in prominent international series and on the world's most prestigious stages.
In addition to annual tours in the United States and in Asia, the quartet's numerous European tours have brought them to Wigmore Hall, the Paris Philharmonie, the Théâtre des Champs- Elysées, the Berlin Philharmonie, the Vienna Konzerthaus, the Saint-Petersburg Philharmonia, and the Elbphil-harmonie in Hamburg.
After reviving the Rencontres Musicales Evian in 2014, of which they assured the artistic direction for 8 years, the quartet was entrusted with the artistic direction of the Bordeaux International String Quartet Competition in 2020. As part of their festival "Vibre!", the quartet counts some of the greatest quartets and chamber music ensembles amongst their guest artists. Through masterclasses and workshops, the festival provides an ideal environment to work with and mentor the young generation, a mission at the heart of the quartet's activities. The quartet is also the founder of the Saint-Paul-de-Vence Festival and the Arcachon Chamber Music Festival, both created in 2011.
The Modigliani Quartet's rich collaboration with the record label Mirare has led to 15 recordings representative of their vast repertoire (Schubert, Mozart, Haydn, Mendelssohn, Bartok…), winning numerous awards in France and abroad (Choc de Classica, Diapason d'Or…). On the occasion of their last recording release, the prestigious British magazine The Strad selected the quartet as their cover feature.
The Modigliani Quartet also performs and commissions a wide range of contemporary works from composers including Marc-Antony Turnage, Philippe Hersant, Peter Vasks, Kaija Saariaho, and Evgeny Kissin.
A year after their founding, the Modigliani Quartet won three First Prizes successively at the Eindhoven International Competition (2004), the Vittorio Rimbotti in Florence (2005) and the prestigious Young Concert Artists Auditions in New York (2006). Following studies with the Ysaÿe Quartet and masterclasses with Walter Levin and Gyorgy Kurtag, the Modigliani Quartet were invited to work with the Artemis Quartet at the Berlin Universität der Künste.
The quartet enjoys cultivating close friendships with their chamber music partners, amongst them artists such as Sabine Meyer, Renaud and Gauthier Capuçon, Jean-Frédéric Neuberger, Beatrice Rana, Michel Dalberto, Fazil Say, Augustin Dumay, Amihai Grosz, Gary Hoffman, Paul Meyer, Michel Portal, and Daniel Müller-Schott. The Modigliani Quartet also thanks the SPEDIDAM for its help.
Through the support of generous sponsors, the Modigliani Quartet has the privilege of playing four magnificent Italian instruments: Amaury Coeytaux plays a 1773 violin by Giovanni Battista Guadagnini, Loïc Rio plays a 1780 violin by Giovanni Battista Guadagnini, Laurent Marfaing plays a 1660 viola by Luigi Mariani, and François Kieffer plays a 1706 cello by Matteo Goffriller.
https://en.modiglianiquartet.com/
Modigliani Quartet is represented by Arts Management Group www.artsmg.com
---
Chamber Music at the Clark
Professor Rogers Brubaker, Artistic Director
Chamber Music at the Clark is made possible by The Ahmanson Foundation; The Colburn Foundation; Martha Bardach; Catherine Glynn Benkaim, Ph.D. and Barbara Timmer; Dr. Rogers Brubaker; Dr. Susan Harris and Mark Harris; Judy Hellinger; Henry J. Bruman Endowment for Chamber Music; Dr. Sheldon H. Kardener and Monika Olofsson Kardener; Elaine and Bernie Mendes; Janet Minami; Bette I. and Jeffrey L. Nagin; Dr. Jeanne Robson; Carol E. Sandberg; Jackie Schwartz; Dr. Patricia Bates Simun and Mr. Richard V. Simun Memorial Fund; Patricia Waldron, M.D., and Richard Waldron; and Roberta and Robert Young.
Please see here for more information about our chamber music programs.
---
Photograph credit: Luc Braquet, courtesy of the artists.